Whitehall-Yearling High School


Classes of 1958 to Present
Ram Veterans
WYAA invites all WYHS VETERANS to ride in the WYHS HOMECOMING Parade on Wed., October 3.
You'll be riding on Leo Knoblauch's covered float. Meet at Etna Road School @ 5:30.
You'll receive our Ram Pride lapel pins & we'll have treats to throw to the kids along the ride.
The parade goes down Etna Road west. Turn left on Yearling Road & ends at WYHS.
If you have any questions, call Dan Miller, USN, WYHS 1973 @ 614-260-4592.
Go Rams!!!
*******************
Scott Harrison, 1978, USA Ret., has volunteered to help organize a WYHS Alumni Veterans group.
Some initial ideas include:
1. Provide support to others in the group
2. Provide mentorship for students seeking to join the military.
3. Provide guidance to those students, who are in the military (promotion preparation, career advice,
retirement advice, etc.).
4. Ensure our story is told to those who graduated after us.
5. Be a source of information and cash to support scholarships, improvements to the school, veterans
for parades, veterans in the classroom and anything else we are willing and able to assist with.
In 2013, Scott donated a Ram statue. This statue is dedicated to the veterans, who graduated from
WYHS or served as staff, administration or faculty at WYHS. He would also like to provide a binder in the library with
profiles of those who have served.
The auditorium is going through some much-needed renovation and the school is seeking $100 per seat
or $1,000 per row. Scott will be purchasing one row of seats in the auditorium (12 seats for $1000),
to support 'This Seat's Taken' fund raiser. Scott's "Warrior's Row" will recognize/remember Hall of Fame
veterans. Scott is also looking for veterans who might be interested in buying a seat or joining other veterans
to buy a Patriot's Row of seats. If you're interested in participating, please complete the Veterans' Survey
link on the left column. To donate for the seats, go to the 'Fund Raisers' link on the left column,
checks or credit cards are accepted..
Since Scott is just getting started in this role he is seeking input on what you would like to do to show your
support. Whether we fund a scholarship for current students or for veterans returning from the military service,
or do things that are important to veterans, the WYHS VETERANS is your group. Scott looks forward to any
recommendations you may have. Please send your comments to Scott via: sharrson@gmail.com;
(813) 602-5104 or (813) 944-8808. Or, you can leave comments at the end of our Veterans Survey.
Thanks for your service to our country.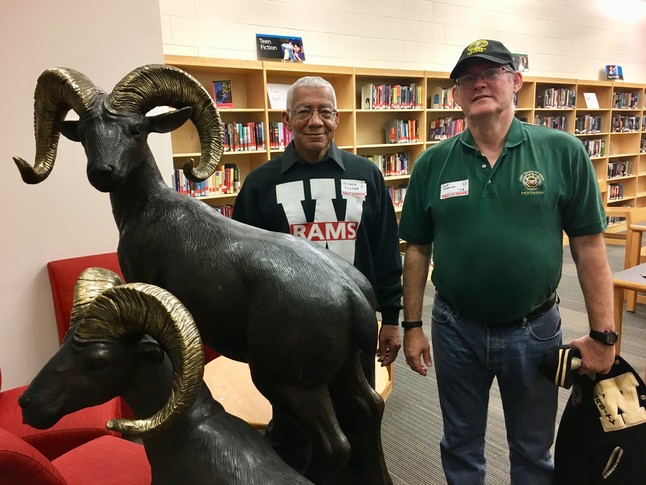 Photo of Hall of Fame Veterans, Clark Fuller, 1963 & Scott Harrison, 1978 with WYHS Rams

UA-107745049-1