Whitehall-Yearling High School


Classes of 1958 to Present
Alumni Hall of Fame
WYHS Hall of Fame Inductees
To become eligible for the WYHS Hall of Fame, nominees must be an alumus of Whitehall-Yearling for at least five years. They have also displayed accomplishments in one or more of the following categories: extra-curricular activities, education, humanitarian pursuits, business/career, & service to our schools or community. Nominees are submitted online by alumni and/or the general public every November. The Hall of Fame selection committee is comprised of representatives from the Whitehall-Yearling Alumni Association (WYAA), WYHS administrators:faculty & the WCS superintendent. Announcements of Hall of Fame inductees are in January. Inductees are introduced at a WYHS boys varsity basketball game in February & honored at the annual Whitehall Education Foundation's Celebration Dinner.

* 2023 WYHS Hall of Fame Inductees *

Ed Kowalski, 1982, is a board member of the Whitehall-Yearling Alumni Association (WYAA) since 2018, where he manages WYAA's annual student scholarship program. As a student, Ed worked all 4 years at the first WYHS-TV studio where he produced weekly news & interview shows.
Ed is now a successful chef & culinary professional in Columbus & has worked for the Delaware North Companies' SportService at Nationwide Arena for over 17 years. He is their "Suites Chef" where he oversees food preparation & execution for 52 luxury suites & party towers for NHL hockey games, concerts & world-class family events.
Ed is an award-winning culinary competitor at the Ohio State Fair, International Chili Society, & The Ohio Eggfest, that benefits cancer research, treatment & prevention through The James Cancer Research Hospital. He has served as a competition judge for the Kansas City Barbeque Society, International Chili Society, Buckeye BBQ Battle, & Culinary Fight Club. He is also a cookbook author & contributor to various cooking books & magazines.
******************
Oleatha Waugh, 1990, excelled at WYHS sports, finishing 3rd in the 1990 State wrestling finals & he also played football & baseball. Oleatha was recognized at the 2022 Homecoming for his selection into the WYHS Athletic Hall of Fame. Over the past 20 years Oleatha has been an inspirational mentor & dedicated professional helping influence Franklin County's troubled youth towards a better future.
Oleatha's life mission has been devoted to giving people second chances. Because…at 20, he was incarcerated for 5.5 years for dealing drugs & assault. After prison, Oleatha decided to atone for his mistakes. He received degrees from Columbus State Community College (CSCC) & Capital University & 'worked the streets' for the Columbus Urban League in hopes of preventing gang members from repeating his youthful mistakes. He was also the Urban League's Director of the African-American Male Initiative youth programs, where boys & young adults of color receive resources, exposure & experience to provide a framework for the elements of success. In 2014 Oleatha was inducted into the CSCC's Hall of Fame for his contribution in "Gang Violence Intervention & Mediation Professional".
Today, Oleatha continues to give back to his community as a Visitation Supervisor with Franklin County Children Services on East Main Street in Whitehall. He supervises social workers who facilitate bringing families back together as a result of court-ordered removal of children from their homes. He works with the Whitehall Police Department & other Franklin County police departments in those efforts.
*********************
Wil Wong Yee, 1999, is a professional artist who specializes in creating unique city scape paintings by applying creative blends of mixed medium which includes spray paint, markers & acrylic paint on plywood. Wil's exceptional talents have caught the attention of many art lovers & collectors in & around Columbus. He has painted beautiful murals around Columbus promoting inclusiveness, including a mural on the side of Whitehall's parks & recreation maintenance facility at 721 Country Club Road.
Will graduated from the Columbus College of Art & Design in 2005. Each of his paintings is an homage to Columbus & its vibrancy of life. Many of his paintings have been featured at various sections of downtown Columbus, Bexley & the Short North along with custom scenes highlighting local sports venues. Some of his paintings have been displayed at Columbus City Hall, Columbus Convention Center, Nationwide Children's Hospital, State Farm & other local restaurants & hotspots in Columbus. He truly loves Columbus & his work has brought him closer to its people
Wil feels deeply about everyone celebrating & accepting differences & that belief shows through his art. He has a strong desire to give back to the community by using his skills as an artist to inspire youth & promote volunteerism. He has traveled several times to Cuba where he helped & supported local artists to learn how to make a living wage. Yee says, "With my work, I try to use it as a platform to help other people & organizations."
**************
Class Year
Induction Year
Name

Updates are in Green

1958
- 1990

J. Lin Compton - Lin was a WYHS 3-sport athlete & in student council. He served in the Peace Corp where he was a rural development advisor in Thailand & Laos. Lin was a lecturer, researcher & writer on rural communities & a professor @ University of Madison.

1958
- 1991

Dr. Edward A. Nicholson, PhD - Edward played in the band & wrote for the WYHS 1st newsletter. He was Dean @ Wright State, Vice Chancellor of Purdue-Ft. Wayne, Executive Vice President of Lamar University & President of Morris University. Edward is the author of books & publications on economics.

1961
- 2010

Daniel I. Gartner (RIP) - Dan was a state wrestling qualifier in 1960 & placer in 1961. Dan was a retired WYHS teacher as well as a coach & equipment manager until his retirement. He is past Central District Wrestling Officials Association President & Treasurer. Dan's football jersey #18 was retired in 2018.

1962
- 1990

Colonel Ronald L. Paxson - Ron was All-League in football & baseball & was Student Council President. He served as the Presidential/White House Communications Officer. He was the chief of communications @ Cheyenne Mountain AFB & Commander of the 1931st Communications Wing. Ron was inducted in Capital University Athletic Hall of Fame in 1986.

1962
-2001

Thomas Franklin Shoaf - Thomas was a 34-year educator & student safety specialist at Columbus City Schools. He was a Columbus Police Academy auxiliary police officer. He has a BS from Otterbein College & MS from Xavier University.

1963
- 1991

Lt. Colonel Clark Fuller (RIP) - Clark was an All-State Track & Football player. His #42 jersey was the first football jersey to be retired. Clark is a retired Lt. Colonel & served as a professor at West Point. He also directed water relief efforts & road construction in underdeveloped nations.

1964
2000
Susan Moran
1965
- 1990

Mark J. Blackstone - Mark played football, basketball & golf. He was an OHSAA basketball official. He had a dedicated career at EBCO as Director of Marketing & on the Council-American Marketing Association.

1965
- 2007

Phyllis Harper Jordan - Phyllis has a Master's Degree in Education from Kent State University. She is a former Academic Advisor at OSU & University of Akron. She is a former member of the Whitehall City Schools Board of Education & has volunteered for humanitarian & community service programs.

1965
2014
Mitchell Joseph
1966
- 1997

Harvey Eader - Harvey received the OSU Excellence in Teaching Award in 1985. He taught @ Whitehall City Schools for the developmentally handicapped for 15 years. He was Director of WYHS Athletics for 10 years & coached @ Rosemore & WYHS for 14 years. He was ASA Ohio All State in 1968 & 1978 & ASA East Central Regional All Star in 1984. Harvey received his BS from OSU in 1971.

1

966
- 1998

James E. Stacy - Jim graduated from Columbus State Community College in Law Enforcement & a graduate of the Ohio Hwy Patrol Academy in 1970. He graduated from the FBI Academy in 1979. He served in the Whitehall Police Dept foe 28 years. Jim was the Police Officer of the Year in 1972 & was Whitehall's Police Chief from 1990 until his retirement.

1966
1998
Larry Gilmore
1966
- 2002

Dr. Willa Hsueh, MD - Willa was designated as one of the Best Doctors in America, California Endocrinology, 1997-2000. She's a guest lecturer & presenter & has won numerous private, & national grants. Willa received her BS her Medical Degree from OSU (cum laude). Her internship & residence was at Johns Hopkins & she was a research fellow at Stanford University.

1967
- 1990

Dr. Sharon E. Nicholson, PhD - Sharon was her class valedictorian, played in the band & received National Science honors. She is a world-wide authority on arid climates. She is a consultant to the State Dept. & the US Congress on weather conditions. She is a professor of meteorology at Florida State University.

1968
- 1992

Terry M. Jessup - Terry was a Class Officer & played basketball & golf. Terry's career was in broadcast journalism. He was a news anchor for WKRO in Cincinnati & was a reporter on WCMH in Columbus, OH & KCNC in Littleton, CO, where he retired. Terry was also involved in Special Olympics & other charities. He graduated in Broadcast Journalism, Magna Cum Laude from Ohio University.

1968
1999
Dr. Deborah McDowell Aoki
1969
- 1992

Dr. Michael A. Gillespie, PhD - Mike was twice the MVP in football, All-League in football & track. He received senior honors as the outstanding math & science student. He received a football scholarship from Harvard & graduated with a B.A., Magna Cum Laude. Mike is a professor at Duke University & is an author on political theory & philosophy. He served on the Board of Directors of the American Political Science Review.

1969
- 1994

Bob Grimm - Bob graduated from WYHS & the Eastland Career Center. He was a coach, organizer & officer of Whitehall Little Leagues & was Coach of the year. In 1988 Bob Whitehall was honored as Citizen of the Year for volunteering for Whitehall school & community activities for many years. He retired as City of Whitehall Supervisor.

1969
1995
Tom Petty
1969
1999
Robert S. Roule
1969
- 2000

Daniel Reid - Dan holds the school record in the 800-meter run & was a member of the record-holding 1600-meter team. Dan was a teacher/coach @ Whitehall City Schools from 1975 until his retirement, He was a member of the record-holding 1600-meter team. He coached Cross-Country & Track & Women's Basketball. He is known as the "Dean" of Central Ohio Women's Basketball & a community & school volunteer.

1969
- 2007

William Douglas Honaker - Doug was the 1977 Arizona Teacher of the Year & the 1978 Runner-up for National Teacher of the Year. In 2005, he was an honoree on the national "Who's Who" among teachers. Doug has received numerous educational service awards & has his BS & Masters in Education from Arizona State University.

1970
- 2001

Dr. Vicki Sue Burris Gartner, Ph.D - Vicki was an educator & counselor at Whitehall City Schools from 1982-1999. She has a BA from Capital University & a Doctor of Philosophy from OSU. Vicki was Whitehall City Schools Educator of the Year 1988-89 & the Whitehall Education Assoc. President in 1997. She was married to Dan Gartner, 1961 until his death.

1970
-2010

Ronald E. Wingler (RIP) - Ron was President of Wingler Construction since 1980. He is the past President of National Assoc. of Remodeling Industry Central Ohio. He was a member of the Whitehall Chamber of Commerce, supporter of various civic & humanitarian organizations, & recipient of numerous awards for business excellence.

1970
- 2017

Nancy Keller Fitton - Nancy was a Peace Corps volunteer in Honduras & worked for the Pan-American Health Organization and World Vision in Costa Rica. She is on the Consumer Executive Board for the Cochrane Collaboration. Nancy has a BS from Miami University & a Master of Health Science from the Johns Hopkins Bloomberg School of Public Health.

1971
- 2019
Van Gregg - Van was an All-State Basketball and Baseball player in 1971. He was named a 1971 High School All-American Basketball & was drafted by the Philadelphia Phillies. Van was a 3-year starter & scored 900 points while playing on the Clemson University basketball team. He was the captain of the 1975 Clemson team that achieved the school's first AP Top 20 Final Ranking. He was also the head coach for the 2003 Ohio North/South All Star Game. Van is a 3-term Councilman for the City of Whitehall.
1971
- 2006

Preston Hale - Preston is a Vietnam War Veteran. He is a past president of Ohio Code Officials Assoc. & past officer of the Board of Ohio Building Officials Assoc. He received the Downtown Sertoma Club's "Service of Mankind" recipient. Preston has received numerous Community Service & Humanitarian recognition awards including receiving the "Key to the City" of Genevieve, MO.

1971
- 2009

Stephen D. Jones - Steve received his law degree from Capital University, BA from Otterbein & a Masters from Michigan. He served as a special counsel to the Ohio Attorney General & recognized as an "Ohio Super Lawyer" by Cincinnati & Law & Politics Magazines.

1972
- 1991

Robert Evans - Robert participated in WYHS Drama, Choir, Orchestra & Tennis. He's a research geologist & Project Science Director, Discovery & Salvage of Steamship Central America. He's an original member of the Columbus America Discovery Group.

1972
- 1999

Steven Blake Quincel - Steve received his BS from OSU & retired as a project manager at American Electric Power. He has been active with Scouts for decades, receiving Cub Master of the Year & District Award of Merit. He is married to Katie Queen Quincel, 1972 & is Whitehall's City Treasurer & the Assistant Treasurer to Whitehall City Schools.

1973
- 1990

Dr. Augustus G. Parker, III, MD - Augustus played football & was in the Ram band. He was Chairman of Obstetrics & Gynecology at Grant Hospital & "Teacher of Year" at Grant Hospital Residencies. He served on the YMCA & the Columbus Cancer Clinic. He was recognized for his efforts in prevention of low birth weights of infants.

1973
1996
Commander Lester E. Carr, III, USN
1973
1998
Dr. Earl D. Lavender, PhD
1973
2003
Colonel Michael R. Pannell
1973
2005
Lynn A. Ochsendorf (RIP)
1975
- 1994

Michael D. Sewell - Michael played in WYHS bands & was All-Conference in baseball. He was a teacher & Band Director @ Pickerington High School. His bands performed for US Presidents, College Bowl games, & Pro Football teams. The Pickerington bands were also in many OMEA state finals.

1975
- 2016
Mike Shade - Mike graduated Cum Laude from Capital University. Mike played baseball for Capital & was a Div. 3 All-American & was inducted into Capital's Athletic Hall of Fame. Mike retired from teaching after 36 years. He was the head baseball coach @ Gahanna-Lincoln High School for 24 years where his teams had several OCC, District & Regional Championships & twice made Final 4 State appearances. Mike is inducted in the Central District Baseball Coach's Hall of Fame. He has a Masters Degree from Ashland University.
1976
1996

Art Isennagle

1976
2005

Vlade Janakievski

1976
2009
Sharon Heise Bukowski
1977
2004
Colonel Kathleen V. Harrison
1977
2004
David H. Stewart
1977
- 2008
Command Master Sergeant Michael Anthony Mazzi - Mike is a 30-year Veteran Air Force Command Chief Master Sergeant. He served in Desert Shield/Storm, Kosovo Campaign & Iraqi Freedom. Mike was the 1999 US Air Force European Sr. Non-Commissioned Officer of the Year. He was on the 1990 National Champion Bobsled Team & 1989-91 USAF Training Command Athlete of the Year.
1977
- 2008

Leo J. Knoblauch, II - Leo is retired from the Air Force. He received his BS from Otterbein & MBA from Franklin University. Leo is a past Whitehall City Councilman, Officer of various Whitehall Civic organizations & was 2004 Whitehall Citizen of the Year. He was one of the founders of Whitehall Education Foundation (WEF).

1977
- 2015
Scott Stahley - Scott graduated from the US Military Academy with a BS in Engineering. He played basketball for the Army's basketball team 1978-80, playing for Coach K. Army Captain Stahley served in Europe with the Air Defense Artillery Nuclear systems. He is a partner with Lincoln Property Company & received the Development of the Year 4-times. Scott served on the Executive Board of Directors for the Coalition for Homeless & Women's Residential Counseling Center. He played basketball for WYHS 1975-77 & made All-OCC, All-Metro & All-District honors. He played baseball 1976-78. The 1977 team were State District Championships.
1977
- 2017

Brian Hamler (RIP) - In 1977 Brian was an All-State in Baseball pitcher, First Team All-District & Conference Player of the Year. He received his BA from Capital in 1981 & MBA from OSU. In 2012 he was President of the Ohio Association of School Personnel Administrators. In 2013, Brian became the fifth Superintendent of Whitehall City Schools. His wife, Wendy Benjamin, is a 1981 WYHS graduate. Brian is an honorary member of the Whitehall-Yearling Alumni Association (WYAA).

1978
- 1994

Lisa Capoziello Dimarrzio - Lisa was a cheerleader, played volleyball & ran track & was on Student Council. She was the Director of the Houston Film Festival, a film industry publicist & the Executive Vice President of Promotions @ Paramount Pictures.

1978
1995
Dr. Gregory Bellamy, PhD
1978
- 1997

Terry Anderson - Terry's BA from OSU is in communications & sociology. He was the Education Director of the Greater Columbus Arts Council & an award-winning graphic illustrator. Terry is on the Board of Ohio Alliance for Arts Education & has volunteered for the United Negro College Fund, United Way & other public service organizations. Since 2017 he is the president of Whitehall Education Foundation.

1978
2009
Joseph H. Federer
1978
- 2014

Colonel Scott K. Harrison - Scott is a retired US Army Colonel, serving 36 years. He is a veteran of Operations Desert Storm, Enduring Freedom, Iraqi Freedom & Noble Eagle. He is a former operations officer at the Joint Staff & Army Staff in the Pentagon. He received his BA from OSU & MBA @ University of Dayton. Scott serves on the WYAA Board as the Veterans' Liaison.

1979
- 2000

Rev. Mike Tuttle - Mike was the first president of the Whitehall Alumni Band. He was the senior minister of the Norton Church of Christ & Chairman for Ohio Teens for Christ Convention. He has a BA from Milligan College, TN. He has traveled to Haiti for a mission trip & was the Director of Round Lake Christian Assembly Workshop Leader.

1979
2003
Zachary R. Wright
1980
1996
Dr. Cynthia L. Brown, MD
1980
2003
Rodney D. Sparks
1980
- 2011

CMS Steven J. Mazzi* - Steve is the Superintendent of Big Walnut Local Schools. He is a former teacher, coach & administrator at Whitehall City Schools. He has coached various youth leagues, middle & high school sports. Steve served the Ohio National Guard for 20 years & retired as a Command Master Sergeant. Steve has a BS from OSU & a Masters Degree from the University of Dayton. His brother Mike is also a Hall of Fame inductee. *Comand Master Seargeant

1980
- 2017

Karen Conison - Karen has a BA in Journalism from OSU & is a Human Relations professional. She was the founder of the Whitehall Block Watch in 2007, founded the Capital University Rotaract Club & was Whitehall's Female of the Year in 2013. Karen serves on Whitehall's City Council & has received a Presidential Citation Award. She is also serveing on the Whitehall Celebration Committee.

1981
2004
Andre R. Capoziello
1981
2006
Colonel Michael Ore
1981
2007
Jerry Brooks
1982
2014
Dave Powers
1983
2002
Mark Trace
1984
- 1992

Scott A. Tedder - Scott was in the National Honor Society & All-State athlete in basketball & baseball. He was also the Columbus Dispatch Athlete of the Year. At Ohio Wesleyan, he was 1st Tean All-American in basketball & baseball. Scott holds the most points in basketball at WYHS & Ohio Wesleyan. He also played for the Chicago White Sox.

1985
- 2001

Major Samuel Andrew Wright, PhD - Sam received his BS from the US Air Force Academy, a Master of Science @ the Air Force Institute of Technology & a PhD @ Wright-Patterson AFB. He was a senior analyst for future air mobility operations & a planner analyst/mission commander for GPS. He also was an instructor of mathematics @ West Point. Sam has received 2 Air Force Achievement Medals & an Air Force Commendation Medal.

1985
2005
Tomislav B. Mitevski
1985
- 2006

Captain Stephen T. Tompos - Steve is a 4-year letterman in track. He received an Army ROTC Scholarship & Distinguished Military Graduate. Steve is a retired US Army & Ohio National Guard Captain & has served as the Community Relief Coordinator. Steve is the Senior Director of US Communications at McDonald's Corporation. He has a BA from OSU & an MBA from Ohio University.

1985
2016
Dr. Brian Hunter
1986
- 1997

Cynthia A. Cockrel-Crossley - Cynthia received her BA from the University of Chicago in Politics, Economics, Rhetoric & Law. She also attended Stanford for graduate school. She was the Captain of the U of C Varsity Basketball Team & a member of the varsity tennis team. She worked at Merrill-Lynch as the Assistant to the Director of Financial banking. Cynthia was an analyst & manager consultant for Gemini Consulting, Goldman, Sachs, & Co., & the Wall Street Merger Dept.

1990
- 2002

Reverend Darryl Hammock - Darryl was on the NCAA All-American Track & Field Team & All Mid-Ohio Conference Track & Field Team. He holds the 200-meter outdoor record. Darryl has a BA from Cedarville University & a Master of Divinity of Southern Baptist Theological Seminary. He is the Minister of Youth & Church Growth @ Whitehall Baptist Church.

1992
2011
Stephanie Jordan
2000
2016
Monica Day
2001
2009
Brian D. Adkins
2002
2015
Anthony Jordan
2002
- 2015

Domenik Hixon - Dominik was a 4-Sport athlete (football, basketball, baseball & track) @ WYHS. He played football as a wide receiver & safety @ the University of Akron & was Captain of the 2005 team. Domenik was a wide receiver for 9 seasons in the NFL, playing for Broncos, Giants, Panthers & Bears. He won 2 Super Bowl Championships with the New York Giants. He was the co-founder of The Next Level Football & Cheer Camp in 2007. Domenik runs Hixon Home Operations & Super Bowl Fishing, LLC in Florida.

1971
- 1995

Dr. Debra A. (Smith) Grayson, DO

1972
- 2018

Dan Miller - Dan is a Navy veteran & he retired from the USPS after 35 years as a letter carrier. He has served on the Whitehall City Council & has been the City Auditor from 2012 - Present. In 2016 Dan was selected as City of Whitehall Male Citizen of the Year.

1976
2018
Julie Lynch

1972

2019

Bruce Lowe -

Bruce is a Grammy- & Oscar-winning music producer/creator, as well as performer. Bruce created, owns & operates a full line multimedia, music, & sound production company specializing in production, composing, arranging, contracting, music supervision, engineering, sound design, programming, inventing, multi-instrument performance, editing, and mastering music and sound for films, records, television, and education. Artists include Steven Spielberg, (The Color Purple) Paul McCartney, Stevie Wonder (Tug of War), Michael Jackson (Thriller), Quincy Jones, Madonna, Elton John (The Lion King), Andraè Crouch, Billy Preston, Yes, Robin Williams and others. (LinkedIn)
1980
2019
Marty Bannister
1983
2019
Spencer Salyers
1964
2022
Glenna Henson -

Glenna immediately began her 31-year professional career with Ohio Bell Telephone Company. During her time with Ohio Bell, Glenna was President of The Ohio Bell Pioneers, a charitable organization within the company with 5,000 members. Glenna was a true advocate for volunteerism in the community she loved. In 1983, she was elected President of the Whitehall Civic Celebrations Association. After a few years, Mayor Bishop appointed Glenna to the Whitehall Parks and Rec Commission where she eventually became Chairperson. In the late 1980s she was appointed to Whitehall City Council citing her many accomplishments in the community. Throughout the years, Glenna has been recognized by the Whitehall Girl Scouts, Whitehall Historical Society, received the Whitehall Outstanding Citizen Award, received a City of Whitehall Flag (presented by the Mayor), has been Grand Marshall of the Whitehall 4

th

of July Parade, and continues to promote Whitehall in any way she can.

1978
2022
David Hutchinson - Dave

was an highly decorated baseball and football player for the Rams in the mid to late 1970s. He continued his education and his athletic career at Capital University where he played baseball and football for the then Crusaders. Upon graduating from college, David came back to Whitehall-Yearling High School where he was a business/career teacher from 1983-2013. He received his Masters degree from Marygrove College in 2000. During his time at WYHS, David had a very successful coaching career as he coached the baseball and football programs at various positions. Most notably, he was the head baseball coach from 1992-2004. David provided a tremendous amount of time and service to his school community through volunteering. Efforts included fundraising and building things to help improve programs at Whitehall City Schools fell under David's purview.

1986
2022
Dr. Randy Cooper -

He graduated Summa Cum Laude from the University of Toledo in 1990 with a BA in Biology while playing for the football team. He received his Doctor of Medicine degree from The Ohio State University in 1994. Dr. Cooper became a commissioned officer in the United States Air Force and was stationed at Wilford Hall Medical Center, Lackland AFB, in San Antonio, Texas, from 1994-2002. He was on active duty during 9/11 and served as a member of the Critical Care Air Transport teams. Dr. Cooper has held numerous leadership positions at the University of Texas Health Science Center, the University of Arizona College of Medicine, Southwest Kidney Institute, DaVita Kidney Care, Phoenix-Tucson Integrated Kidney Care, and American Society of Diagnostic and Interventional Nephrology to name a few.

WYHS is Alumni Hall of Fame Inductees
Here is a photo of past Hall of Fame Awardees in January 2018.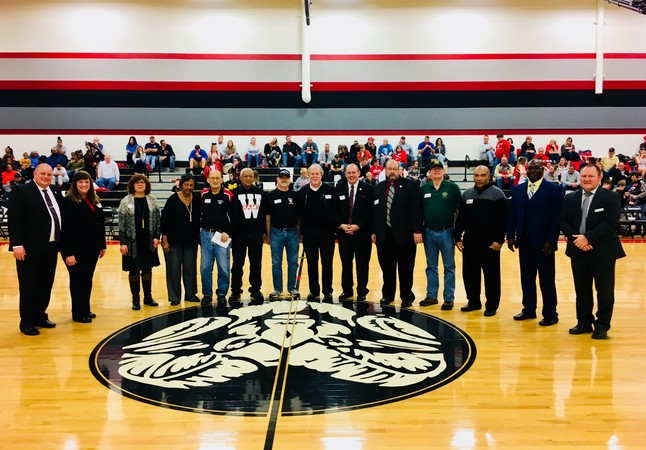 L-R: Paul Smathers, Principal, Karen Liepack Conison, Ram Guest, Phyllis Harper Jordan, Dan Gartner, Clark Fuller, Steve Quincel, Steve Jones, Leo Knoblauch, Scott Harrison, Terry Anderson, Ram Guest, Bill Hughett, Athletic Director

UA-107745049-1