Whitehall-Yearling High School


Classes of 1958 to Present
Ramettes
* Ramette Alumni continue their Homecoming Performance Tradition *
Ramette Alumni perform at every Homecoming game with the Ram Band. They are truly impressive after graduating mamy years ago! Enjoy their 2022 halfrtime performance! Thanks to Lisette Alamo, 2010 for leading this group.
https://www.facebook.com/1363466224/videos/10207666811212663/
*****************
2021 Ramettes' 60th Anniversary Program & Photo Posters over 6 Decades
Welcome to the
60th Anniversary of the
Whitehall-Yearling Ramettes
September & October 2021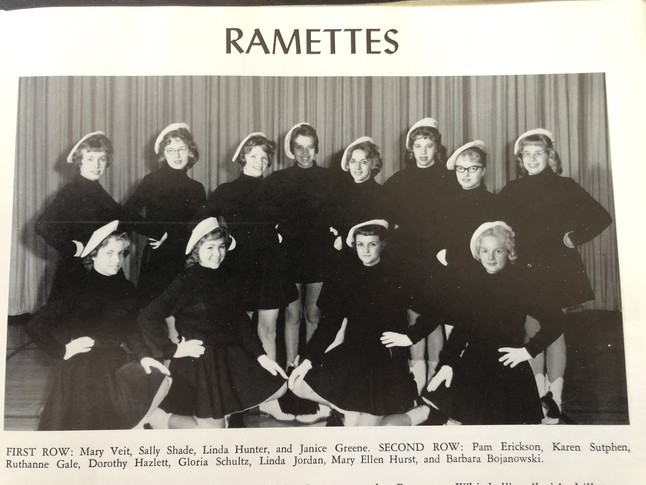 The WYHS Ramettes were founded in the summer of 1960 by Linda Hunter & Sally Shade, WYHS Class of 1961. Linda's mother made their corduroy skirts. The berets & turtleneck sweaters were purchased from a catalog! The band director didn't allow them to march with the band their 1st year. The next year, the reluctant band director decided to allow the Ramettes to perform routines with the marching band.
In their first decades, Ramettes marched in football games, pep rallies & parades. The 1977 Ramettes & the Ram Band marched in President Carter's Inaugural Parade.
In the 1980s, WYHS Ramettes transitioned from a drill team to include dance routines. Since entering competitions in 1975, Ramettes have won 14 State Championships & 9 National Championships.
21st Century Ramettes continue to perform in football games, pep rallies, parades, dance routines & enter competitions. Today, the Ramettes' Coaches are 2010 WYHS Alumni Mari & Maylinda Alamo, who were Ramettes from 2008-10 & Ramette Captains in 2010.
********
WYHS RAMETTES' NATIONAL CHAMPIONSHIPS
1976, 1977, 1984, 1985, 1987, 1988, 1990, 1991 & 1998
WYHS RAMETTES' STATE CHAMPIONSHIPS
1977, 1978, 1979, 1980, 1981, 1982, 1983, 1984, 1985, 1987, 1988, 1990, 1991 & 1999
*********
~ 2021 Homecoming Court Presentation ~
Cindy Shipman Jacobson (66)
1965 Homecoming Queen & 1st WYHS Ramette Captain in 1965
*********
SUPPORT
Whitehall-Yearling Alumni Association (WYAA)
Student & Alumni Scholarships, Homecoming & Reunion Events, Graduation Awards & Career Fairs www.wyhsalumni.org
********
RAMETTE MOTHERS & DAUGHTERS
* Fran DeWitt Rausch (64-RIP)
Mother of Jennifer Mangas (93)
*Alice Patrick Kiser (72)
Mother of Becky (96-RIP) & Kim Kiser (99)
*Sandra Quincel Farnlacher (74)
Mother of Daelann Farnlacher (09)
*Sherrie Lowery Stai (78)
Mother of Nicole Stai (08)
RAMETTE SISTERS
Jan (61) & Marsha(63) Green
Joretta(63) & Patti(64) Eader
Marsha(63) & Linda(69) Brantley
Vicki(63) Cindy(66) Dena(70) Shipman
Teddy(67) & Cricket(70) Sharp
Julie(67) & Nancy(74) Kramer
Robyn(69), Jan & Fran(72) Glass
Vicki Rauch(70) & Diane(74) Rauch
Renee(71) & Jackie(73) Keaton
Linda(72) & Becky(77) Burns
Carol(72) & Connie(73) Rader
Denise(73) & Teresa(76) Hasson
Patrice(74) & Sharon(76) Fitzpatrick
Lynn(74) & Jackie(82) Meek
Teresa(75) & Lisa(76) Sagle
Amy(77) & Andrea(78) Ralston
Johanna Hale(78) & Jonni(80) Hale
Sherrie(78) & Rhonda(81) Lowery
Julie(79) & Cindy(80) Brown
Gabriella(80) & Luciano(82) Serraglio
Christy(84) & Carrie(88) Rebtoy
Merry(87) & Julie(97) Elk
Amber(88) & Camey(89) Castle
Tracy(88) & Kim(90) Baker
Paula Berry(88) & Nikki Gabaree(02)
Jennifer(89) Erica(91) Tiffany(94) Van Gumster
Christy(89) & Amy(95) Buenning
Tammy(90) & Malesa(93) Nutter
Monica(93) & Martha(95) Costa
Heather(93) & Robin(96) Fleming
Angela(99) & Abbey(02) Stertzer
Wendy(97) & Heather(00) Wilson
Maylinda(10) & Maritza(10) Alamo
Tiana(17) & Breana(18) Koulbout
*********
At the VFW 6 decades of Ramettes were displayed on posters.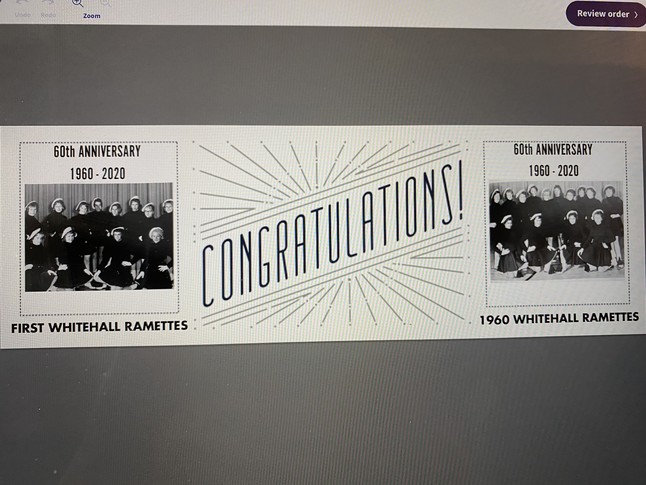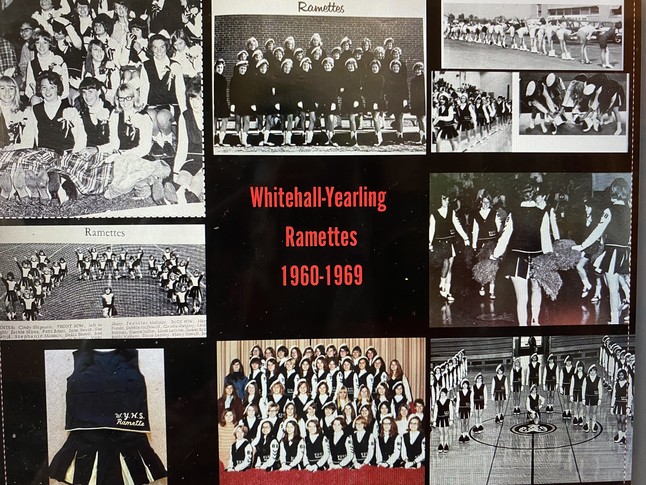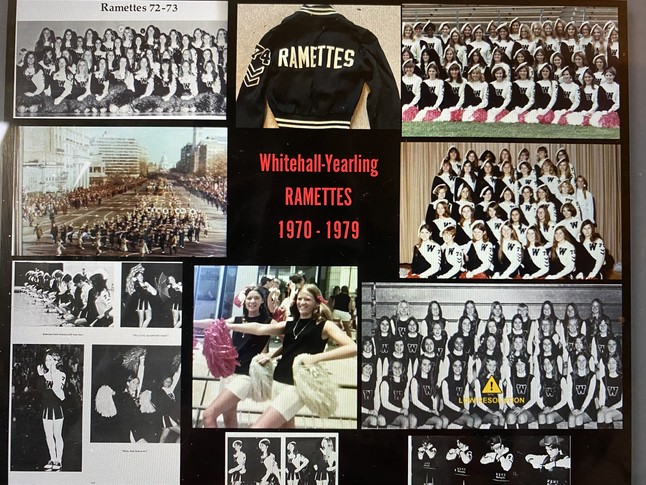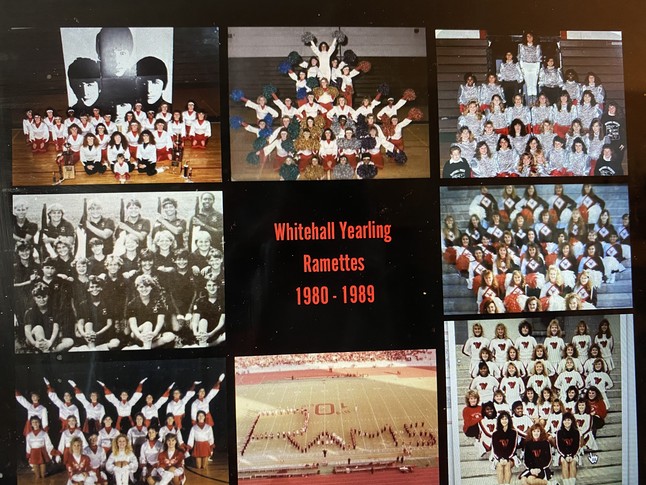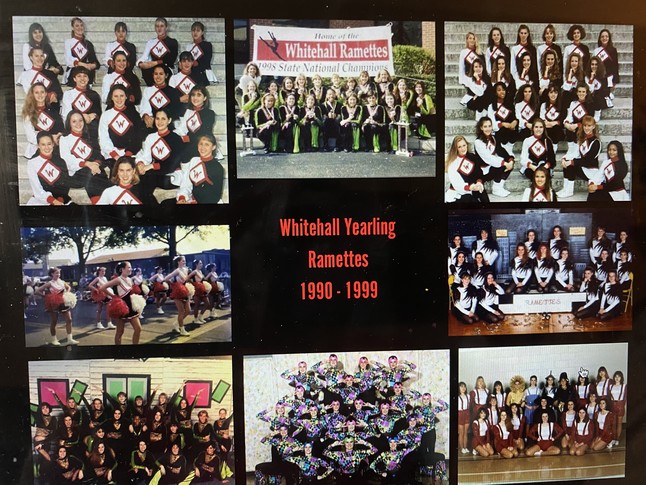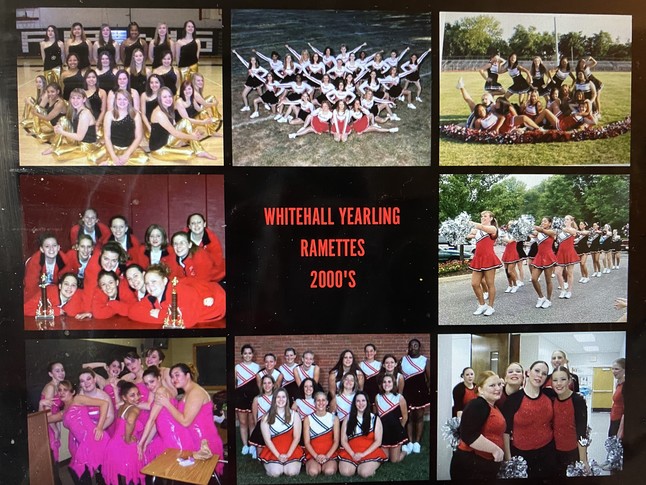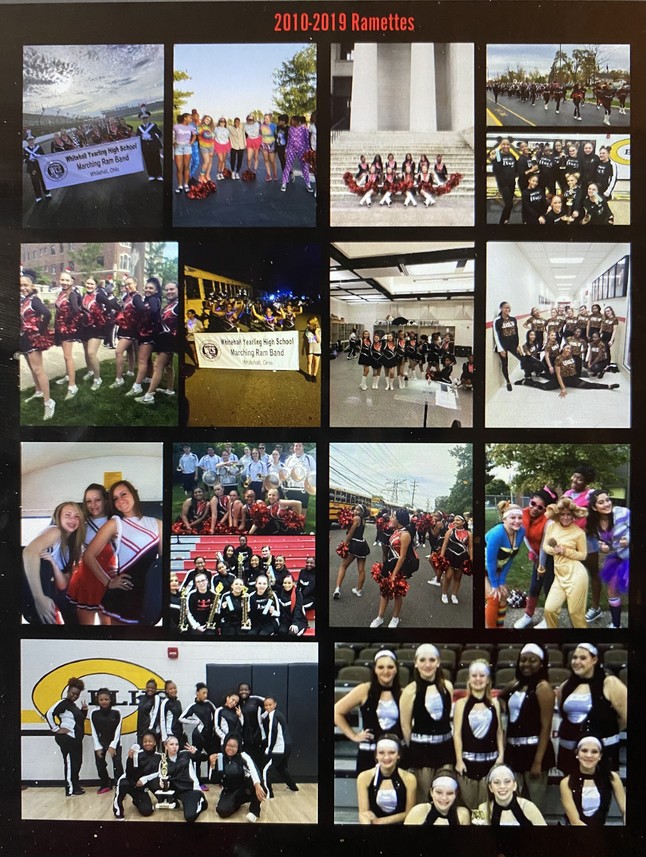 ****************
WYHS Ramette Alumni were honored for their 60th Anniversary during the WYHS 2021 Homecoming Week, Sept. 29 & Oct. 1.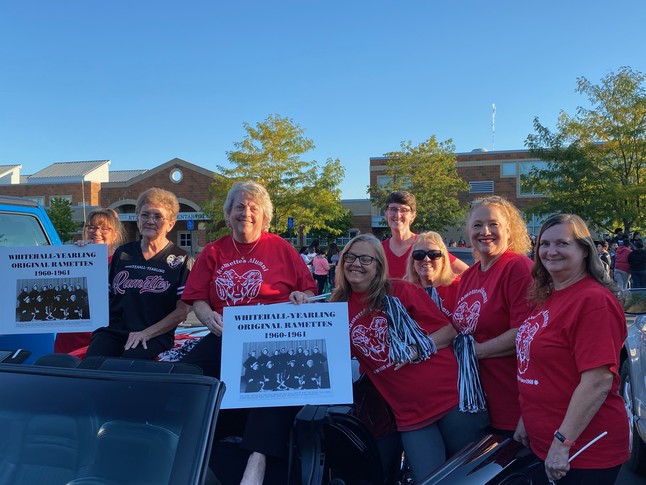 Before the Homecoming Parade. L-R Alice Patrick, Linda Hunter, Mary Veit, Amber Castle Holley, Amy Looney Munz, Linda Brantley, Diana Lippencott, Sandra Quincel Farnlacher.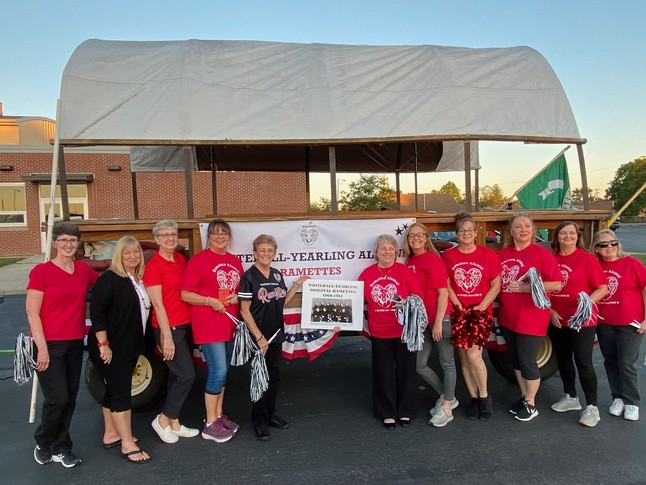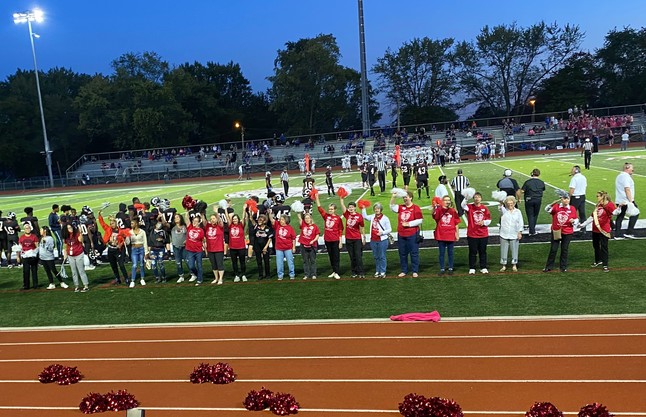 Ramettes from 5 decades were recognized at the Rams Homecoming Game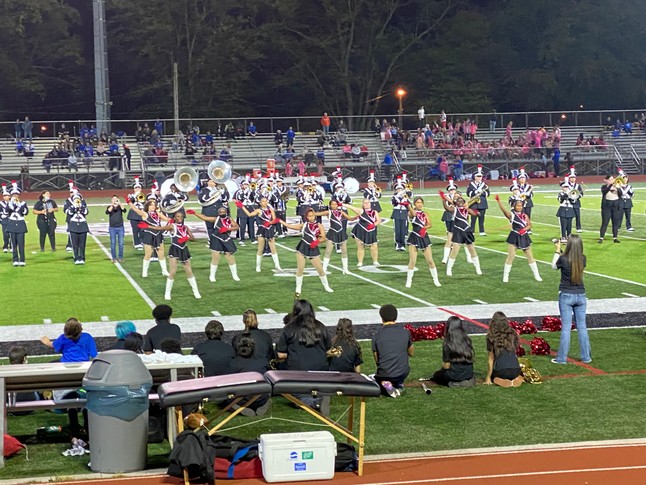 2021 Ramettes performing at Homecoming Halftime with the Ram & Alumni Band.
**************
Special Ramettes T-shirts are being re-ordered in Unisex sizes S, M, L, XL, 2XL.
$20 - Cash or Checks, payable to: WYHS Alumni.
If you reserved a shirt for Homecoming & didn't receive it OR you want to buy a shirt, please contact Joyce Turnbull, via this website's messages, jnturnbull51@aol.com or text: 847-502-9052. I'll let you know when the re-order is available. Shirts can be shipped for $5.85.
Thanks to Bob Ochsendorf (70) for helping us get good prices & a quick delivery.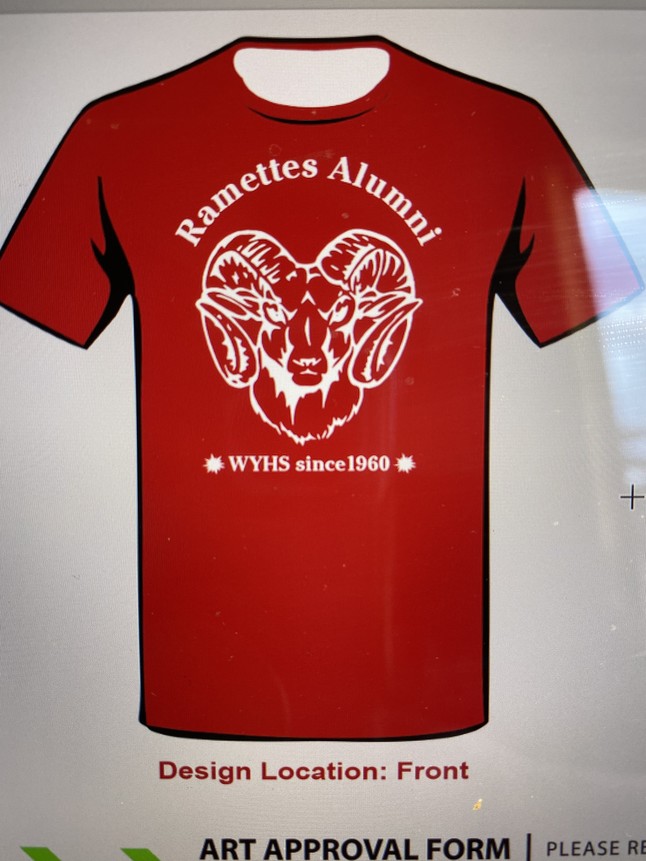 Please join the Ramettes Alumni Facebook: 'Whitehall Yearling Alumni Ramettes'
***********
WYHS original Ramettes from the 1961 Aires yearbook.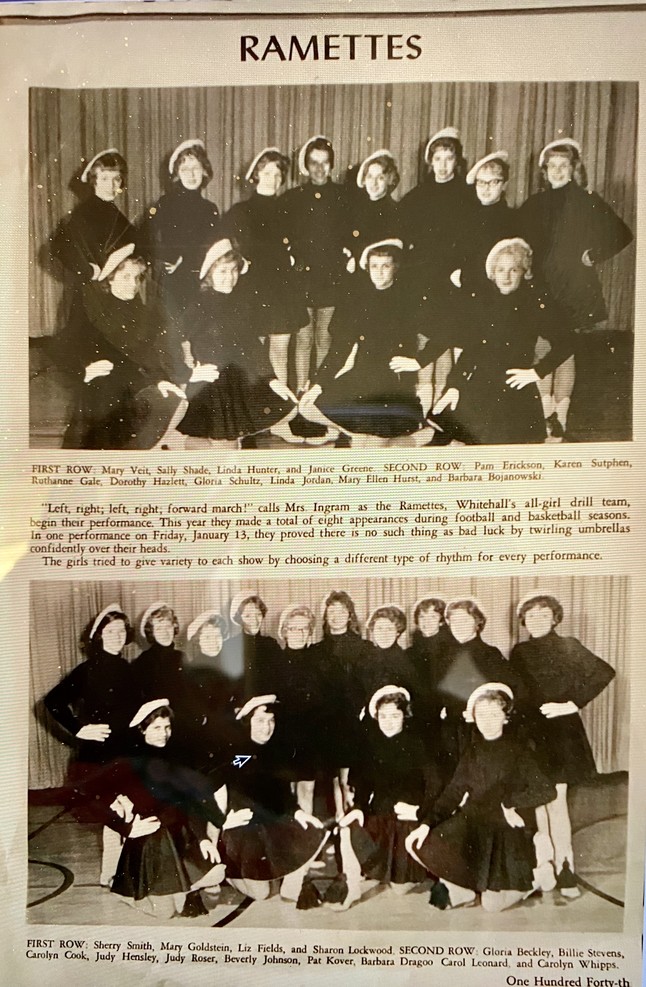 UA-107745049-1