Whitehall-Yearling High School


Classes of 1958 to Present
WYAA & WYHS Stars
UPDATES ARE IN GREEN
Whitehall-Yearling Alumni Association's (WYAA) HISTORY
In 2016 Nancy Keller, 1970, & Joyce Hildenbrand Turnbull, 1969, saw the need to create a website that would be a central depository for WYHS alumni information, reunions, memorials, etc. So they created & launched www.wyhsalumni.org on January 30, 2016.
In 2017, they decided to establish an alumni association to provide opportunities to engage alumni classmates, give back to "Dear Whitehall-Yearling High" & support the WYHS administration, teachers & students. Today, alumni representatives from each decade are on the WYAA board along with a veterans' representative and ex officio representatives from WCS & WYHS faculty. To expand our board, we're looking for alumni to represent varsity sports & performing arts. As of October 2023, there are over 1,960 alumni registered on our website out of a total 20,000 WYHS alumni since 1959. Did you know that Ram alumni live in 47 of our 50 states & 14 countries around the world?
*************
WYAA'S Mission is to support WYHS Alumni, Veterans, Students & our Community.
WYAA is now a 501(c)(3) charitable & tax-exempt organization.
Here's a summary of WYAA's activities since 2018!
2023 HOMECOMING: On September 29, WYAA & WYHS Athletic Dept. will be honoring ALL the Lady Rams from 1973 - 2023 & celebrating 50 years since Title IX that allowed girls to play in high school & college sports.
If you were a captain, coach or player on any Lady Rams teams, we need your help!
We need names, photos, history, and a few coordinators to help WYAA plan this important Homecoming event & reunion.
FYI - I graduted in 1969, so I never played sports at WYHS & I have NO information about the Lady Rams' history. If you want to help, please contact me, Joyce Turnbull, 847-502-9052 or jnturnbull51@aol.com.
SCHOLARSHIPS: We know that life & careers can change after WYHS, so WYAA offers Alumni Scholarships for alumni who want to attend any college, university of trade school. Questions? Contact Ed Kowalski, 1982, chefkowalski@gmail.com.
WYAA also gives student scholarships to WYHS graduating seniors who plan to attend a community college or trade school. Since 2018, 8 students but only 1 alumnus have received WYAA scholarships.
- WYAA partners with the Whitehall Education Foundation (WEF) to administer our scholarships becausse WEF is a member of The Columbus Foundation.
GRADUATION: As of 2023, WYAA has presented over 1,600 glasses. In 2018 WYAA started a new tradition of presenting WYHS Ram Pride beverage glasses to graduating seniors during graduation.
Past Homecomings:
- In 2022 homecoming games WYHS All-Americans, All-State & State Champion athletes.
- In 2021 WYAA honored the 60th Anniversary of the WYHS Ramettes.
- In 2020, the undefeated Ram football teams of 1969 & 1984 were honored.
- WYAA invites past Homecoming Queens to present & crown the new WYHS Homecoming Queen & King.
- Thanks to: Karen Beery Porta, 1963, Cindy Shipman, 1966, Patty Lepper Trasin, 1970, & Terry Taxter, 1968!
SPORTS: WYAA alumni receive student ticket prices @ Homecoming & Hall of Fame basketball games.
VETERANS: Every Veteran who registers on this alumni website will receive the WYAA Veterans Sports Cards. These cards give veterans free admission to all WYHS home sports games & never expires. Over 370 cards have been sent to our alumni veterans since WYHS Bill Hughett Athletic Director approved WYAA's program to honor our Veterans.
CAREER FAIRS: Since 2018, WYAA has sponsored, planned, coordinated & worked with WYHS guidance counselors to plan the WYHS annual career fairs. Over 1,400 students have attended these fairs. Companies like Home Depot, Fed Ex, Whitehall Parks & Recreation, etc. have hired students as a result of this fair. This fair features local businesses that provide future careers without college degrees are the focus of these Career Fairs. Alumni businesses are always welcome. Contact Joyce Turnbull if interested: jnturnbul51@aol.com
***************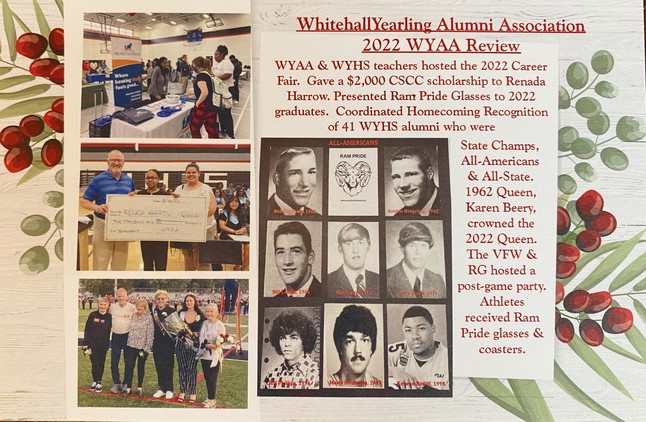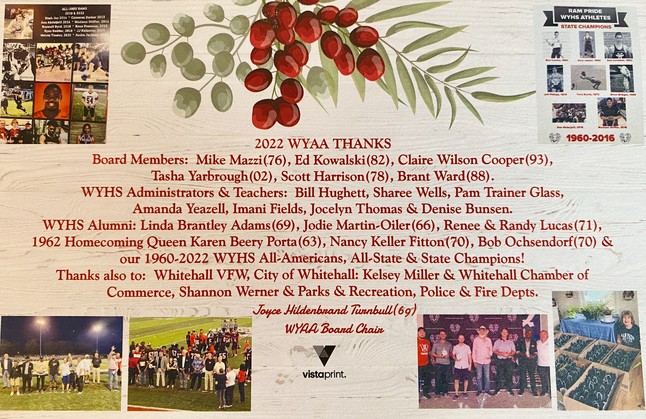 UA-107745049-1