Whitehall-Yearling High School


Classes of 1958 to Present
Whitehall Education Foundation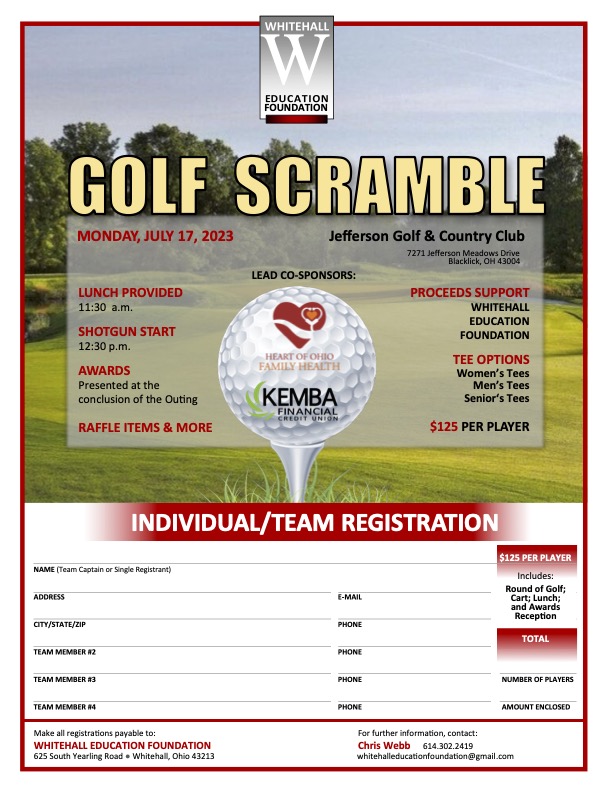 ***************
~ WEF Celebration Dinner at the Jefferson Country Club ~
2023 Hall of Fame Honorees
Ed Kowalski, Class of 1982, is a board member of the Whitehall-Yearling Alumni Association since 2018, where he manages the alumni association's student scholarship program. As a student, Ed worked at Whitehall's first TV studio where he produced weekly news & interview shows.
Ed is now a successful chef & culinary professional in Columbus. For over 17 years, he has worked at Delaware North's SportService at Nationwide Arena. As their "Sweets Chef " Ed oversees food preparation & execution of 52 luxury suites & party towers for all the Arena's games & events. Ed is also an award-winning culinary competitor, competition judge, cookbook author & a contributor to various cooking books & magazines.
Oleatha Waugh, Class of 1990, excelled in Whitehall sports, finishing 3rd in the 1990 state wrestling finals. He also played football & baseball & is in the Rams Athletic Hall of Fame. Over the past 20 years Oleatha has been an inspirational mentor & dedicated professional, helping influence Franklin County's troubled youth towards a better future. Oleatha's mission has been devoted to giving people second chances. Because…at 20, he was incarcerated for 5 ½ years for dealing drugs & assault.
After prison, Oleatha decided to atone for his mistakes. He received degrees from Columbus State Community College & Capital University. In hopes of preventing gang membersfrom repeating his youthful mistakes, Oleatha 'worked the streets' for the Columbus Urban League. He was the Urban League's Director of African-American Male Initiative Youth Programs, where boys & young adults of color receive resources, exposure & experience to provide a framework for success. In 2014 Oleatha was inducted into the Columbus State's Hall of Fame for his contributions in "Gang Violence Intervention & as a Mediation Professional".
Today, Oleatha continues to give back to his community working for Franklin County Children Services as the manager of SIMBA. This program matches African-American boys with African-American men in a 1-1 mentoring relationships.
Wil Wong Yee, Class of 1999,is a professional artist who specializes in creating unique cityscape paintings using spray paint, markers & acrylic paint on plywood. Wil graduated from the Columbus College of Art & Design in 2005. His paintings feature Columbus & its vibrancy of life in sections of downtown Columbus, Bexley, The Short North & local sports venues. His paintings have been displayed at Columbus City Hall, the Columbus Convention Center, Nationwide Children's Hospital, State Farm, & local restaurants.
Wil feels deeply about celebrating & accepting everyone's differences. So, his murals around Columbus promote inclusiveness. You can see one of Wil's murals on the side of the Whitehall Parks & Recreation's Maintenance Facility building on Country Club Road.
Wil likes to give back to the community by using his skills as an artist to inspire youth & promote volunteerism. He has traveled several times to Cuba where he helped & supported local artists to learn how to make a living wage. Yee says, "With my work, I try to use it as a platform to help other people & organizations."
WCS Faculty
Candy Filip recently retired from Whitehall City Schools, and served the district with compassionate support and service in the Administrative Offices, especially as the Administrative Assistant to the Superintendent. Additionally, her noteworthy support of the Whitehall Education Foundation provided efficient communication to the staff and students of Whitehall City Schools during her tenure. This award recognizes her excellence and dedication to education.
Pam Glass has taught at Whitehall City Schools for 23 years & is District's Transition Coordinator & she's certified in Pre-Employment Transitions Services. In this role she assists students with learning disabilities from 14 to 22 to help link students with the right resources to ensure they have the best chance of a successful transition from school to the adult world. She also co-teaches with the Intervention Specialists to teach students soft skills, like interviewing for a job. Pam helps coordinates annual college fairs for students who will need disability services in college & Whitehall's annual college fairs for juniors & seniors. Pam is a true gift to our WCS community.
Wendy Siegel started in Whitehall City Schools in 2014 as the District's Nurse and now leads all of the district's health related initiatives and staff. Wendy is being honored tonight because of her amazing leadership during COVID and because she is a DO-ER! Without hesitation, she's quick to jump in and get things done, she's bold, passionate, and she is a visionary who is always willing to share ideas about how things are or how they should be especially when it relates to health services for kids! In a given day, you Wendy runs between schools helping students with diabetes care, calling parents about illness or injury, helps a student with a voucher to get free glasses, scheduling nurses to teach health classes, facilitating program with health partners like Heart of Ohio and and much more. During the Covid pandemic, Wendy worked long hours to keep our students & staff safe & informed, and is always responsive to our staff, students, and families. Nurse Wendy is being honored tonight because we're grateful for all she does for our Whitehall City Schools' students, staff & families.
Whitehall Students
Seid Nurhamed was named the Class of 2023's Salutatorian with a 4.43 weighted GPA. He was a member of Whitehall's Academic Team for 3 years & one of its captains. In sports, he is a scholar athlete & won the Sportsmanship Award on the Rams' cross-country team & is the captain of the tennis team. Seid hasn't selected his university, but he plans to major in computer science. This award recognizes his excellence and dedication as a student and has been identified by the school's administration for consideration for this award.
Cira Wooden is not only smart but also a leader, a scholar athlete & is the president of her senior class. She served on the student council all 4 years & as its president for 2 years. In sports, she plays on the Lady Rams varsity soccer & volleyball teams. Cira has a 3.9 GPA & plans to major in Chemical Engineering at the University of Cincinnati. This award recognizes her excellence and dedication as a student and has been identified by the school's administration for this award.
Whitehall Schools' Community Honors
RG Kouns is receiving this year's Community Award because of his 40 years of commitment & support for Whitehall's youth, students & schools. Since moving to Whitehall in 1970, RGhas been a community volunteer & influential youth leader. In 1990, RG & his wife Debbie re-established Rosemore's football & cheerleading programs, after those programs stopped in the mid-1970's. RG & a few volunteers coached 5 years for the Lancer's football teams. His nomination was favorably endorsed by the Whitehall Education Foundation Board.
Anthony Jordan is also an outstanding community servant who has demonstrated leadership and excellence in his steadfast support of the City of Whitehall. This award recognizes his excellence and dedication while offering volunteer support and service to various civic programs and activities that enhance the city. His nomination was favorably endorsed by the Whitehall Education Foundation Board.
Congratulations to all our Honorees!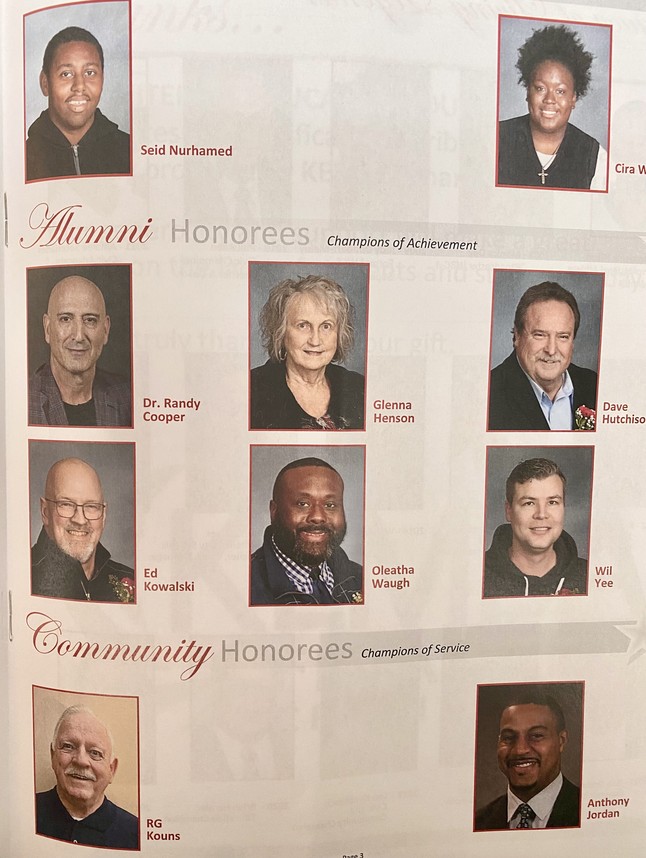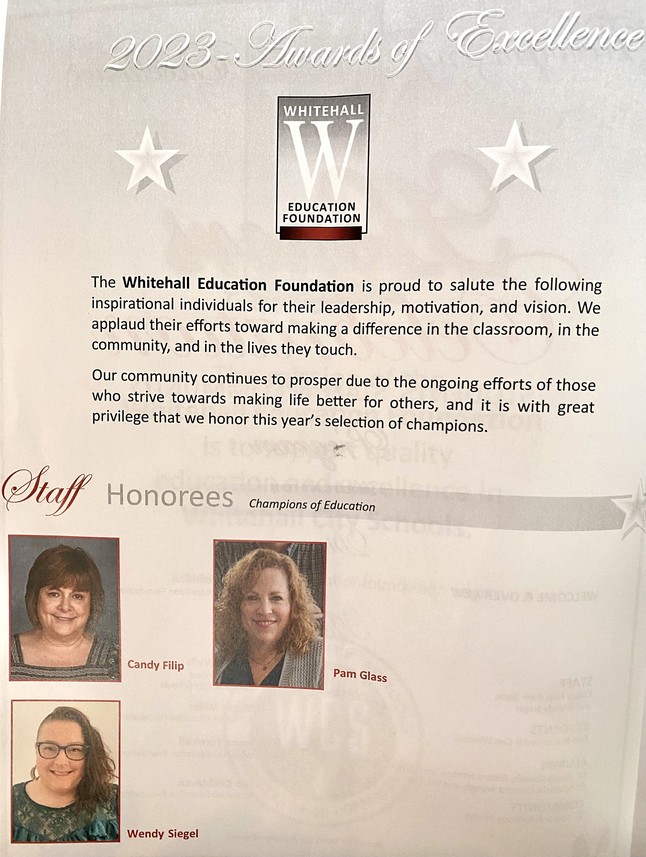 WEF Elects New Board Members
Congratulations to the WYHS alumni who were recently elected to serve on the WEF Board of Directors.
They will serve a 2-year term.
Fred Everett, 1987
Dassan Jefferson, 2015
Nancy Krouse Kennedy, 1966
Joyce Hildenbrand Turnbull, 1969
Current Alumni WEF Board Members:
Terry Anderson, 1978, President; Leo Knoblauch, 1979, Vice President; Chris Webb, 2004, Treasurer;
Marlene Phillips Miller, 1969; Laurie Johns, 1981; Shaq Alexander, 2014; Jayne Lawson Shannon, 1972.
Mission
The mission of the Whitehall Education Foundation is to support quality education and excellence in Whitehall City Schools.
The Whitehall Education Foundation is a 501(c)(3) non-profit organization, established in 2004 for the purpose of supporting the mission, vision, and goals of Whitehall City Schools.
The Foundation provides supplemental support to both students and staff by awarding grants and scholarships, funding school improvement initiatives, and leveraging community resources to improve public education at Whitehall City Schools.
The Whitehall community and alumni of Whitehall-Yearling High School are bound by a legacy of pride that is supported by family, friends, and the enriching tradtions and developments within our city.
As the community prospers, the Whitehall Education Foundation provides a simple pathway in which we all can enhance the educational advancements for students and teachers for generations to come. We strive to raise funds through estate giving, fundraising efforts, and individual contributions that support classroom grants for instructional needs, as well as student scholarships.
Additionally, the Whitehall Education Foundation hosts an Annual Scholarship Golf Scramble that unites many alumni, local businesses, and community leaders for an exciting day of golf, food, and fun while raising funds to support its mission.
Annually, a community member is also saluted for their support of students and honored as a "Living Legend." To date, notable recipients have been:

Monica Day, Domenik Hixon, Judyth Dobbert-Meloy, Phil Allen, Amalee Soteriades, Kim Maggard,

and

Dr. Augustus Parker III.
Through significant funding that has been raised, the Whitehall Education Foundation is able to provide assistance to educators in the district through classroom grants.

Mini-grants are small funding opportunities for classroom-based activities and needs for the academic year. For over five years, teachers have been provided a wide range of support for their classroom instructional needs such as: science and math enrichment, mentoring and tutoring support, advancements in classroom technology, and other areas.
The Whitehall Education Foundation has also been able to provide assistance to graduating seniors from Whitehall-Yearling High School. The purpose of the scholarship funds are to support the student's needs during their first year of college. Scholarship recipients must meet criteria based upon academic achievement, financial need, and college interest.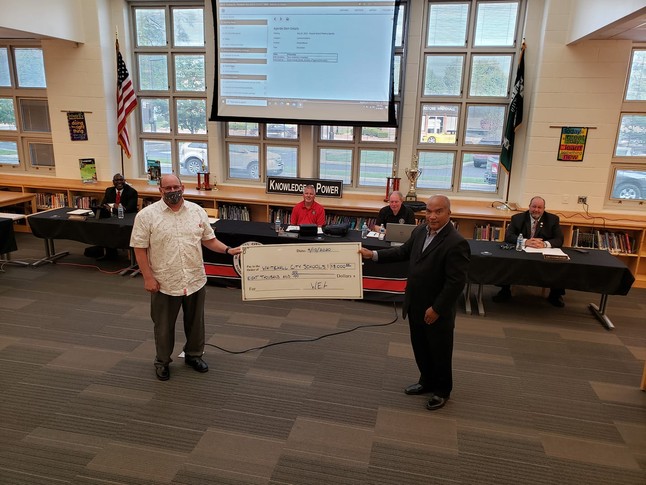 Pictured are WCS Superintendent, Brian Hamler (RIP), along with WEF President, Terry Anderson. Seated behind them from left right are WCS Board Members, Darryl Hammock, President, Mike Adkins, Jeff Lees, and Vice President, Leo Knoblauch.

************************

Whitehall Education Foundation 2019 Honors Celebrations

STUDENTS, STAFF & COMMUNITY. The Whitehall Education Foundation is proud to be able to salute the following inspirational individuals for their leadership, motivation, and vision. We applaud their efforts toward making a difference in the classroom, in the community, and in the lives they touch.

Our community continues to progress due to the ongoing efforts of those who strive towards making life better for others, and it is with great privilege that we honor this year's selection of excellence.

STUDENT HONREES: Riley Maxstead, 2019 & JJ Kefauver, 2019. STAFF HONOREES: Jamie Snodgrass, Carol Strosnider, Nichole Lohrman-Novak, Judy Scott, and Jessica Horowitz-Moore. ALUMNI HONOREES: Bruce Lowe, 1972 Spencer Salyers, 1983, & Marty Bannister, 1980. COMMUNITY HONOREES: Julia Shade (Teacher), Dee & Jeff Lees, 1988, Joyce Turnbull 1969, Ron Johnson, & Christine Davis

UA-107745049-1