Whitehall-Yearling High School


Classes of 1958 to Present
Whitehall Schools & City News
Student Success Store makes an impact in the lives of Whitehall students
---
COLUMBUS, Ohio (WSYX) — Giving a hand-up to students who need it most. A unique new store has opened inside of a Whitehall middle school providing help and hope. The local non-profit, 'Student Success Stores,' launched the project at Rosemore Middle School. Students and families are able to shop for essential items at no cost. Thanks to Discover Corp. for their partnership in this worthwhile program.
"The amount of students that come in and say oh I just came in cause I need this one item and I say whatever it is that you need, come look around. Is it something that you need for your brother, your sister, your parents? You can have it," said Jamiee Fligg with Student Success Stores.
ABC 6 got a tour, and the local non-profit shared that they aim to meet the basic needs of students at schools across the community. "I got like some laundry detergent, some hair product. I got an umbrella, just in case it rains or [is] sunny, and I grabbed some snacks just for when I get on the bus or get home," 6th grade student, Kaleigh Dogan, told ABC 6.
Stores like the one at Rosemore are stocked with vital items. From food to clothing and school supplies; those who need it are able to shop in privacy and with dignity. "It's great, and it makes kids feel more welcome," said Dogan. "You know, I think it's a sign of relief that I can come somewhere and shop for free. I don't have to buy anything," said Tracey Colson with Whitehall City Schools.
The important idea behind it all is that if students have the essentials they need, they will have a few less burdens, allowing them to focus better on school work and learning. "We talk about helping our students to dream big here. We say that each and every day and this is an opportunity to help take away obstacles so they can focus on their academics and education," said Rosemore Principal, Dr. Rochelle Rankin. Organizers of this project are hoping to have a life-long impact on students and their families. Their mission is to help students succeed by starting the school day healthy, confident and ready to learn.
* WCS wants Alumni to Vote! *
Help choose the logo colors for the new WCS Pre-K school, C. Ray Early Childhood Center. Click on the link to vote: https://forms.gle/ViJ4ZRJtLHfD3Nii6. Voting ends on Sept. 19. Thanks Rams!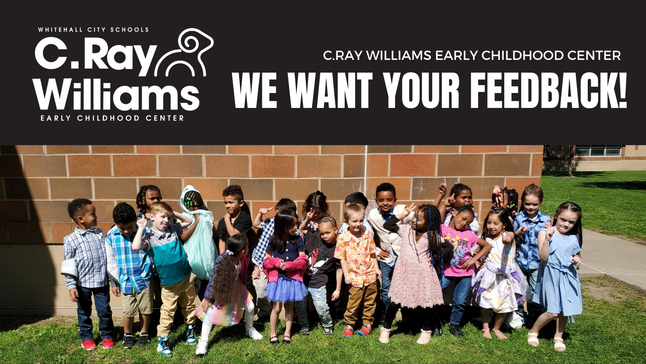 * WYAA Presents $30,000 Check for the WCS expanded 2023 Pre-K Program * Over 58 WYHS alumni & friends, the City of Whitehall, Whitehall VFW & Massey's Pizza donated $30,000 from July 1 - July 30 at their board meeting on Thursday, August 10, 2023.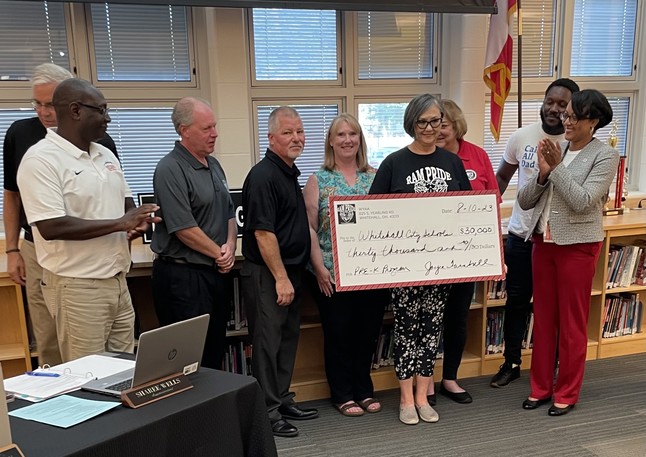 L-R: Darryl Hammock,1990; Zach Wright, 1979; Jeff Lees, 1988; Board President Mike Adkins, 1987; WCS Treasurer, Missy Griffith; WYAA Chair Joyce Hildenbrand Turnbull, 1969, Jayne Lawson Shannon, 1972; Dassan Jefferson, 2015, & WCS Superintendent, Sharee Wells
* Pre-K Needs Mid-Day Helpers * Whitehall's expanded Pre-K program needs 4, mid-day helpers from 11am - 1pm, 5 days per week. These positions pay $15.83 per hour. For more information, contact Cathy Senalik, 614-417-5004 at WCS' HR department. Online application: https://www.applitrack.com/duesc/onlineapp/JobPostings/view.asp?AppliTrackJobId=19628&FromAdmin=True
* Congratulations to Children's Author, Carol Fish Doeringer, 1972 *
Carol just published a children's book, If you Wake a Skunk. This book is for 5-8 year-olds. To support of WYAA's Pre-K campaign, Carol is donating her autographed books to all of Whitehall's elemenary schools! Go to amazon.com to purchase.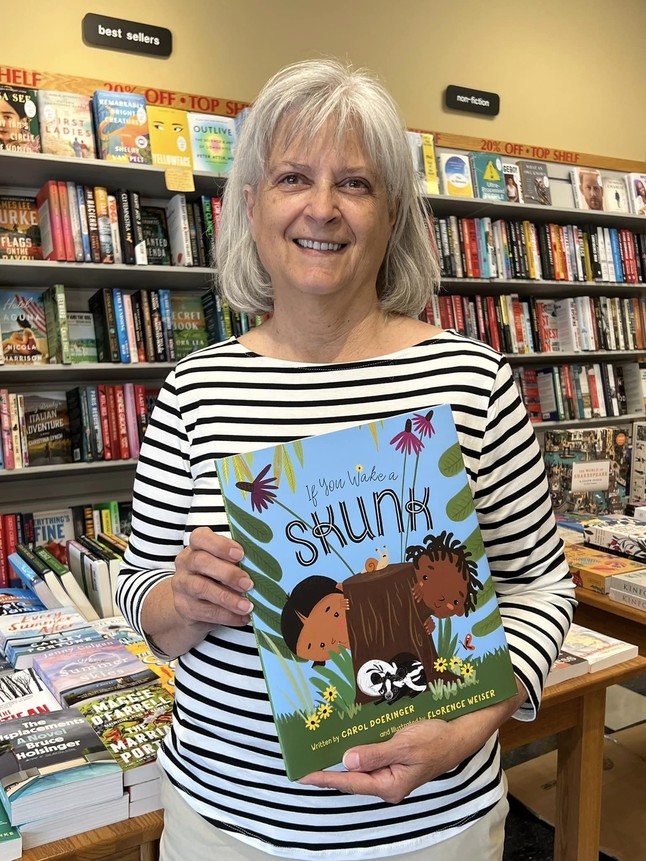 * Congratulations to Andre Jackson, 2024 * WYHS Junior Andre Jackson finished 3rd the 400m at the 2023 Ohio HS State Track Finals on June 3. AND...The Naval Academy has officially offered Andre Jackson a full-ride scholarships with the opportunity to play football. (see photos below)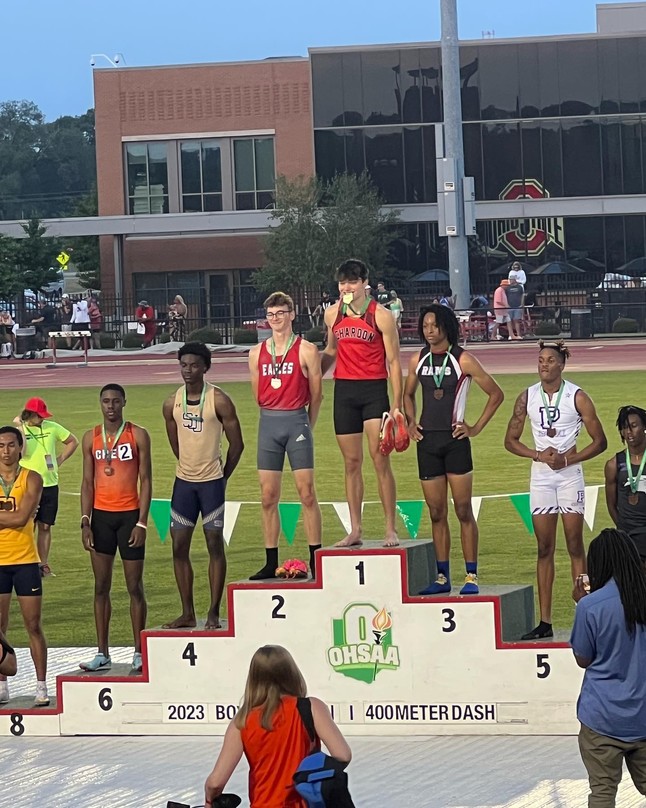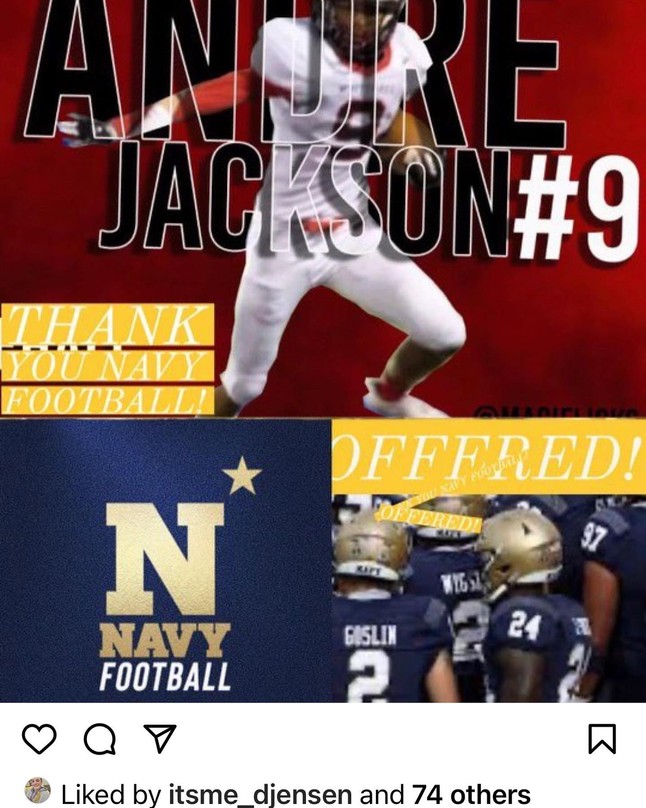 *******
15th Annual Ram Pride Wrestling Golf Outing
Saturday, July 29, 2023 @ Gahanna Municipal Golf Course 220 Olde Ridenour Rd, Gahanna, OH 1:00 p.m. Shotgun Start
$70 per golfer / $280 per team Includes Lunch & Dinner, Greens fees, & Cart Teams of Four – Scramble Format
Looking for Sponsors: Businesses, Organizations, or Individuals $100 for one hole - $200 for three holes - $300 for five holes.
Please Mail Form(s) and Payment to:
Rams Sport Club,
c/o Tim Farrow, Head Wresting Coach, 842 Rosemore Ave., 43213
Call to Register &/or Sponsor: Tim Farrow (614)496-5234
Thank you for your support of the Whitehall Wrestling programs!

Together we can!
***********
* Cameron Barker, is one of Ohio's Exceptional Educators* Congratulations to Cameron Barker, WYHS 2015, who was selected by the Ohio Education Associations' for the "Exceptional Educator" award. Cameron teaches autistic children at Etna Road School. Cameron made All-State in football & was recently named to the WYHS Athletic Hall of Fame. Cameron is also giving back to our alma mater as one of the Rams' football coaches. Click the link below to see his interview.
https://www.ohea.org/educationchampions/?fbclid=IwAR2yl8_UZ_2izThBY4WdbyvqIphWlP9c3pDdTuRW_PcsFDOgpG3gDmGQhuQ
*******
* Scott Harrison, 1978, Donates 3 Ram Statues to WYHS *
Scott Harrison's 1978 classmate, Brian Hamler, becamed the superintendent of Whitehall City Schools in 2013. At Scott's 35th class reunion, he noticed the only representation of the ram mascot was on the half court of the basketball floor & the 50-yard line on the football field. With Brian's approval, Scott made it his mission to furnish WYHS with 3 bronze ram statues.
Scott recently shared what each statue represents to him, & hopefully, WYHS alumni & the Whitehall community.
"In 2014, the
"Twin Rams"
statue arrived. These rams represent US veterans who became WYHS teachers, administrators, support staff & students who followed in their footsteps into military service.
Today, we honor WYHS teachers who served in the military because they taught us the knowledge & skills needed to succeed in life. The "Twin Rams" stand in the library. To view, enter the library its behind the library's blinds, next to the window."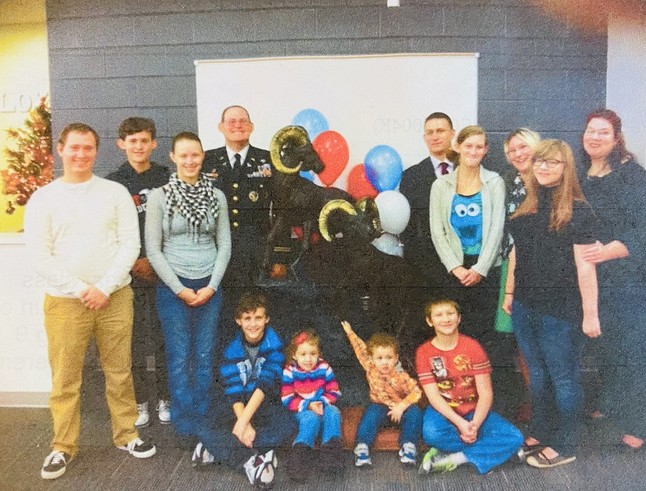 Scott in his Army uniform with students.
"To celebrate the passing of the 2019 Whitehall City Schools' levy, Scott donated the "
Ram Pride"
statue to stand next to the football field. This ram statue stands proudly next to the WYHS Victory bell & the American flag.
"Ram Pride"
is viewable from the Whitehall City Schools' administration building, WYHS high school & every Rams' sport's field.
Win or lose, this statue represents WYHS students, teachers, administrators & alumni."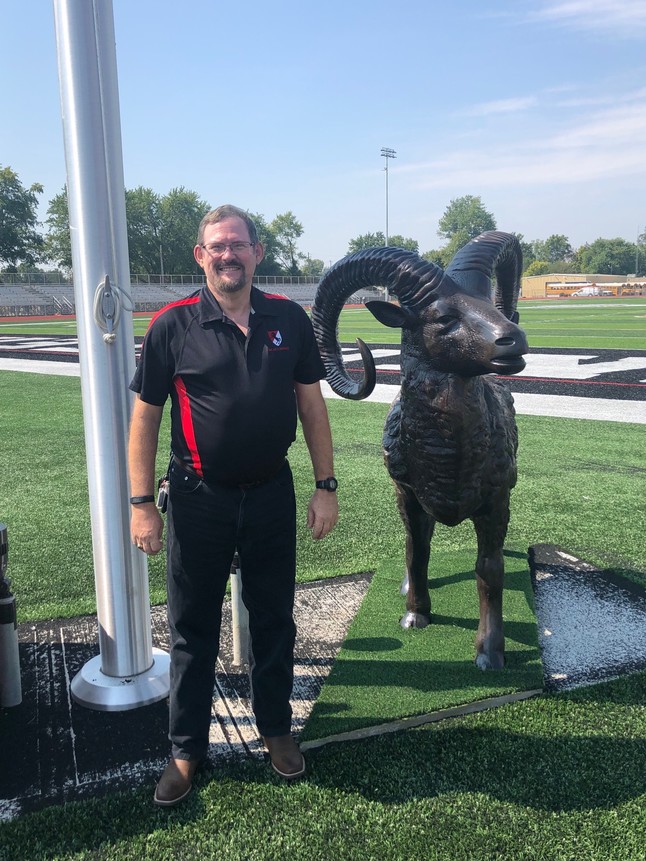 Scott Harrison with
"Ram Pride"
"In 2022 Brian Hamler passed away.
To commemorate his impact on the Whitehall City Schools, the community & the people who knew him, WYHS dedicated its baseball field "The Brian Hamler Field" in his honor. Brian made All-Ohio honors as a baseball pitcher. Scott donated & dedicated his third & final statue,
"The Hamler Ram"
to be installed
overlooking the baseball field to his classmate, Brian Hamler. Brian was a great friend to Scott & many. He will be missed."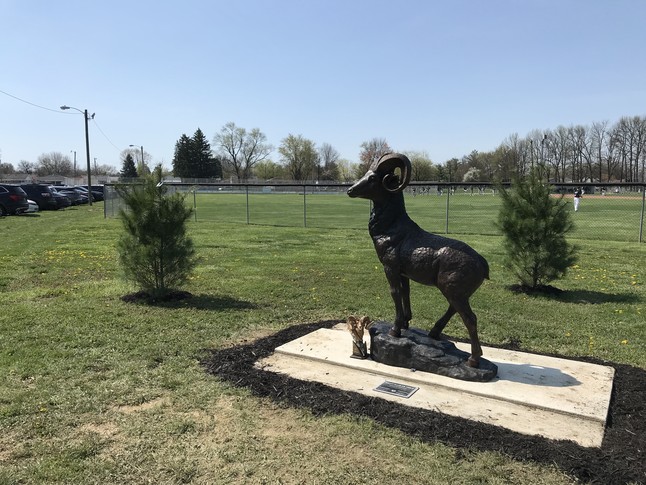 "Hamler Ram"
Thanks to Scott Harrison for his generous donation of the new WYHS
Twin Rams, Ram Pride, Hamler Ram statues!
*****************
Ram football & baseball star, Matt Angle, 2004,
Donates baseballs & a pitching machine for WYHS Ram baseball teams!
Matt made All-Ohio football honors in 2004. In 2003 he made All-Districthonors in baseball & football. And in 2013, he was named The Dispatch's All-Time Best Return Specialist!
Matt was a star center fielder for OSU. He was drafted 7th round by the Baltimore Orioles & played pro baseball from 2007-2015.
Matt was a Buckeye assistant baseball coach from 2018 until the fall of 2022 when he was hired as a player development coach by the Cleveland Guardians.
THANKS MATT for giving back to your alma mater!
*************
* 2022 WYAA Scholarship Awarded *
Ed Kowalski, 1982 &

WYAA Board Member

presented Renada Harrow, WYHS Class of 2022, with a

$2,000 scholarship.

Renada attended Eastland-Fairfield & will study at Columbus State to pursue a nursing career.
Thanks to

Scott Harrison, 1978

, who matched WYAA's $1,000 scholarship, to increase Renada's scholarship to $2,000!
WYAA

(WYHS Alumni Association) gives annual scholarships to WYHS graduates who are attending a 2-year community college or trade school. WYAA will also give scholarships to WYHS Alumni who are attending college or trade schools.
Contact Ed Kowalski via private message on this website.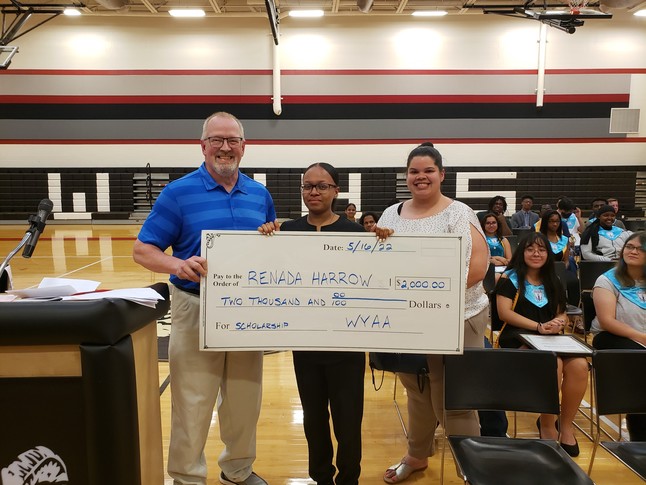 Photo L-R: Ed Kowalski, Renada Harrow & Ashleigh Brady, WYHS CSCC representative at the WYHS Class of 2022 Senior Awards night on May 23.
****************
* WYHS Brian Hamler Field's Dedication *
April 23, 2022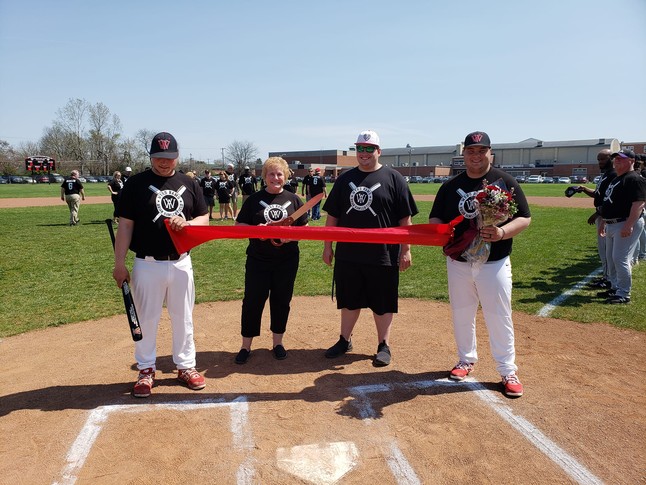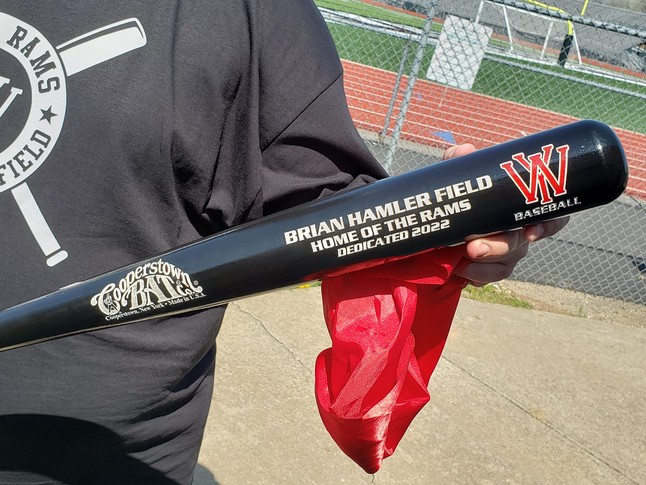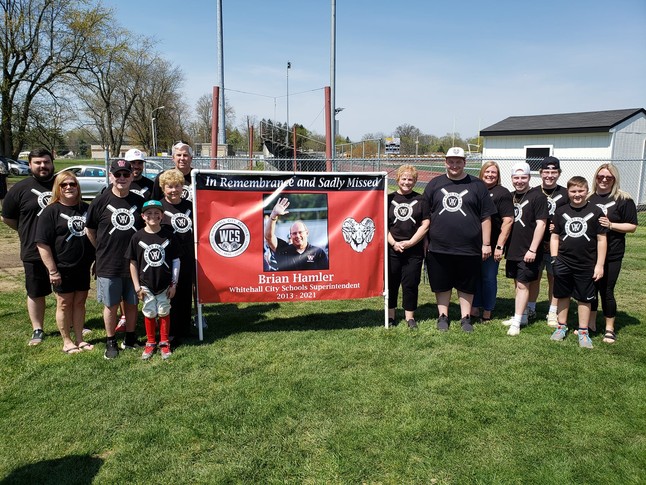 ****************
* New Whitehall City Schools Superintendent Named *
After an extensive search, community involvement, and rigorous interview process, Whitehall City Schools has named Sharee Wells as the district's next superintendent. Wells was selected among 30 candidates who applied for the position.
Wells comes to Whitehall from Hilliard City Schools where she served as their Assistant Superintendent. Prior to that, she served in roles as the Director of Professional Learning at the Educational Service Center of Central Ohio and the Executive Director of High Schools for Columbus City Schools. She received her Bachelor of Science in Spanish Education K-12 from Ohio University and her Master of Arts in Educational Policy and Leadership from The Ohio State University. She is currently on track to complete her Ed.D. from Ashland University in Leadership Studies in June of 2022.
During her career at Columbus City Schools, Ms. Wells improved the district's performance on every Ohio State Test administered in grades 7, 8, and high school end-of-course exams. With over 20 years of comprehensive and diverse service-oriented leadership experience, Wells offers an established track record of raising academic performance, increasing adult commitment and productivity, and engaging parents and the community in meaningful ways.
"Sharee is known in educational circles as someone with high standards for creating solutions to problems, monitoring progress, and leading teams through transformation processes," said WCS Board President, Mike Adkins. "After the tragic loss of superintendent Hamler a few months ago, we knew this district was going to go through a monumental transition. We feel Sharee is the perfect person to lead our district into this next chapter."
* CHANNEL 4 DONATES 12,000 BACKPACKS *
WCS Deputy Superintendent, Mark Trace, WYHS 1983) was interviewed by NBC 4's Monica Day (WYHS 2000) on August 20, 2021 about Channel 4's donation of 1,100 backpacks for Whitehall students.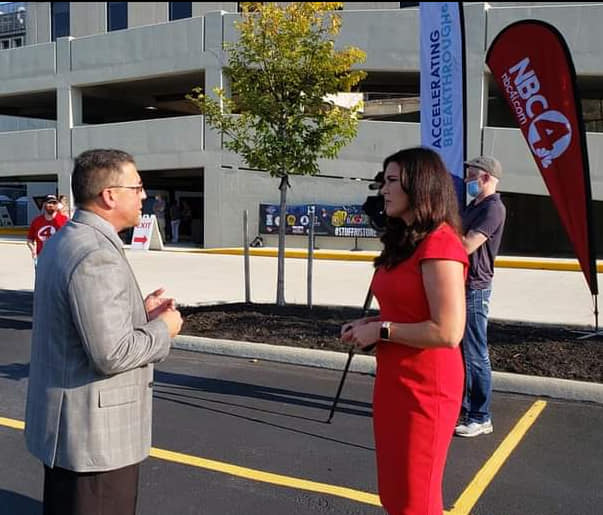 *******************
* Whitehall City Schools will receive $12,835,938 from The American Rescue Plan *
In 2021, Congress authorized The American Rescue Plan Act that resulted in the supplemental funding of the ​under the Elementary & Secondary School Emergency Relief Fund (ESSER). The purpose of this funding is to assist local districts, including ours, to address safety needs and recover student learning loss. To see how WCS will spend their Rescue Relief Funds, click on the WCS link below. https://www.wcsrams.org/protected/ArticleView.aspx?iid=6YB2GPB&dasi=3YYY
***************
Whitehall City Schools (WCS) website: http://www.whitehallcityschools.org
The Rams Sports news & schedule: https://wcsramsathletics.com
FIGHT SONG BY THE RAM BAND https://www.facebook.com/1507118339/videos/1781167092215632/
Whitehall-Yearling High School Principals & School Years
1. 1955 to 1965-66 Austin Peel
2. 1966-67 to 1972-73 Robert Strahm
3. 1973-75 James Janek
4. 1975-76 to 1979-80 Ed Houston
5. 1980 to 81 Roger Dumare
6. 1981-82 to 1988-89 John Peters
7. 1989-90 to 1993-94 Stephen House
8. 1994-95 to 1997-98 Robert Wallace
9. 1998-99 to 2001-02 Mindy Farry
10. 2002-03 to 2003-04 Glenn Hunter
11. 2004-05 to 2008-09 Dondra Maney
12. 2009-10 to 12-2015 Carl Svagerko
13. 2016 to 2019 Paul Smathers
14. 2019 to 2020 Chrystal Johnson (Acting)
15. 2020 to 2021 Paul Warfield
16. 2021 to 2022 Henry Lee
17. 2022 to Present. Dr. Maria Boyarko
Congratulations to the WYHS CLASS OF 2021 The 2021 WYHS Graduation was held on the Ram football field Saturday, May 22, at 10 am & under beautiful, partly sunny skies. WYHS 1978 alumnus, Terry Anderson, was this year's Commencement Speaker. For the 4th year, WYAA presented our "Ram Pride" beverage glasses to all graduates. This year we were part of the graduation ceremonies, giving our gifts after the graduates received their diplomas.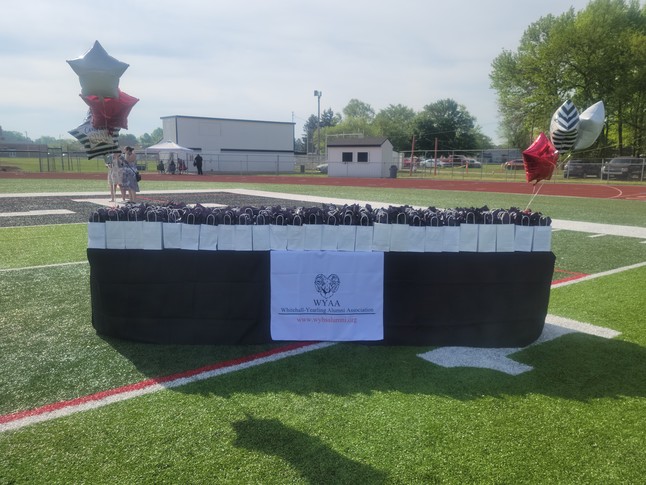 Thanks to Mike Mazzi, 1977 WYAA Board Member, who presented our gift bags.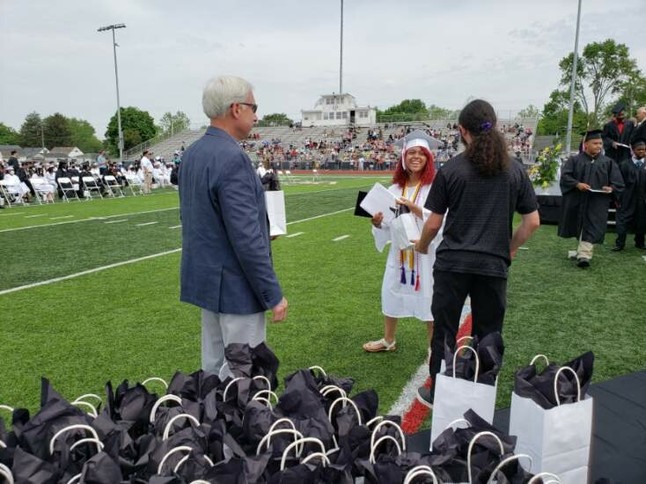 Thanks to Jodie Martin-Oiler, 1966, for preparting 230 WYAA Gift Bags for our Graduates.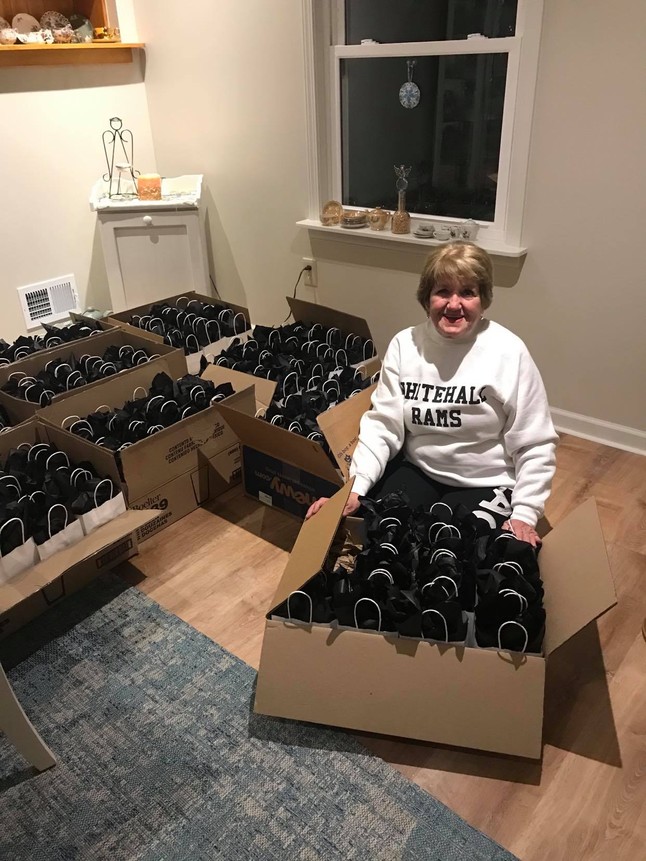 THANKS to Jodie Martin-Oiler, 1966, for preparing WYAA's "Ram Pride" beverage glasses to present to the Class of 2021. This is WYAA's 4th year of welcoming our new WYHS alumni with these glasses.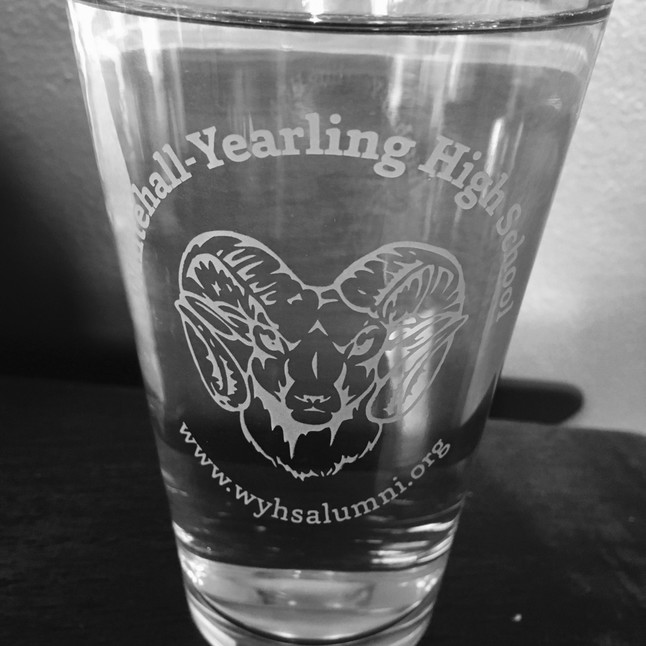 ****************
Obituary for Brian D. Hamler
Brian Dale Hamler, 62, finished his ninth inning, after losing his battle with Idiopathic Pulmonary Fibrosis, on Tuesday, June 29th, 2021. He received wonderful care at both Grant Hospital and The OSU Wexner Medical Center. The family would like to thank all the exceptional nurses and doctors for their outstanding care.
The youngest of five children, he was raised in a blue-collar family in Whitehall. His father (Butch) was a printer and volunteer police officer with the Whitehall PD. His mother (Mary) worked as a legal secretary in Columbus and Whitehall. Brian graduated from Whitehall-Yearling High School in 1977 where he excelled as an athlete in baseball and basketball. Brian began working right after high school at Agler-Davidson Sporting Goods on Hamilton Road. He also worked as a playground supervisor for the City of Whitehall in the Parks and Rec Department.
Brian was an avid sports fan with a major love of baseball. He loved his Cincinnati Reds, Ohio State Buckeyes, Cleveland Browns, and, of course, his Whitehall Rams. Later in life, he learned to love the sport of archery where his son, Blake, excelled.
He earned his Bachelor of Arts in Health and Physical Education from Capital University in 1981. While attending Capital, Brian was a standout pitcher on the Crusader baseball team. Upon graduation, he became a regular substitute teacher for Hilliard City Schools, Gahanna-Jefferson Public Schools, and Whitehall City Schools. In 1982, he was hired full-time by Gahanna-Jefferson Public Schools to teach elementary physical education.
In 1985, Brian met his future wife, Wendy, and they married two years later. Wendy played softball for Whitehall-Yearling High School and Whitehall's summer rec program. Their combined talents brought them together on multiple co-ed softball teams where they destroyed the competition all over central Ohio. This inspired Brian to begin his baseball coaching career at Gahanna Lincoln High School and eventually became the head varsity coach for the New Albany Eagles baseball team.
Brian furthered his education at The Ohio State University where he earned his Master of Arts degree in Educational Policy and Leadership in 1998. He was quickly hired on at Hawthorne Elementary in the Westerville City School District as their assistant principal. However, his heart remained in Whitehall. After just one short year at Hawthorne, Brian came back home and was named the Principal of Beechwood Elementary.
After serving as Beechwood's principal through 2006, he was then promoted to Associate Superintendent and Director of Administrative Services at Whitehall City Schools. Always trying to improve himself professionally, Brian found an opportunity with South-Western City Schools. He was hired as their Director of Personnel where he was in charge of recruiting, hiring, mentoring, and professional development for the 5th largest school district in the state of Ohio.
During this time, Whitehall was always in Brian's heart. He came back home for the second time to become the district's eighth superintendent in July of 2013. Whitehall City Schools, under Brian's leadership, accomplished many things such as opening the new Kae Avenue Early Literacy Campus, helping to pass the bond and permanent improvement levy in 2018, and initiating a new school-based health center with Heart of Ohio Family Health. Through the passing of the levy in 2018, students saw major improvements in the facilities at WCS such as a new wing for Rosemore Middle School, a new IT/Business Pathway at WYHS called Yearling U, a new synthetic turf football and soccer field, and improved HVAC components for Kae Avenue North.
Throughout his entire career and everything he accomplished, being the Superintendent for Whitehall City Schools was the ultimate achievement and goal for someone who loved their community so much. His belief in the goodness of the community of Whitehall never once waivered. He always had a positive vision for what Whitehall could strive for and loved everything that Whitehall is currently.
Ever the inspirational leader, Brian has countless family members, friends, colleagues, and supporters that were so touched by his kindness, his love, and his counsel.
Brian is preceded in death by his infant daughter, Brittany; his parents Irvin "Butch" and Mary Hamler; his sisters Diana Tedder and Cheryl Strait. He is survived by his loving wife of 33 years, Wendy; his son, Blake; his brothers, Rick and Randy; his sister-in-law, Shari (Zach) Wright; his brothers-in-law, Bobby and Rayme (Heather) Benjamin; his father and mother-in-law, Bob and Janice Benjamin; and his many nieces and nephews.
In lieu of flowers, any donations can be made to the Whitehall Education Foundation and/or the Whitehall-Yearling Alumni Association. Donations can be sent to the WCS Admin Offices at 625 S. Yearling Rd., Whitehall, OH 43213.
***************
WYAA purchased "Congratulations Class of 2020" yard signs! They were delivered to every home & apartment by WCS school buses on Friday, May 8.
Special Thanks to all the Ram Alumni, Parents & Friends who donated to WYAA's Yard Sign Fund-Raiser
Ram Alumni: 2004: Ashley Lyons & Jessica Afaghi Watson. 2002: Amanda Akers, Emily Eader, Eric Gagle, Justin Geminder, Nikki Lewis, Becky Marsh & Katie Wolford. 2001: Ariel Bukowski, Cathy Clifford Walker, Danielle Eschelbach, Jamie Oxley, Allison Walker & Rob Wild. 2000: Mary Jo Scott-Stace. 1997: Tina Radivojevic & Kelly Chanak. 1995: Nikki Young & KyraThorpe. 1991: Cindi Cudd Brown. 1980: Leslie La Corte. 1976: Kathy Cox 1973: Wendy Cudak. 1971: Sharon Robbins Dean & Alyson Stocksdale. 1970: Cheryl Brobst Hefner & Linda Buettner. 1969: Joyce Hildenbrand Turnbull & Teresa Pickens Thomas & Vicki Wears Koscho. 1966: Jodie Martin-Oiler. 1965: Cheryl Welsch Parsons
Special Thanks: to Dan Miller, 1973 who helped coordinate the delivery of the yard signs. And, Jodie Martin-Oiler for preparing our WYAA Ram Pride glasses to present to our graduates. MIke Sweeney for his generous donation!
Parents: Shirley Yarbrough: Tasha (2002) & Shannon (2004) Pam Jones Dolby: LaDonna Dolby (2000) Mary Ardrey: Jenna Mayse (2004) & Jason Mayse (1998)
Friends: Sarah Nelson Bratt: Scott Wright (2020) & Judy Petticord. Pictured below: Susan Starr Smith, Beth Dempsey (1989), Doneta Thorpe (1977), Hope Fuller, Keith Spillman (1967) & Mark Riffle (1973).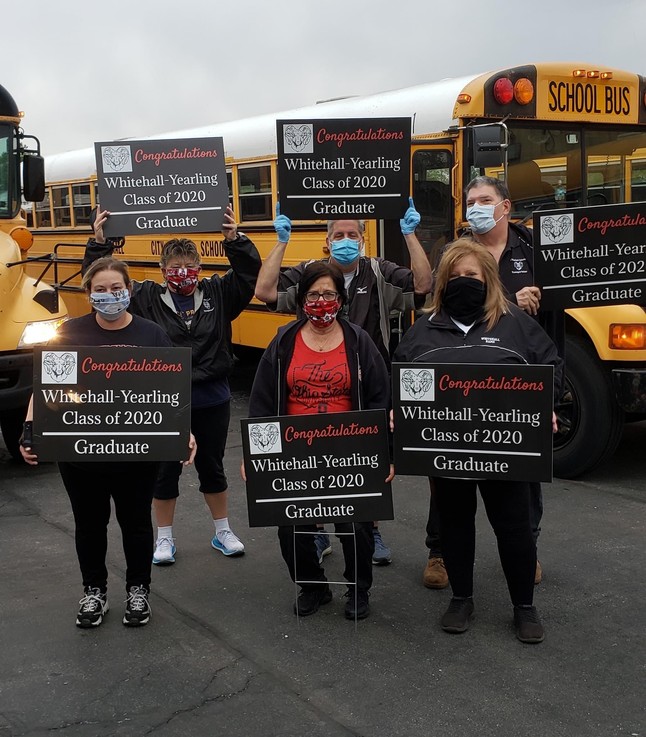 UA-107745049-1