Whitehall-Yearling High School


Classes of 1958 to Present
Whitehall City Schools
* WYHS baseball field is now Brian Hamler Field *
At the Ram's Football game on October 15, the Whitehall City Schools Board & Athletic Director, Bill Hughett, officially named the Ram's baseball field, Brian Hamler Field. Wendy Benjamin Hamler (1981), wife of Brian Hamler, accepted the presentation plaque. Brian Hamler, 1977, passed away earlier this year. He was an outstanding baseball player for the Rams & the Capital Crusaders. At the time of his death, Brian was the superintendent of Whitehall City Schools. A dedication ceremony will be in the spring when baseball season begins.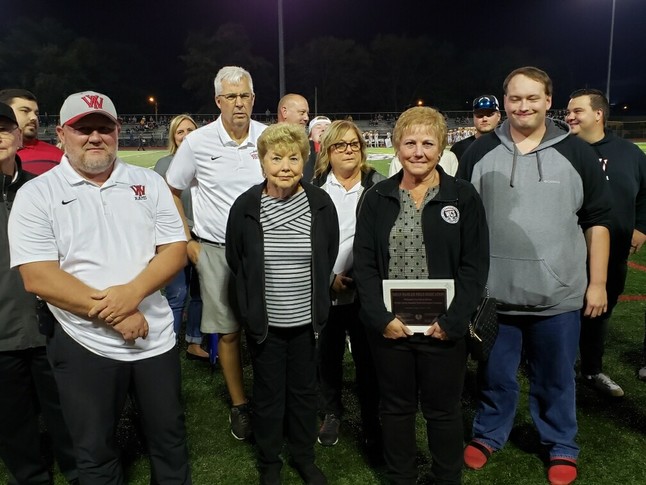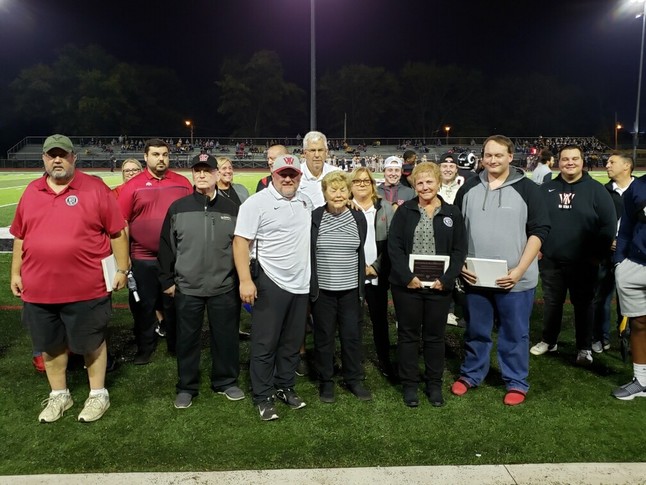 ****************
Congratulations to the WYHS CLASS OF 2021 &
The 2021 WYHS Graduation was held on the Ram football field Saturday, May 22, at 10 am &
under beautiful, partly sunny skies.
WYHS 1978 alumnus, Terry Anderson, was this year's Commencement Speaker.
For the 4th year, WYAA presented our "Ram Pride" beverage glasses to all graduates. This year we were part of the graduation ceremonies, giving our gifts after the graduates received their diplomas.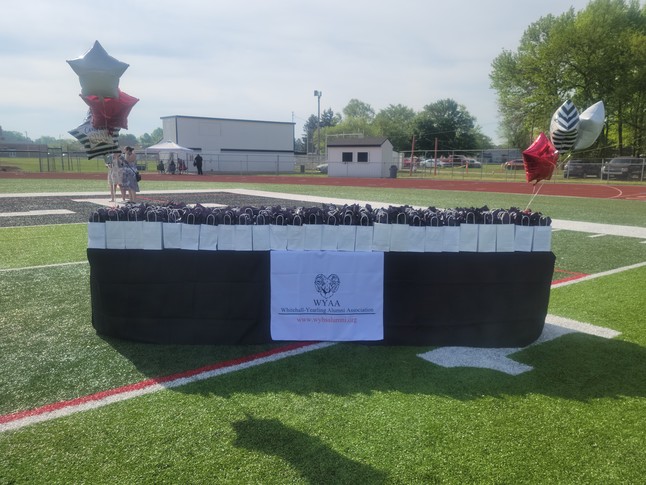 Thanks to Mike Mazzi, 1977 WYAA Board Member, who presented our gift bags.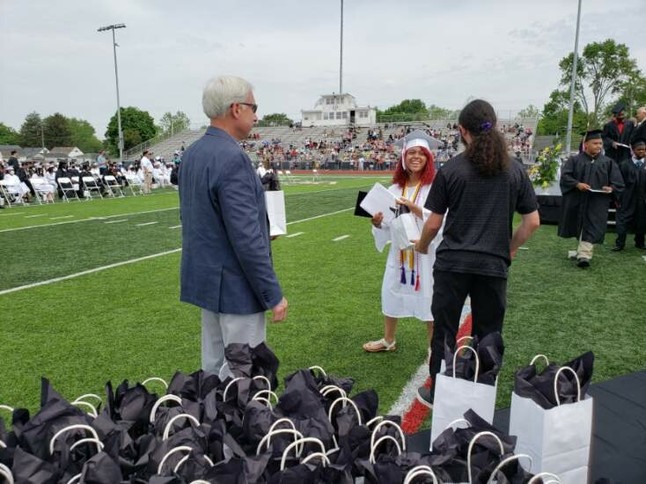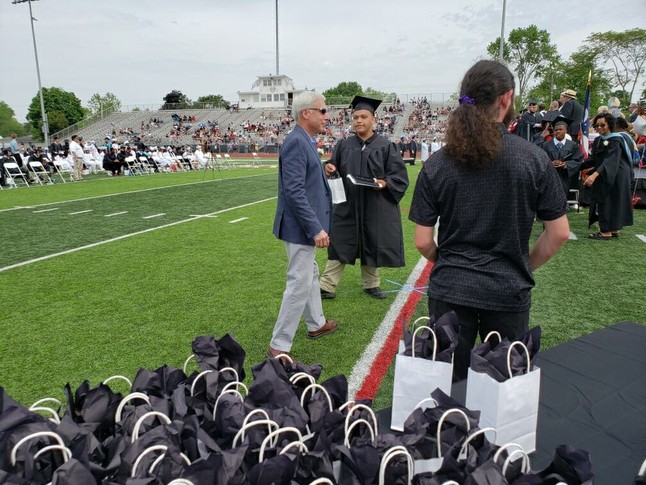 Thanks to Jodie Martin-Oiler, 1966, for preparting 230 WYAA Gift Bags for our Graduates.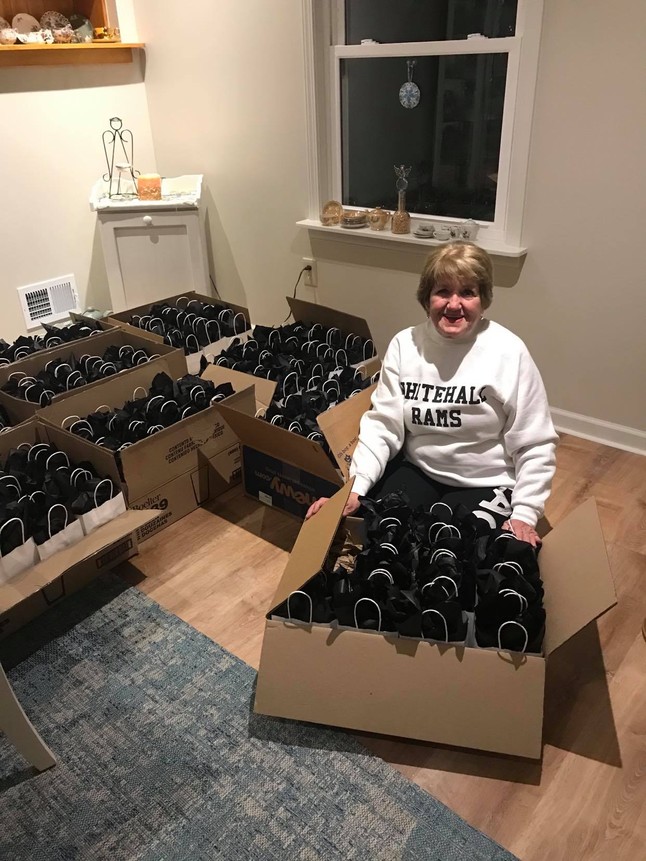 THANKS to Jodie Martin-Oiler, 1966, for preparing WYAA's "Ram Pride" beverage glasses to present to the Class of 2021. This is WYAA's 4th year of welcoming our new WYHS alumni with these glasses.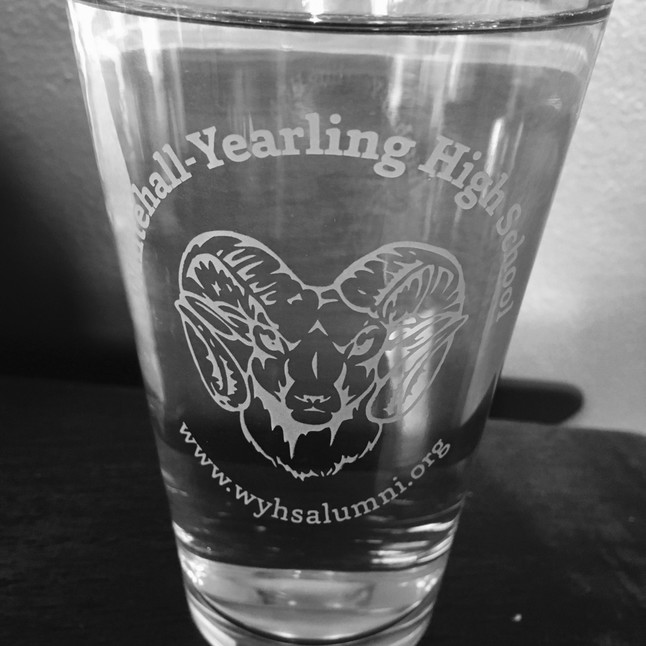 ****************
Channel 10 featured the banners on their news! Here's the link about this project: https://www.10tv.com/…/whitehall-city-school-district-and-c…
Whitehall City Schools Board Members
L-R: Leo Knoblauch, 1977. Zach Wright, 1979. Darryl Hammond. Jeff Lees.
Mike Adkins, 1987, President.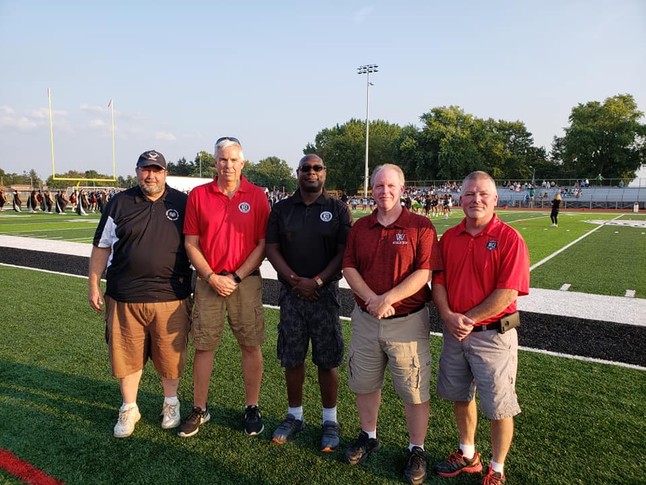 Learn more about Whitehall City Schools & WYHS: http://www.whitehallcityschools.org
WYHS Rams Fall Sports Schedule website: http://www.wcsrams.org/Athletics.aspx
Click on the 'Arbiter Sports' link on the page's right column
WYHS Sports Facebook Page: https://www.facebook.com/wyhsathletics
Whitehall-Yearling High School Principals & School Years
1. 1955 to 1965-66 Austin Peel
2. 1966-67 to 1972-73 Robert Strahm
3. 1973-75 James Janek
4. 1975-76 to 1979-80 Ed Houston
5. 1980-81 Roger Dumaree
6. 1981-82 to 1988-89 John Peters
7. 1989-90 to 1993-94 Stephen House
8. 1994-95 to 1997-98 Robert Wallace
9. 1998-99 to 2001-02 Mindy Farry
10. 2002-03 to 2003-04 Glenn Hunter
11. 2004-05 to 2008-09 Dondra Maney
12. 2009-10 to 12/2015 Carl Svagerko
13. 3-2016 to 2019 Paul Smathers
14. 2019 to 2020 Chrystal Johnson (Acting)
14. 2020 to Present Paul Warfield
***************
WYAA purchased "Congratulations Class of 2020" yard signs! They were delivered to every home & apartment by WCS school buses on Friday, May 8.
Special Thanks to all the Ram Alumni, Parents & Friends who donated to WYAA's Yard Sign Fund-Raiser
Ram Alumni: 2004: Ashley Lyons & Jessica Afaghi Watson. 2002: Amanda Akers, Emily Eader, Eric Gagle, Justin Geminder, Nikki Lewis, Becky Marsh & Katie Wolford. 2001: Ariel Bukowski, Cathy Clifford Walker, Danielle Eschelbach, Jamie Oxley, Allison Walker & Rob Wild. 2000: Mary Jo Scott-Stace. 1997: Tina Radivojevic & Kelly Chanak. 1995: Nikki Young & KyraThorpe. 1991: Cindi Cudd Brown. 1980: Leslie La Corte. 1976: Kathy Cox 1973: Wendy Cudak. 1971: Sharon Robbins Dean & Alyson Stocksdale. 1970: Cheryl Brobst Hefner & Linda Buettner. 1969: Joyce Hildenbrand Turnbull & Teresa Pickens Thomas & Vicki Wears Koscho. 1966: Jodie Martin-Oiler. 1965: Cheryl Welsch Parsons
Special Thanks: to Dan Miller, 1973 who helped coordinate the delivery of the yard signs. And, Jodie Martin-Oiler for preparing our WYAA Ram Pride glasses to present to our graduates. MIke Sweeney for his generous donation!
Parents: Shirley Yarbrough: Tasha (2002) & Shannon (2004) Pam Jones Dolby: LaDonna Dolby (2000) Mary Ardrey: Jenna Mayse (2004) & Jason Mayse (1998)
Friends: Sarah Nelson Bratt: Scott Wright (2020) & Judy Petticord. Pictured below: Susan Starr Smith, Beth Dempsey (1989), Doneta Thorpe (1977), Hope Fuller, Keith Spillman (1967) & Mark Riffle (1973).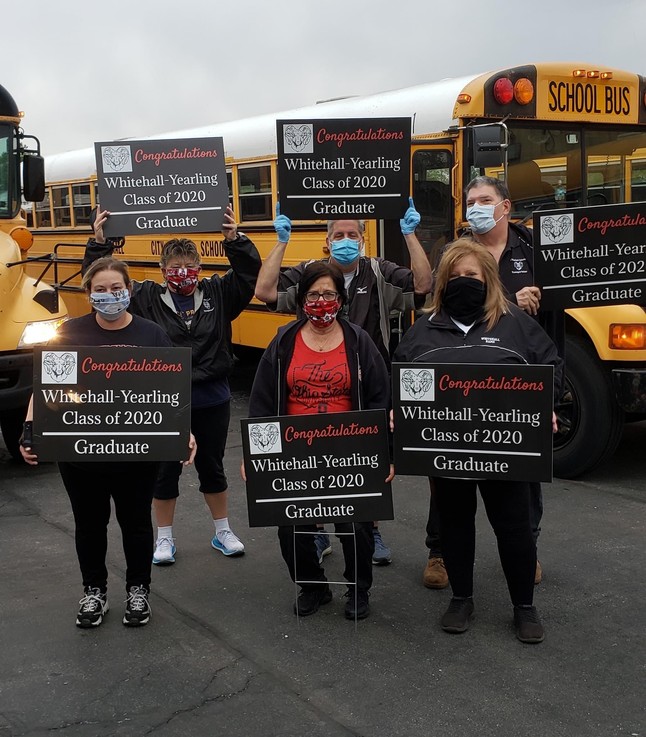 WYHS Alumni Auditorium Donors' List
THANK YOU to all the RAM ALUMNI & TEACHERS
who donated over 253 of the 390 seats for "This Seat's Taken" Fund Raiser!
Red = Complete Rows ~ * In Memory - Green = Edits
Alumni: 1958: Julie Gibson, Ann Stork Brown, 1961: Patty Bridges, Ron Paxson*, 1962: Bob Benjamin & Janice Benjamin, Tom Shoaf, 1963: Clark Fuller, Diana Robinson, 1965: Paula Levine Weinstein, Bill McCallen, 1967: Larry Cunningham, Rita Watson Hunter, Dave Hickle, 1969: Beckie Orr Heimlich, Joyce Hildenbrand Turnbull, Marlene Philips Miller, Mike Conley*, 1970: Jeff Mauk, 1971: Joyce Nichols Harkless, Lu Ann Thorpe Hallstrom, Mary Jo Weaver Stagg, Rick Conley*, 1972: Katie Queen Quincel & Steve Quincel, Toni Hertlein Fino, Jayne Lawson-Shannon, Cheryl McMillan Miller, Michael Richardson. 1973: Dan Miller, Lester Carr, Michael Pannell, 1974: Candy Duncan Filip, Tara Trace-Richardson, 1975: Shaun Richard Fellows*, 1976: Julie Lynch. 1977: Molly Moore Broward, Phil Fisher, Brian Hamler, Leo Knoblauch, Michael Mazzi, Vicki Romanoff, Mark Aaron Fellows*. 1978: Scott Harrison, Judy Hawthorne Cary, Tim Lynch, Marc Mangia, Scott McAfee*, 1980: Steve Mazzi, Leslie LaCorte, 1981: Richard Glass, Wendy Benjamin Hamler, Stephen Rayburn, Mike Ore, 1982: Kelly Cordle Mazzi, 1983: Mark Trace, 1984: Lisa Shoaf, Robyn Romanoff Sullivan, 1985: Brian Glass, Stephen Tompos, Sam Wright, Don Musick, 1987: Dave Hausmann, Ross Sager, Rob Shoaf, 1988: Matthew Golden, Lorna Griggs Russell, Todd Sager, Michelle Strait Carrier, 1989: Bridget Golden, Rick Shoaf, 1990: Amy Mauk, Pat Thompson, 1993: Belinda Howard Borland, 1994: Kimberly Howard, 1995: Murad Holliday, 2001: Ariel Bukowski, 2002: Katie Wolford, 2004: Tiffany St. John-Wood, 2009: Joshua Wood, Matthew Ebbesen, Marty George*, 2015: Savanna Carrier*, 2017: Monica Johnson, 2019: Gabriella Sharp
Ram Alumni Families: Bridges Family 1984 &1986. Mouzon Family 1997 & 2015. Orr Family 1961, 1963, 1969, 1970, 1975. Rooker Family 1968,1976,1980 & 1984. Roshon Family 1970, 1973, 1975. Stocksdale Family 2003, 2005, 2008
Whitehall Teachers & Administrators: Laura Amberg, Walter Armes (School Board), Kimberly Falcon (Science), Julie Flood (Beechwood), Pamela Glass (WYHS), Karen & Michael Hoggarth (Science), Bill Hughett (Athletic Director), Mrs. Joanne Kitchen (Home Ec), Jeanette Llewellyn, Jessica Moore (Etna Road Principal), Michael Munroe (Math), Nicole Nelson (English Dept.), Rochelle Rankin, Diane Robinson, Christina Schwaiger, Sharon Shoaf, Paul Smathers (Principal), Kelly Solack (Art), Drew Williams (Coach), Michael Wilson.
Alumni Groups: Whitehall-Yearling Alumni Association (WYAA), WYHS Band Alumni, Whitehall Education Foundation (Row), Whitehall Rams Sports Club, WYHS Veterans - Patriots Row, 1967-1973 WYHS Alumni, 1967 50th Class Reunion,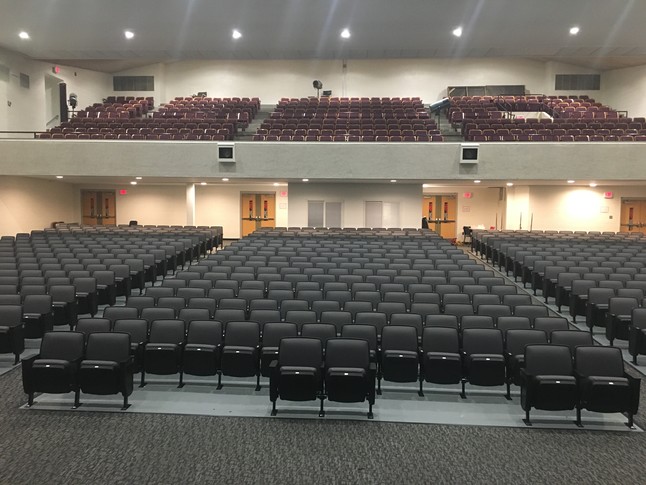 Obituary for Brian D. Hamler

Brian Dale Hamler, 62, finished his ninth inning, after losing his battle with Idiopathic Pulmonary Fibrosis, on Tuesday, June 29th, 2021. He received wonderful care at both Grant Hospital and The OSU Wexner Medical Center. The family would like to thank all the exceptional nurses and doctors for their outstanding care.

The youngest of five children, he was raised in a blue-collar family in Whitehall. His father (Butch) was a printer and volunteer police officer with the Whitehall PD. His mother (Mary) worked as a legal secretary in Columbus and Whitehall. Brian graduated from Whitehall-Yearling High School in 1977 where he excelled as an athlete in baseball and basketball. Brian began working right after high school at Agler-Davidson Sporting Goods on Hamilton Road. He also worked as a playground supervisor for the City of Whitehall in the Parks and Rec Department.
Brian was an avid sports fan with a major love of baseball. He loved his Cincinnati Reds, Ohio State Buckeyes, Cleveland Browns, and, of course, his Whitehall Rams. Later in life, he learned to love the sport of archery where his son, Blake, excelled.
He earned his Bachelor of Arts in Health and Physical Education from Capital University in 1981. While attending Capital, Brian was a standout pitcher on the Crusader baseball team. Upon graduation, he became a regular substitute teacher for Hilliard City Schools, Gahanna-Jefferson Public Schools, and Whitehall City Schools. In 1982, he was hired full-time by Gahanna-Jefferson Public Schools to teach elementary physical education.
In 1985, Brian met his future wife, Wendy, and they married two years later. Wendy played softball for Whitehall-Yearling High School and Whitehall's summer rec program. Their combined talents brought them together on multiple co-ed softball teams where they destroyed the competition all over central Ohio. This inspired Brian to begin his baseball coaching career at Gahanna Lincoln High School and eventually became the head varsity coach for the New Albany Eagles baseball team.
Brian furthered his education at The Ohio State University where he earned his Master of Arts degree in Educational Policy and Leadership in 1998. He was quickly hired on at Hawthorne Elementary in the Westerville City School District as their assistant principal. However, his heart remained in Whitehall. After just one short year at Hawthorne, Brian came back home and was named the Principal of Beechwood Elementary.
After serving as Beechwood's principal through 2006, he was then promoted to Associate Superintendent and Director of Administrative Services at Whitehall City Schools. Always trying to improve himself professionally, Brian found an opportunity with South-Western City Schools. He was hired as their Director of Personnel where he was in charge of recruiting, hiring, mentoring, and professional development for the 5th largest school district in the state of Ohio.
During this time, Whitehall was always in Brian's heart. He came back home for the second time to become the district's eighth superintendent in July of 2013. Whitehall City Schools, under Brian's leadership, accomplished many things such as opening the new Kae Avenue Early Literacy Campus, helping to pass the bond and permanent improvement levy in 2018, and initiating a new school-based health center with Heart of Ohio Family Health. Through the passing of the levy in 2018, students saw major improvements in the facilities at WCS such as a new wing for Rosemore Middle School, a new IT/Business Pathway at WYHS called Yearling U, a new synthetic turf football and soccer field, and improved HVAC components for Kae Avenue North.
Throughout his entire career and everything he accomplished, being the Superintendent for Whitehall City Schools was the ultimate achievement and goal for someone who loved their community so much. His belief in the goodness of the community of Whitehall never once waivered. He always had a positive vision for what Whitehall could strive for and loved everything that Whitehall is currently.
Ever the inspirational leader, Brian has countless family members, friends, colleagues, and supporters that were so touched by his kindness, his love, and his counsel.
Brian is preceded in death by his infant daughter, Brittany; his parents Irvin "Butch" and Mary Hamler; his sisters Diana Tedder and Cheryl Strait. He is survived by his loving wife of 33 years, Wendy; his son, Blake; his brothers, Rick and Randy; his sister-in-law, Shari (Zach) Wright; his brothers-in-law, Bobby and Rayme (Heather) Benjamin; his father and mother-in-law, Bob and Janice Benjamin; and his many nieces and nephews.

In lieu of flowers, any donations can be made to the Whitehall Education Foundation and/or the Whitehall-Yearling Alumni Association. Donations can be sent to the WCS Admin Offices at 625 S. Yearling Rd., Whitehall, OH 43213.

****************

UA-107745049-1