Whitehall-Yearling High School


Classes of 1958 to Present
Ramettes
60th Anniversary of the original 1960 WYHS Ramettes!
WYAA is planning to honor & recognize ALL Ramettes at the WYHS 2020 Homecoming on Friday, October 2, 2020.
Marching in the Homecoming Parade is also being considered (there'll be a float to ride too).
WYAA is also planning a post-game party at the VFW.
Please pass the word & tell your Ramette friends to register on this website. (Go to "Classmate Profiles" on top of home page. Click on your year & then name.). We'll give the Homecoming committee all the names so they can keep everyone up-to-date on the plans. Please join the Ramette Facebook too: Whitehall Yearling Alumni Ramettes.
Thanks to the Ramettes who are volunteering to coordinate the Homecoming events. They would like to have volunteers from the other decades too.
Sue Cunningham, 1973
Tondra Van Allen, 1985
Diana Lippincott, 1986
Amber Castle Holley, 1988
Katie Brockman, 2006
You can add Ramette photos on this website's Photo Gallery; but you need to be signed in. Or, send me your photos to post: jnturnbull51@aol.com
Here are photos of the WYHS original Ramettes from the 1961 Aires yearbook. Please pass the word & tell them that we want to honor them at Homecoming. Someone suggested that all Ramette alumni wear white berets @ Homecoming in honor of these Ram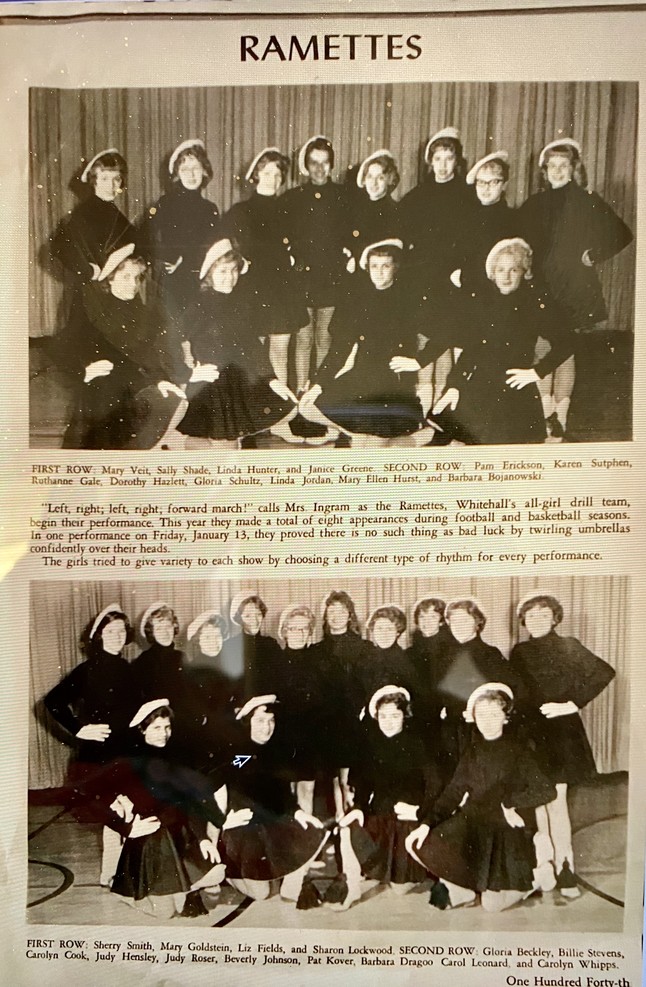 UA-107745049-1