Whitehall-Yearling High School


Classes of 1958 to Present
WYAA Activites
WATCH RAMS on THURSDAY NIGHT LIGHTS
WHITEHALL RAMS vs. COLUMBUS ACADEMY
Watch the promo film: https://youtu.be/67br-MlpMYg
You can watch the game on these stations, September 20 at 7:00 PM. Kick off at 7:05 PM:
The CW Columbus (WWHO 53)
Over the air: 53
Spectrum: SD 13, HD 1013
WOW: SD 5, HD 204
DirecTV: 53, Dish TV: 53
AT&T U-verse: SD 5, HD 1005
The game will also stream live at http://cwcolumbus.com/sports/thursday-night-lights. This is convenient for out-of-town alumni & friends. Fans can even watch the game on their smartphones!
**********
~ CASINO NIGHT IS OPEN TO THE PUBLIC ~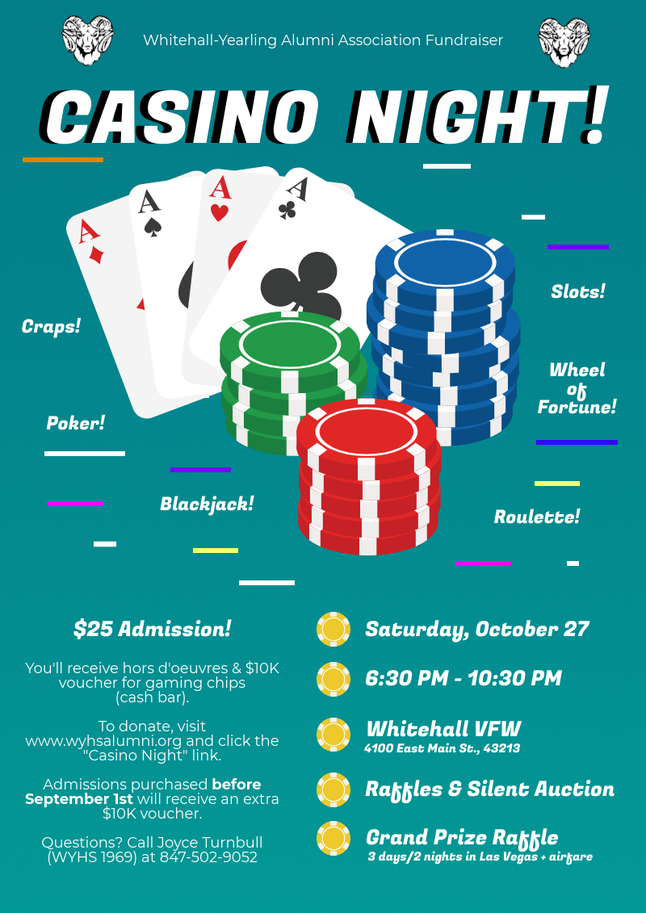 WYAA's Mission is to Support WYHS Alumni:

Announce Alumni Events, Fund Raisers & Class Reunions - Administer www.wyhsalumni.org - Support WYHS students & our Whitehall community.

WYAA ACCOMPLISHMENTS in 2017 & 2018!

1. Presented Student Scholarships ($500 & $250) to two 2018 WYHS graduates. WYAA will also give Alumni Scholarships. These scholarships are designated for Technical & 2-year schools.

2. Gave 250 WYHS Veterans our WYAA Sports Card for free admission to all WYHS home sports games. (Thanks Bill Hughett!). This program was featured on Channel 10 TV morning news in August 2017.

3. www.wyhsalumni.org has registered over 1,170 alumni with over 72,000 views.

4. Planned & sponsored a Career Fair with the Whitehall Chamber of Commerce in February 2018. We had 28 local businesses & over 200 students attended. 'This Week' featured a photo & story of this event. We're planning another Career Fair in February 2019. The focus is jobs that don't require 4-year college degrees.

5. "Adopt-A-Street" participation - Pick-up trash on Yearling Road from Broad to Main.

6. WYAA started a new tradition by giving our WYHS Alumni beverage glasses to new WYHS graduates (190 in 2018). See glasses on 'WYAA Ram Products' link on left column.

7. Promoted Hall of Fame nominations & honored past WYHS Hall of Fame inductees during the WYHS Hall of Fame basketball game.

8. Participated in WYHS 2017 Homecoming Parade with veterans & alumni floats.

9. Partnered with the Whitehall Education Foundation to administer our scholarships & WYAA has a representative on their board.

​__________________________________

WYAA & the Whitehall Chamber of Commerce planned & sponsored a Career Fair @ WYHS on Friday, Feb. 23. The goal of this Fair was to feature businesses that don't require a 4-year college degree to start a career. The majority of the businesses provide Employee Training & On-The-Job Training. Others only require a professional certification or a 2-year Associates Degree.

This Week's News' local reporter Kevin Corvo covered our Fair. Here's the link:

http://www.thisweeknews.com/news/20180226/fair-cuts-path-for-those-forgoing-college

Over 200 students attended the Fair & 27 businesses & public service entities participated. The companies who participated in the Career Fair brought impressive representatives: Service Directors, Senior Human Resource Representatives & Regional Recruiters, Business Owners, Service Managers, Fire Chief, Branch Managers, Director of Nursing, Nursing Specialists & General Manager. These impressive professionals represented the following businesses:

Automotive: Byers Auto, Valvoline Instant Oil Change, Ernie's Automotive.

Banking & Finance: Heartland Bank & State Farm Insurance (Anthony Jordan, WYHS 2002)

Distribution/Logistics: Wasserstrom Company & FedEx

Education: Columbus State Community College & Eastland-Fairfield Adult Development Center

Foodservice: King Gyros Greek Restaurant & Flavor 91 Bistro

Hospitality: Holiday Inn Express

Human Resources: Karen Conison (1980)

Nursing/Healthcare: The Ashford on Broad, Mt. Carmel, Heart of Ohio Health Center (Marty Philips Miller, WYHS 1969)

Public Safety & Service: Whitehall Fire Dept., Whitehall Police Dept., Franklin County Sheriff Dept., Whitehall Chamber of Commerce, Whitehall Park District

Real Estate: Keller-Williams (Byron Diaz, WYHS 2011) & Coldwell Banker

Trades: Whitehall Service Dept. (Jeff Hart, WYHS 1980), Best Service Heating & Cooling, Wallick Communities Property Mgmt.

Trucking & Waste Management: Rumpke

Our business partners completed Questionnaires that Anthony Paletta's Government Class helped create. These Questionnaires will be used as a Career Resource for all WYHS students.

Here some of the questions:

What skills or education do I need for an entry-level job? What will get me fired? Do you provide Employee Training or tuition reimbursement? What traits are you want for an employee to be successful? What's the starting pay for an entry-level job? What is your work environment?

When &/or will I receive benefits? What is your dress code? Do you have drug screening? What kind of background checks do you need for employment? Does your company give bonuses, stock options, or incentive pay? What qualifications are required to be promoted to a supervisory or management position?

If you're interested in reading these questionnaires for yourself or a student, please contact Joyce Turnbull, jnturnbull51@aol.com.

UA-107745049-1