Whitehall Yearling High School


Classes of 1958 to Present
Alumni Hall of Fame
Congratulations to our 2018 Hall of Fame Inductees: Van Gregg, 1971, Dan Miller, 1973 & Julie Lynch, 1976
Here is a link to read Whitehall's local paper's story about our newest Hall of Fame Awardees:
http://www.thisweeknews.com/news/20180129/whitehall-yearling-hall-of-fame-welcomes-trio
WYHS Hall of Fame honorees are recognized for their outstanding accomplishments, honors, or recognition in: Extra-Curricular Activities * Business/Career * Education * Humanitarian pursuits * Service to school and/or community. Ty Debevoise, Communications & Marketing Director, Whitehall City Schools, is coordinating this program. If you have any questions, you can send him a message at debevoiset@wcsrams.org
​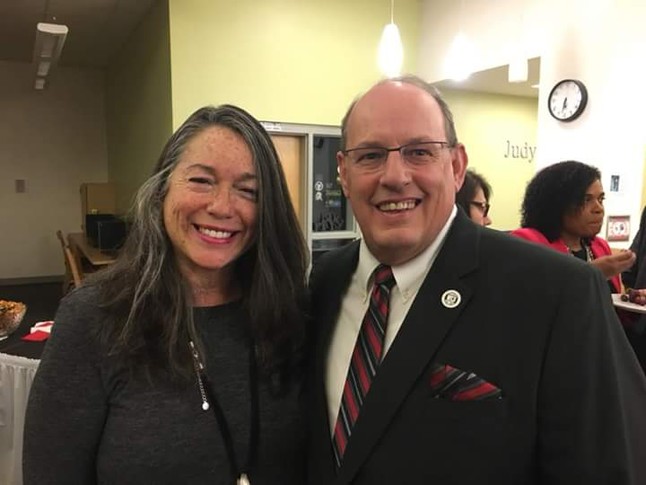 Julie Lynch, 1976 & Brian Hamler, 1977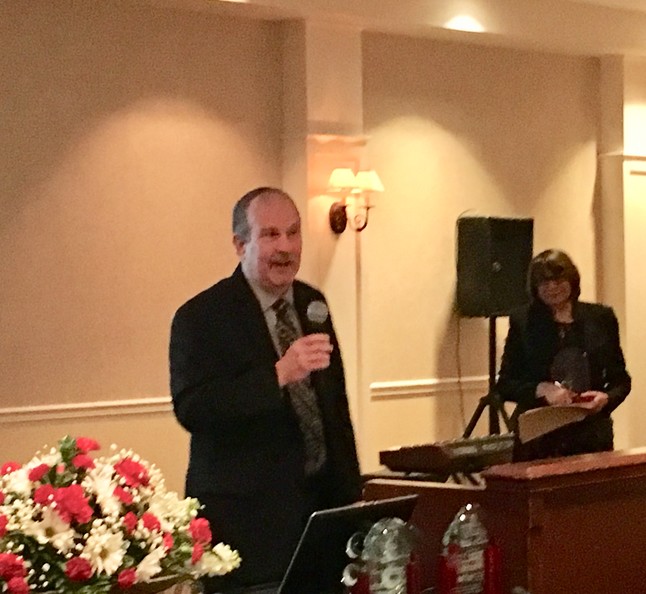 Dan Miller, 1973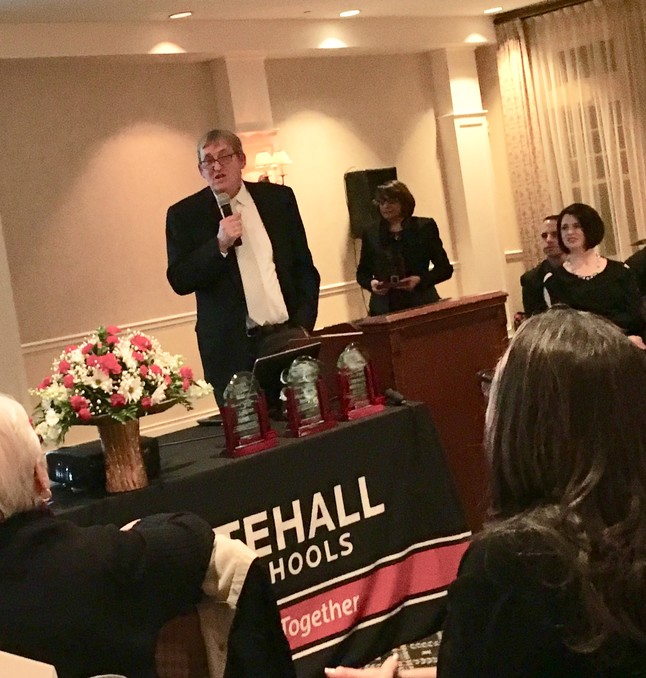 Van Gregg, 1971
On January 27, 2018, WYAA recognized the previous Rams who are in the Hall of Fame.
A

brief description of why they're WYHS Hall of Fame Inductees is next
to their name
.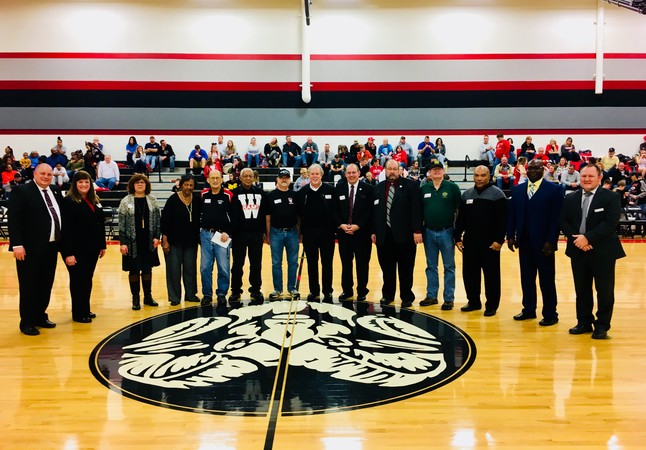 L-R: Paul Smathers, Principal, Ram Guest, Karen Liepack Conison, Phyllis Harper Jordan, Dan Gartner, Clark Fuller, Steve Quincel, Steve Jones, Leo Knoblauch, Scott Harrison, Terry Anderson, Ram Guest, Bill Hughett, Athletic Director
WYHS Alumni Hall of Fame Inductees
Class Year
Induction Year
Name
1958
1990
J. Lin Compton
1958
1991
Edward A. Nicholson, PhD
1961
- 2010
Daniel I. Gartner

Dan was a state wrestling qualifier in 1960 & placer in 1961. Dan is a retired WYHS teacher; & has been a coach & equipment manager from 1965 to the present. He is past Central District Wrestling Officials Association President & Treasurer. Dan's football jersey #18 was retired in 2018.

1962
1990
Col. Ronald L. Paxson
1962
2001
Thomas Franklin Shoaf
1963
- 1991
Lt. Col. Clark Fuller

Clark was an All-State Track & Football player. His #42 jersey was the first football jersey to be retired. Clark is a retired Lt. Colonel & was a professor at West Point. He also directed water relief efforts & road construction in underdeveloped nations.

1964
2000
Susan Moran
1965
1990
Mark J. Blackstone
1965
- 2007
Phyllis Harper Jordan

Phyllis has a Master's Degree in Education from Kent State University. She is a former Academic Advisor at OSU & University of Akron. She is former member of the Whitehall City Schools Board of Education & has volunteered for humanitarian & community service programs.

1965
2014
Mitchell Joseph
1966
1997
Harvey Eader
1966
1998
James E. Stacy
1966
1998
Larry Gilmore
1966
2002
Willa Hsueh
1967
1990
Sharon E. Nicholson, PhD
1968
1992
Terry M. Jessup
1968
1999
Dr. Deborah McDowell Aoki
1969
1992
Michael A. Gillespie, PhD
1969
1994
Bob Grimm
1969
1995
Tom Petty
1969
1999
Robert S. Roule
1969
2000
Daniel Reid
1969
2007
William Douglas Honaker
1970
- 2001
Dr. Vicki Sue Burris Gartner

Vicki was an educator & counselor @ Whitehall City Schools from 1982-1999. She has a BA from Capital University & a Doctor of Philosophy @ OSU. Vicki was Whitehall City Schools Educator of the Year 1988-89 & the Whitehall Education Assoc. President 1997. She's married to Dan Gartner, 1961.

1970
2010
Ronald E. Wingler
1970
2017
Nancy Keller Fitton
1971
1995
Dr. Debra A. (Smith) Grayson, DO
1971
2006
Preston Hale
1971
- 2009
Stephen D. Jones

Steve received his law degree from Capital University, BA from Otterbein & a Masters from Michigan. He served as a special counsel to the Ohio Attorney General & recognized as an "Ohio Super Lawyer" by Cincinnati & Law & Politics Magazines.

1972
1991
Robert Evans
1972
- 1999
Steven Blake Quincel

Steve received his BS from OSU & retired as a project manager @ American Electric Power. He has been active with Scouts for decades, receiving Cub Master of the Year & District Award of Merit. He is married to Katie Queen Quincel, 1972 & is Whitehall's City Treasurer & the Assistant Treasurer to Whitehall City Schools.

1973
1990
Augustus G. Parker, III, MD
1973
1996
Commander Lester E. Carr, III, USN
1973
1998
Earl D. Lavender, PhD
1973
2003
Col. Michael R. Pannell
1973
2005
Lynn A. Ochsendorf
1975
1994
Michael D. Sewell
1975
2016
Mike Shade
1976
1996
Art Isennagle
1976
2005

Vlade Janakievski

1976
2009
Sharon Heise Bukowski
1977
2004
Col. Kathleen V. Harrison
1977
2004
David H. Stewart
1977
2008
Michael Anthony Mazzi
1977
- 2008
Leo J. Knoblauch, II

Leo is retired from the Air Force. He received his BS from Otterbein & MBA from Franklin University. Leo is a past Whitehall City Councilman, Officer of various Whitehall Civic organizations & was 2004 Whitehall Citizen of the Year. He was one of the founders of Whitehall Education Foundation (WEF).

1977
2015
Scott Stahley
1977
- 2017
Brian Hamler

Brian was a 1977 All-State in Baseball (pitcher), First Team All-District & Conference Player of the Year. He received his BA from Capital in 1981 & MBA from OSU. In 2012 he was President of Ohio Association of School Personnel Administrators. Brian is the Superintendent of Whitehall City Schools since 2013. His wife, Wendy Benjamin, is a 1981 WYHS graduate.

1978
1994
Lisa Capoziello Dimarrzio
1978
1995
Gregory Bellamy, PhD
1978
- 1997
Terry Anderson

Terry's BA from OSU is in communications & sociology. He was the Education Director of the Greater Columbus Arts Council & an award winning graphic illustrator. Terry is on the Board of Ohio Alliance for Arts Education & has volunteered for the United Negro College Fund, United Way & other public serve organizations. He is serving as president of Whitehall Education Foundation since 2017.

1978
2009
Joseph H. Federer
1978
- 2014
Col. Scott K. Harrison

Scott is a retired US Army Colonel serving 36 years. He is a veteran of Operations Desert Storm, Enduring Freedom, Iraqi Freedom & Noble Eagle. He is a former operations officer @ the Joint Staff & Army Staff in the Pentagon. He received his BA from OSU & MBA @ University of Dayton. Scott has volunteered to be WYAA's Veterans' Liaison. Watch for postings on www.wyhsalumni.org.

1979
2000
Rev. Mike Tuttle
1979
2003
Zachary R. Wright
1980
1996
Dr. Cynthia L. Brown, MD
1980
2003
Rodney D. Sparks
1980
2011
Steven J. Mazzi
1980
- 2017
Karen Conison

Karen has a BA in Journalism from OSU & is a Human Relations professional. She was the founder of the Whitehall Block Watch in 2007, founded the Capital University Rotaract Club & was Whitehall's Female of the Year in 2013. Karen serves on Whitehall's City Council & has received a Presidential Citation Award. She is also very active in Whitehall Community Celebration Association (WCCA).

1981
2004
Andre R. Capoziello
1981
2006
Col. Michael Ore
1981
2007
Jerry Brooks
1982
2014
Dave Powers
1983
2002
Mark Trace
1984
1992
Scott A. Tedder
1985
2001
Major Samuel Andrew Wright, PhD
1985
2005
Tomislav B. Mitevski
1985
2006
Stephen T. Tompos
1985
2016
Dr. Brian Hunter
1986
1997
Cynthia A. Cockrel-Crossley
1990
2002
Darryl Hammock
1992
2011
Stephanie Jordan
2000
2016
Monica Day
2001
2009
Brian D. Adkins
2002
2015
Anthony Jordan
2002
2015
Domenik Hixon
UA-107745049-1