Whitehall-Yearling High School


Classes of 1958 to Present
Whitehall City Schools
* Announcing the WYHS 2020 Homecoming Court *
Sadly, COVID-19 dramatically cancelled this year's 2020 Homecoming festivities. Class of 1970 cancelled it's 50th Class Reunion to 2021. The WYHS 50th Ramette Alumni Reunion performances were cancelled to 2021. The Alumni Ram Band didn't perform at halftime. There was no Homecoming parade or our Homecoming bonfire. So WYAA didn't honor our 1970 Homecoming Queen, Wendy Arnold (50th Anniversary). WYHS introduced their 2020 Homecoming Court via video. Here's the link.
https://www.facebook.com/wyhsathletics/videos/843806593084212/
********************
* Congratulations to Duarte Brown, WYHS Resident Artist *
...for receiving an award from the Greater Columubs Arts Council. Duarte is one of five recipients of the inaugural Community Arts Innovation Awards from the Greater Columbus Arts Council. This award highlights his work and collaboration of WYHS Senior Banners Project. To see some of Duarte's banners scorll down on this page. At graduation, every student recieved a photo of their banners!
Congratulations to Duarte for his passionate work and dedication to the arts and to WYHS!! Below is the link to watch a video about his project.
https://www.youtube.com/watch?v=z5GaoS7aGN4&feature=emb_logo&fbclid=IwAR3QSm_Woe9LACUD2UzEji-Hhx_qqY_aPpg9e6piHzlF1lFSuJehZg0yBVA
******************
RAM FALL SPORTS ANNOUNCEMENT
On Wednesday, August 19th, Ohio Governor, Mike DeWine, issued an order to allow contact sports at schools to take place with new rules and risk mitigation measures in place. As a result, Whitehall City Schools will move forward with an abbreviated interscholastic fall athletic schedule at both Rosemore Middle School and Whitehall-Yearling High School. While we are excited to provide this opportunity to our young athletes, we must remain vigilant in following the recommended guidelines and procedures of our local health authorities.
The WYHS athletic season will begin on Friday, August 28th, with a home football game versus Columbus Academy. Rosemore Middle School will begin their season with an 8th grade home football game against Columbus Academy on Tuesday, September 8th.
Once competitions begin, spectators for outdoor competitions will be limited to family only and will not be open to the general public in order to comply with the order which allows for limited spectators (15% of seating capacity). Whitehall-Yearling High School Athletic Department's COVID-19 safety protocols for the fall athletic season will include but will not be limited to:
* Face masks will be mandatory for all spectators.
* Proper social distancing of at least six feet must be maintained by all spectators.
* Spectators are to remain in their seats as much as possible.
* No charge for tickets as to eliminate the exchange of currency. Each athlete will receive a set amount of tickets/passes for each game.
* Concession stand will be closed. Personal snacks and drinks will be allowed inside WYHS Stadium.
* WYHS Marching Band will only play at home football games. The band will not travel on the road.
* Only senior cheerleaders will be permitted to travel to away games.
* No spectators permitted for volleyball games.
Additional protocols and procedures for all sports will be communicated to players and families before their first competition.
This season is going to look very different across all sports. We are asking for your continued support in helping keep each other safe and allowing our students to compete in and complete a successful fall athletics season. To see the fall schedule to all fall Ram Sports, click on this link:
*******************************
Superintendent's Message
Community of Whitehall,

The recents deaths of Breonna Taylor, Ahmaud Aubery and George Floyd and the national response to the continued injustices of our neighbors leave me struggling to find words. At the core of our humanity, we are one people. When one of us hurts or is marginalized, then all of us hurt and are marginalized. Martin Luther King said as much during his ministry.

What we are witnessing today is hard. It comes on top of very tough times for our country. As witnesses, however, it is also our great privilege and responsibility to rise to the occasion and to do something about it. And that starts with each of us as individuals.

That is why I am writing to you today. I want you to know that as your superintendent, that I stand by every student, and especially our black community and anyone else who faces oppression and injustice. And in standing for one, it does not mean that it comes at the expense of another. We must see that caring for others -- just like loving our neighbor -- is not something that runs out.

We also must recognize that not all of our friends and neighbors are ok. This is understandable. We need to check on each other. And, we must listen up, speak up, and stand up for what is right.

As we emerge from all that we are facing, we have great power in how we respond to the times and with what we work for, or against. I want it said that when times were tough, our Whitehall community came together and supported what is right and just for all of our brothers and sisters. I do not pretend to have the answers to what is a much older, deeper and larger societal issue. I do promise to work in the areas that I can to impact change. I hope you will do the same.

In our schools, we work hard each day to provide ersonalized learning for every student and to work on cultural proficiency. Diversity, pride and opportunity are core values that make up who we are as a district. We strive for the success of every student and believe that all of our students deserve equal opportunities. We will continue to do this and it is our beautiful diversity that helps set us apart from other communities. Thank you for hearing this message of action and hope. Let us be able to count on each other and to take care of our neighbors. As always, I am here for all of you and I am always proud to serve this beautiful community and our families.

Sincerely,
Brian Hamler, Superintendent, WYHS 1977



CLASS OF 2020 Virtual Commencememt Speech

Bruce Lowe, 1972, gave an outstanding & inspirational commencement speech!! I highly recommend watching the WYHS virtual commencement! Given the COVID-19 circumstances, I congratulate the Class of 2020, administrators & teachers in creating a great graduation! Bruce's siblings are Karen, 1968, & Mary Ellen, 1969.
* WYHS CLASS OF 2020 GRADUATION & RECOGNITIONS *
THANKS to Jodie Martin-Oiler, 1966, for preparing WYAA's "Ram Pride" beverage glasses to present to the Class of 2020, as they become WYHS alumni! This is WYAA's 3rd year of welcoming our new WYHS alumni with these glasses. This year's graduates will receive their diplomas on May 30. They'll also be presented with WYAA's gift during that event.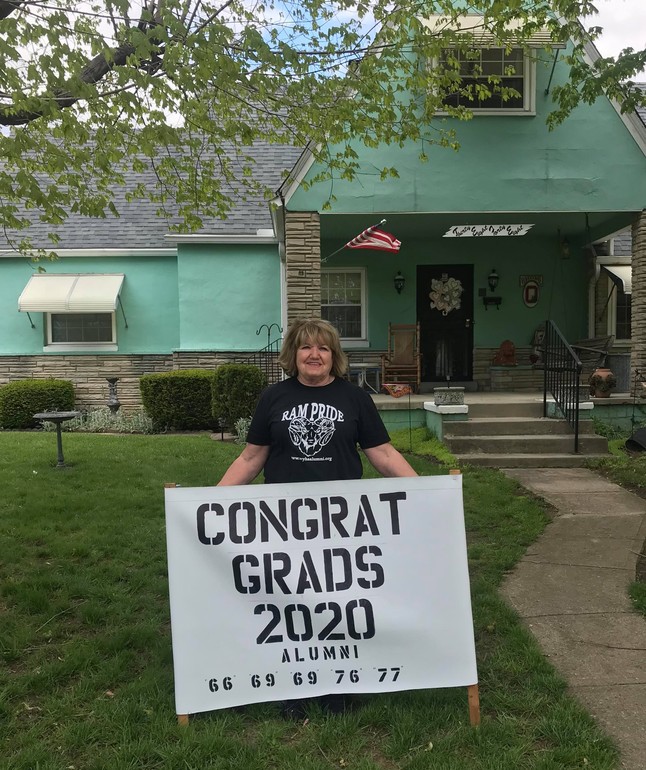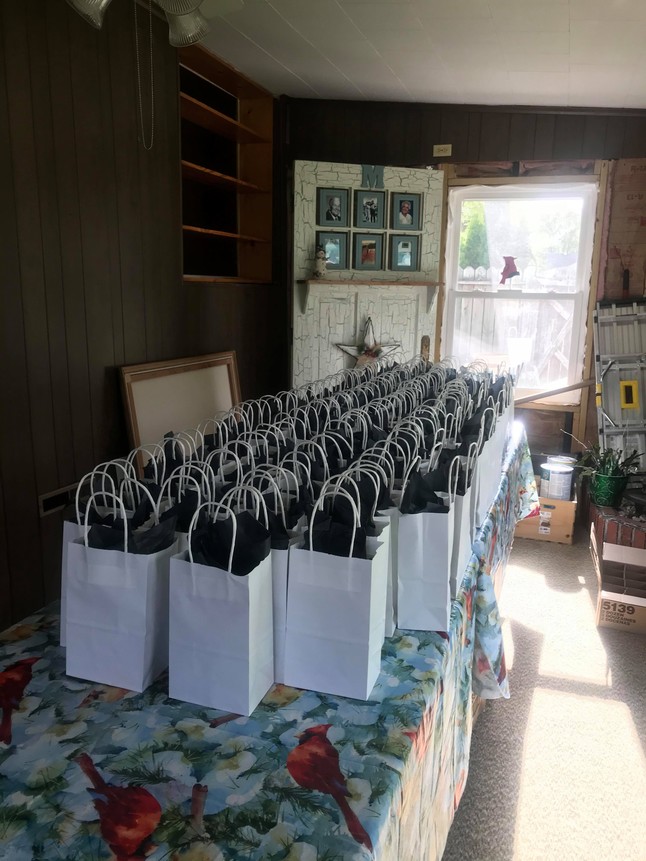 For those interested in reading how WYHS is planning the Class of 2020 graduation activities, please see the link below. After the June 6 virtual commencement, it will be available for streaming.
http://www.wcsrams.org/protected/ArticleView.aspx?iid=6G032UI&dasi=3YYY
Bruce Lowe, WYHS 1972 & Hall of Fame member, will give the commencement address. Bruce has Grammy Awards from producing albums with some of the world's most famous musicians: Michael Jackson, Stevie Wonder, Billy Preston, Paul McCartney, Elton John, etc. Bruce won an Academy Award helping produce the musical soundtrack of "The Lion King" with Elton John & director Steven Spielberg.
***************
WYAA purchased "Congratulations Class of 2020" yard signs! They were delivered to every home & apartment by WCS school buses on Friday, May 8.
Special Thanks to all the Ram Alumni, Parents & Friends who donated to WYAA's Yard Sign Fund-Raiser
Ram Alumni: 2004: Ashley Lyons & Jessica Afaghi Watson. 2002: Amanda Akers, Emily Eader, Eric Gagle, Justin Geminder, Nikki Lewis, Becky Marsh & Katie Wolford. 2001: Ariel Bukowski, Cathy Clifford Walker, Danielle Eschelbach, Jamie Oxley, Allison Walker & Rob Wild. 2000: Mary Jo Scott-Stace. 1997: Tina Radivojevic & Kelly Chanak. 1995: Nikki Young & KyraThorpe. 1991: Cindi Cudd Brown. 1980: Leslie La Corte. 1976: Kathy Cox 1973: Wendy Cudak. 1971: Sharon Robbins Dean & Alyson Stocksdale. 1970: Cheryl Brobst Hefner & Linda Buettner. 1969: Joyce Hildenbrand Turnbull & Teresa Pickens Thomas & Vicki Wears Koscho. 1966: Jodie Martin-Oiler. 1965: Cheryl Welsch Parsons
Special Thanks: to Dan Miller, 1973 who helped coordinate the delivery of the yard signs. And, Jodie Martin-Oiler for preparing our WYAA Ram Pride glasses to present to our graduates. MIke Sweeney for his generous donation!
Parents: Shirley Yarbrough: Tasha (2002) & Shannon (2004) Pam Jones Dolby: LaDonna Dolby (2000) Mary Ardrey: Jenna Mayse (2004) & Jason Mayse (1998)
Friends: Sarah Nelson Bratt: Scott Wright (2020) & Judy Petticord.
Pictured below: Susan Starr Smith, Beth Dempsey (1989), Doneta Thorpe (1977), Hope Fuller, Keith Spillman (1967) & Mark Riffle (1973).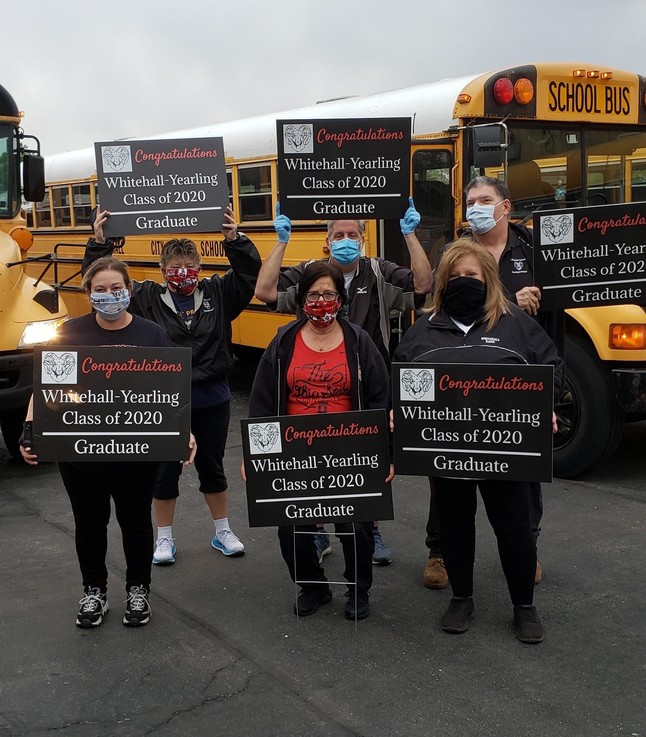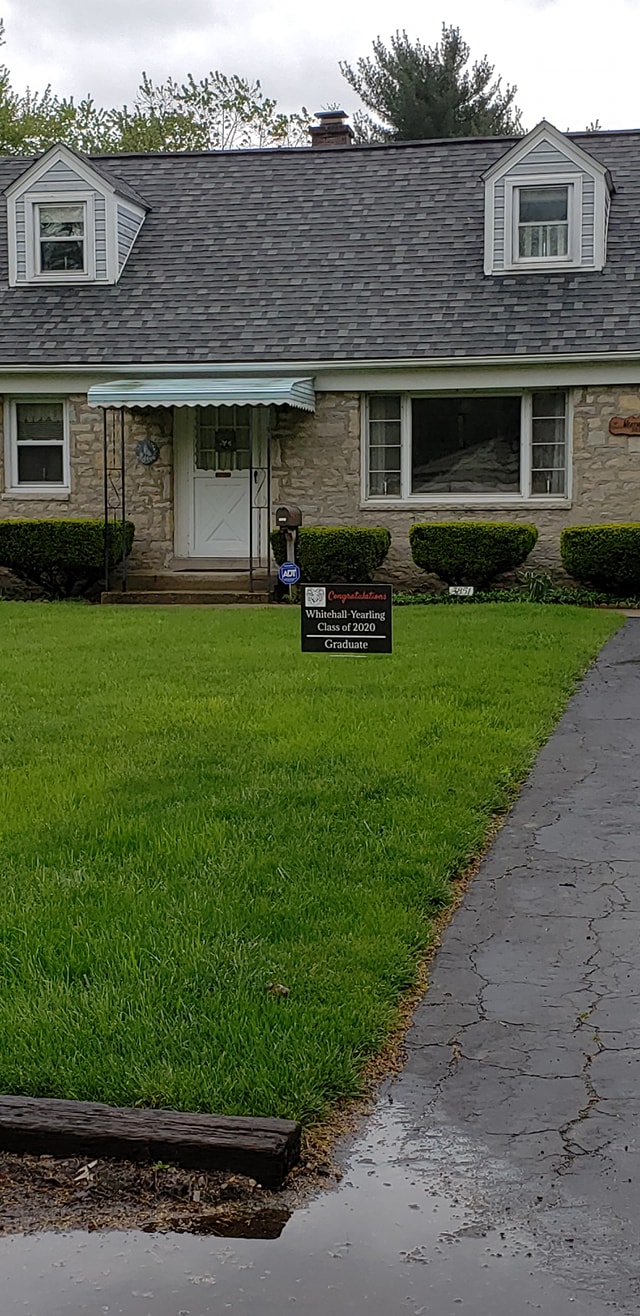 WYAA will be presenting Class of 2020 Graduates with 'RAM PRIDE' beverage glasses.
WYAA will award 2 student scholarships to 2020 graduates enrolled in 2-year or trade schools.
**************
Class of 2020 Senior portrait banners are hanging up & down on Yearling Road street lights! Duarte Brown, WYHS Artist in Residence, drew the portraits from students' photos.
Channel 10 featured the banners on their news! Here's the link about this project: https://www.10tv.com/…/whitehall-city-school-district-and-c…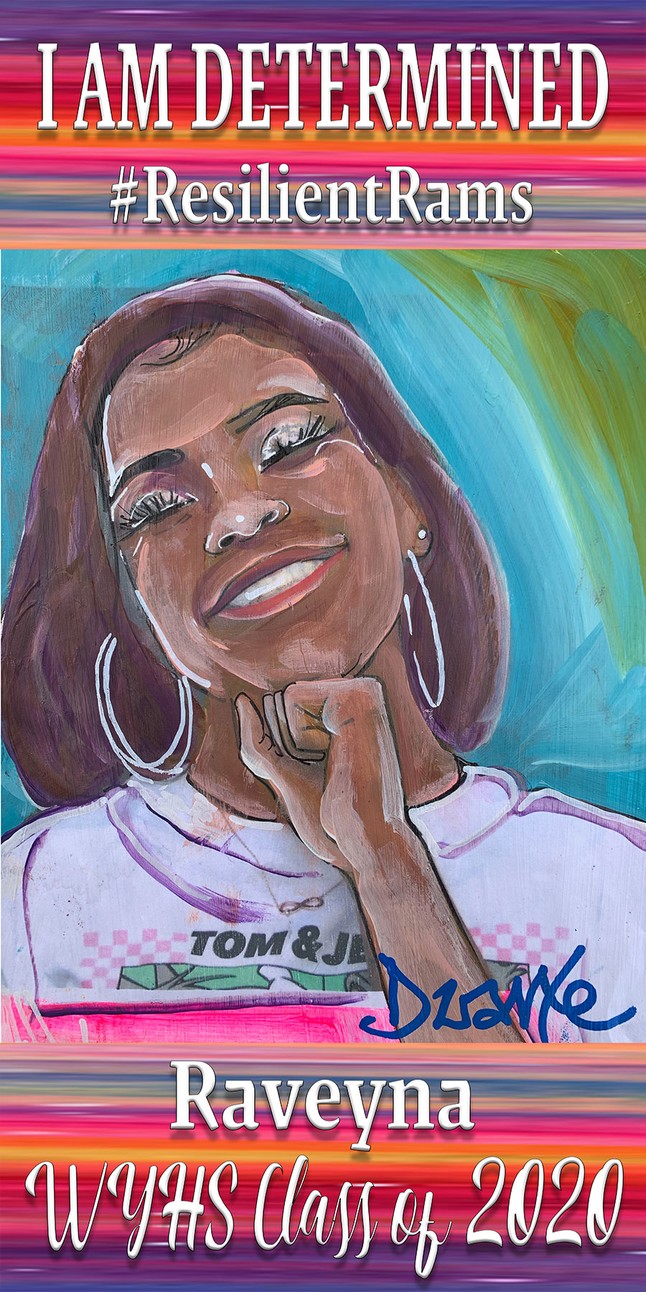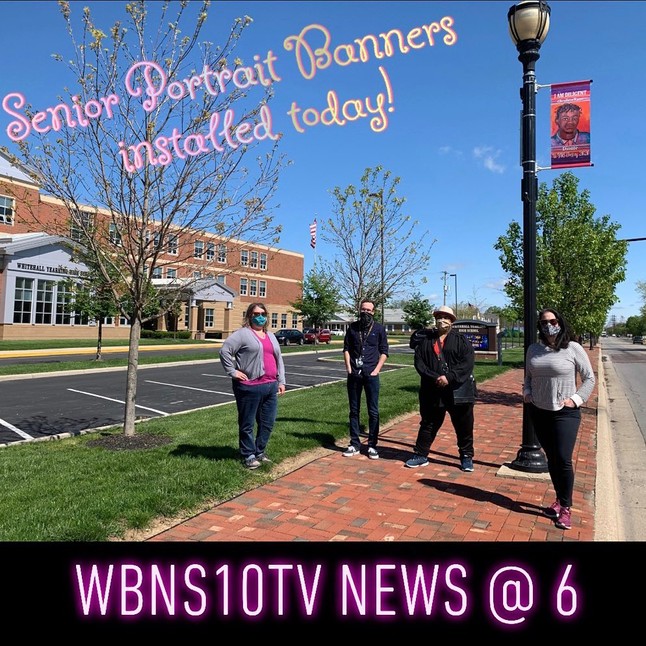 ***************
* Welcome Bill Warfield, our new WYHS Principal *
"After 2 years as an administrator in Olentangy Schools, Bill Warfield heard a calling.
It was in Whitehall City Schools, where Warfield will take the reins as principal of Whitehall-Yearling High School on Aug. 1.
"I want to be back in a building with kids," Warfield said. "I miss the energy. When this position came open, I knew it'd be the perfect fit.
Warfield had served three years as principal of Olentangy Liberty High School before stepping into the role of supervisor of curriculum and instruction for Olentangy Schools for the past two years.
Accepting the administrative position at Olentangy Schools was a step toward being a superintendent, Warfield said, "but I wanted to get back to be building principal."
"This Week Reporter", Kevin Corvo,
************
* COVID-19 UPDATES - April *
WYHS Rams live in 49 states & 14 countries!
COVID-19 is a global pandemic. We know humans do NOT have immunity against this virus. So, please stay safe & follow the guidance you receive from medical & government experts to help prevent its spread. We pray that you & your family stay healthy during the challenging days ahead.
Stay Safe Rams! See you in the Fall @ Homecoming!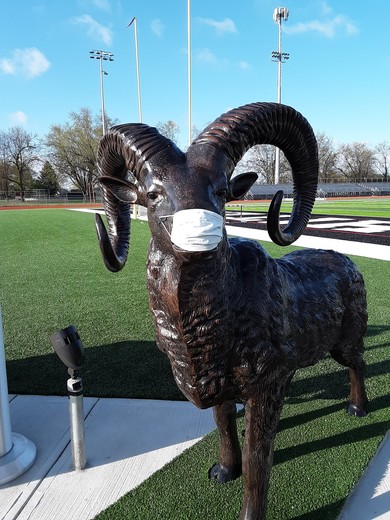 Photo by Keith Spillman 1980
***********
WCS is busy keeping students & parents informed & providing guidance to keep students learning & providing support, including providing lunches & breakfasts at WYHS & Kae Ave.
Below is a link to see the WYHS Weekly Updates.
https://www.smore.com/yh4b0?fbclid=IwAR20SHpv5QvZiMo40qy16SZoB0974JWGFRPfqaOvB-QxIrrBiaYygUwOV2s
******************
* Lunches & Breakfasts for Students during the COVID-19 school closings *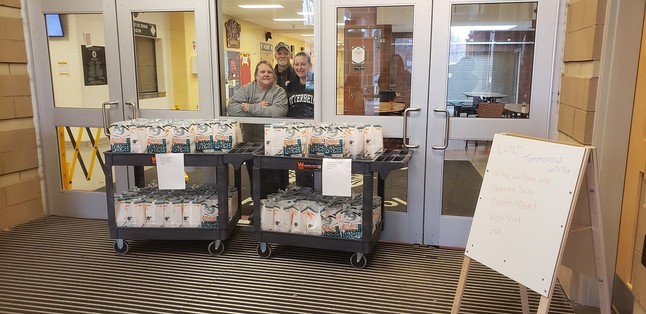 These lunches are grab-and-go style and will be provided to all students. Sticking with the Governor's social distancing recommendations, we are asking students to pick up their lunch and exit the property.
WYHS & Kae Ave. schools are offering bagged lunch & breakfasts for Whitehall students from 11 - 1.
* PPE Donations *
Recently, Whitehall City Schools Nurse, Wendy Siegel, was contacted by the Ohio Department of Health. They were contacting school nurses all over the state asking if school districts would be able to donate PPE (personal protective equipment) to ODH for them to distribute to areas and hospitals of most need.
While we didn't have any masks or gowns to donate, we were able to donate 14 boxes of latex gloves! We gathered them from all over our district wherever we could find them.
Whitehall City Schools is doing their part to help our local health care workers! Thank you for all you are doing for us! #ramgrit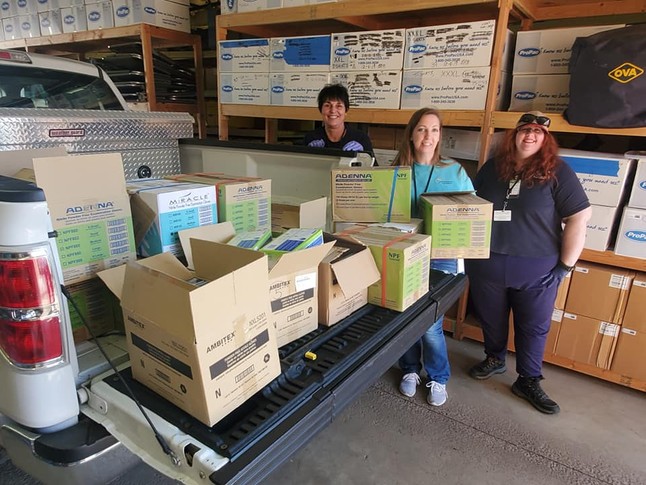 * Beechwood School's Morning Announcements *
https://www.youtube.com/watch?v=FlUBhnd5_W8&feature=youtu.be&fbclid=IwAR2vWTUMD37x7GbwyW5CXFAamWBlfy78ezS01gPYxV3pWiOUTMcRpvLWbv0
Look for more updates on how WCS is supporting students & the Whitehall community.
************
Whitehall City Schools Board Members Photo
L-R: Leo Knoblauch, 1977. Zach Wright, 1979. Darryl Hammond. Jeff Lees.
Mike Adkins, President.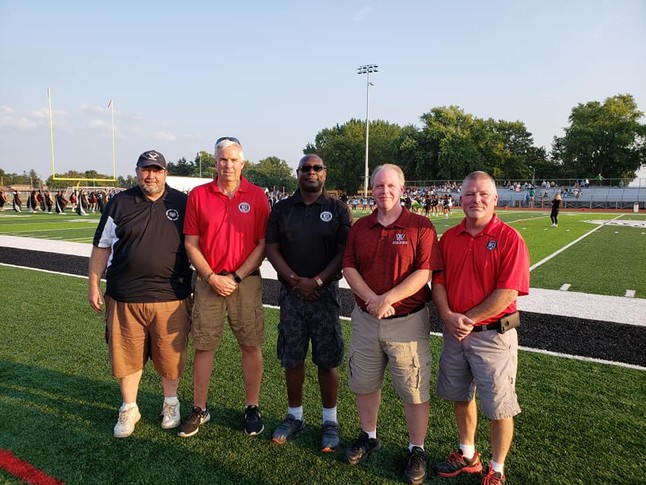 *********************
* WYHS 2019-2020 Goals *
WYHS GOALS:
1. Raise our Graduation Rate from 80% to 85% or higher.
2. Intervene to increase student academic supports that lead to a school passage rate of 91% or higher.
3. Intervene to increase positive student behaviors & conduct that reduce incidents that lead to ISS or
4. Students will "Level Up" one Performance Index, Letter Grade.
***********************
WYHS Alumni Auditorium Donors' List
THANK YOU to all the RAM ALUMNI & TEACHERS
who donated over 253 of the 390 seats for "This Seat's Taken" Fund Raiser!
You can still donate an auditorium seat or complete along with your custom name plate. http://www.wcsrams.org/ThisSeatsTaken.aspx. If your name is missing, contact Ty Debevoise, debevoiset@wcsrams.org.
Red = Complete Rows ~ * In Memory - Green = Updates
Alumni:
1958: Julie Gibson, Ann Stork Brown
1961: Patty Bridges, Ron Paxson*
1962: Bob Benjamin & Janice Benjamin, Tom Shoaf
1963: Clark Fuller, Diana Robinson
1965: Paula Levine Weinstein, Bill McCallen
1967: Larry Cunningham, Rita Watson Hunter, Dave Hickle
1969: Beckie Orr Heimlich, Joyce Hildenbrand Turnbull, Marlene Philips Miller, Mike Conley*
1970: Jeff Mauk
1971: Joyce Nichols Harkless, Lu Ann Thorpe Hallstrom, Mary Jo Weaver Stagg, Rick Conley*
1972: Katie Queen Quincel & Steve Quincel, Toni Hertlein Fino, Jayne Lawson-Shannon, Cheryl McMillan Miller, Michael Richardson
1973: Dan Miller, Lester Carr, Michael Pannell
1974: Candy Duncan Filip, Tara Trace-Richardson
1975: Shaun Richard Fellows*
1976: Julie Lynch
1977: Phil Fisher, Brian Hamler, Leo Knoblauch, Michael Mazzi, Vicki Romanoff, Mark Aaron Fellows*
1978: Scott Harrison, Judy Hawthorne Cary, Tim Lynch, Marc Mangia, Scott McAfee*
1980: Steve Mazzi, Leslie LaCorte
1981: Richard Glass, Wendy Benjamin Hamler, Stephen Rayburn, Mike Ore
1982: Kelly Cordle Mazzi
1983: Mark Trace
1984: Lisa Shoaf, Robyn Romanoff Sullivan
1985: Brian Glass, Stephen Tompos, Sam Wright, Don Musick
1987: Dave Hausmann, Ross Sager, Rob Shoaf
1988: Matthew Golden, Lorna Griggs Russell, Todd Sager, Michelle Strait Carrier
1989: Bridget Golden, Rick Shoaf
1990: Amy Mauk, Pat Thompson,
1993: Belinda Howard Borland
1994: Kimberly Howard
1995: Murad Holliday
2001: Ariel Bukowski
2002: Katie Wolford
2004: Tiffany St. John-Wood
2009: Joshua Wood, Matthew Ebbesen, Marty George*
2015: Savanna Carrier*
2017: Monica Johnson
2019: Gabriella Sharp
Whitehall Teachers & Administrators:
Laura Amberg
Walter Armes (School Board)
Kimberly Falcon (Science)
Julie Flood (Beechwood)
Pamela Glass
Karen & Michael Hoggarth (Science)
Bill Hughett (Athletic Director)
Mrs. Joanne Kitchen (Home Ec)
Jeanette Llewellyn
Jessica Moore (Etna Road Principal)
Michael Munroe (Math)
Nicole Nelson (English Dept.)
Rochelle Rankin
Diane Robinson
Christina Schwaiger
Sharon Shoaf
Paul Smathers (Principal)
Kelly Solack (Art)
Drew Williams (Coach)
Michael Wilson
Alumni Groups:
Whitehall-Yearling Alumni Association
WYHS Band Alumni
Whitehall Education Foundation (Row)
Whitehall Rams Sports Club
WYHS Veterans - Patriots Row
1967-1973 Alumni
1967 50th Class Reunion
Bridges Family 1984, 1986
Mouzon Family 1997, 2015
Rooker Family 1968, 1976, 1980, 1984
Roshon Family 1970, 1973, 1975
Stocksdale Family 2003, 2005, 2008
If your name is not included, please contact Joyce Turnbull, jnturnbull51@aol.com
******************
North American Park is being transformed into the
~ Whitehall Community YMCA PARK ~
City of Whitehall opened the Whitehall Community Park YMCA, a transformation of the previous North American Park.
Adding a community center to an already great 85-acre nature park will enhance Whitehall Community Park's expansive outdoor offerings.
To read more & see photos, go to: www.facebook.com/CityofWhitehall
*****************
To get the most current news on Whitehall City Schools: www.whitehallcityschools.org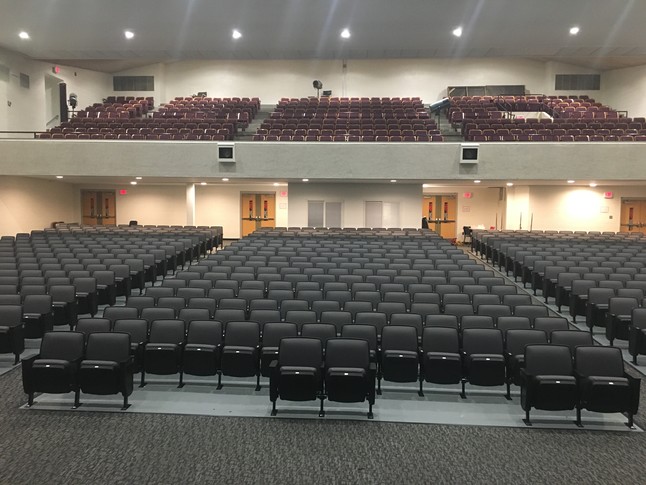 The installation of the seats was completed July. New balcony seats will be installed later, TBD.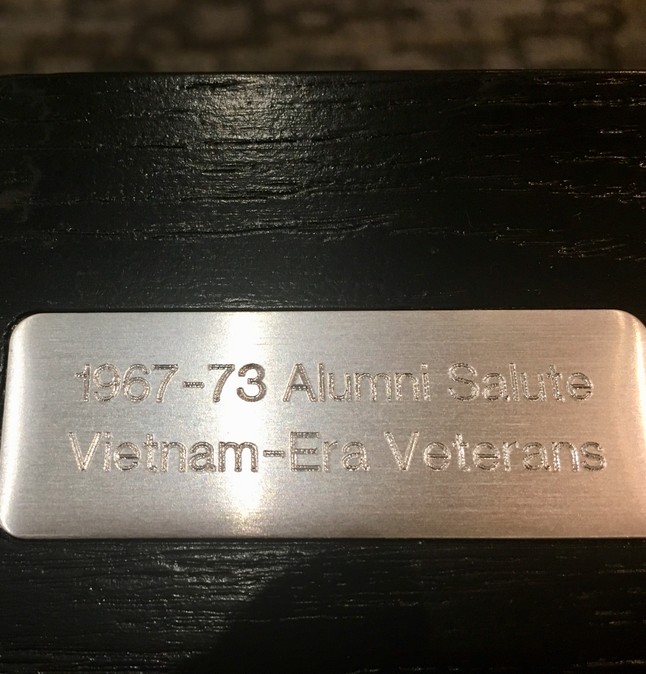 Example of the Custom Name Plates
~ WYAA is hosting a Casino Night Fund Raiser on October ~
*******************
Congratulations to Cheyenne Waldeis & Emma Riley! They received WYAA's 1st Student Scholarships!
Cheyenne received a $500 Scholarship & Emma received a $250 Scholarship. Both Rams will be attending Columbus State Community College. Thanks to Ed Kowalski 1980, who interviewed our scholarship finalists.
WYAA wants to give student & alumni scholarships in 2019. Your donations are tax deductible because our scholarhip fund is managed by Whitehall Education Foundation, a 501.3c organization. If you want to donate, contact Joyce Hildenbrand Turnbull, 1969, jnturbull51@aol.com
*******************
2019 Career Fair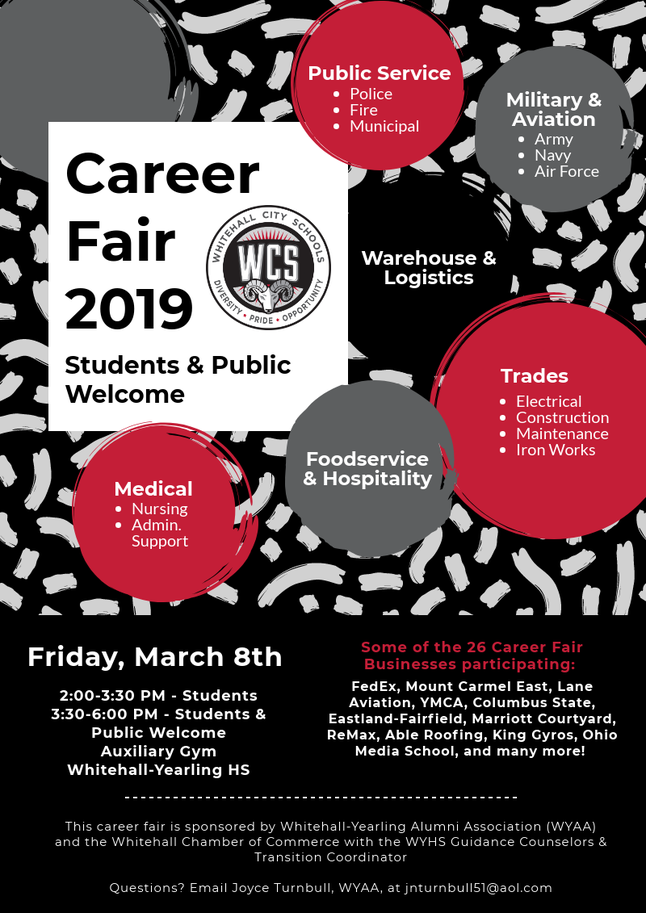 *******************
WYAA, Whitehall City Schools & Whitehall's Chamber of Commerce sponsored
Career Fair on Friday, Feb. 23, 2018.
Local businesses representatives introduced students to jobs/careers that only require Professional Certifications, 2-year Technical Degrees &/or On-The-Job Training.
Companies Participating: Byers Automotive, Best Service Heating & Cooling, Coldwell Banker, Ernie's Automotive, FedEx, Heartland Bank, Holiday Inn Express & Suites, Keller-Williams Real Estate, King Gyros Greek Restaurant, State Farm Insurance, The Ashford on Broad, Wasserstrom Company, Valvoine Instant Oil Change, Wallick Communitities Property Management, Whitehall Family Health Center, Whitehall Fire Dept., Whitehall Police Department, Whitehall Service Department.
Schools Participating: Columbus State Community College, Eastland-Fairfield Adult Development Center, Ohio Media School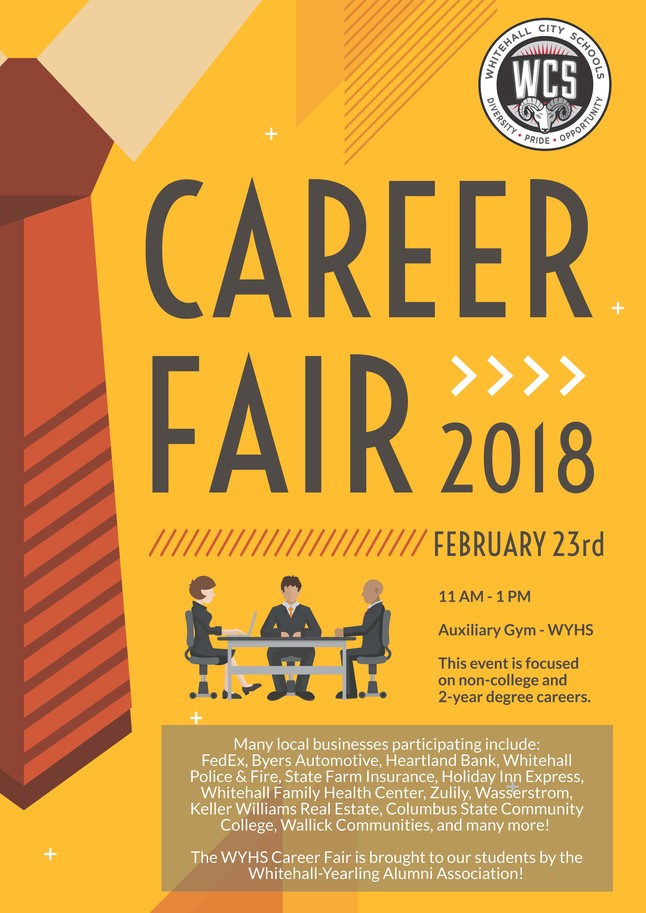 **************
Congratulations to Austin Taylor, 1997!
Austin is one of 2 new Vice Principals @ WYHS starting the 2018-19 school year.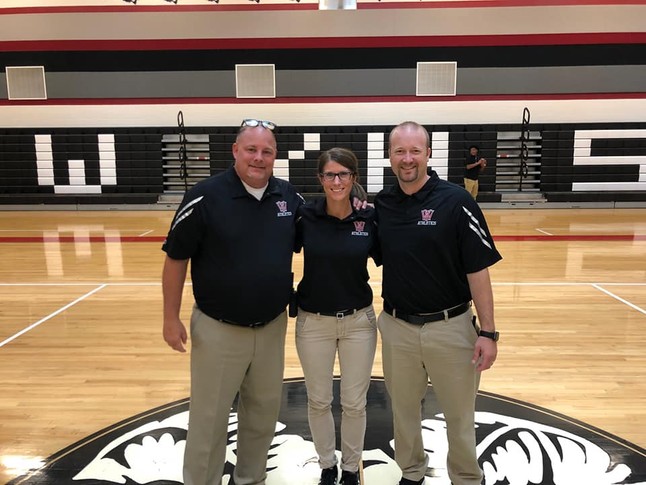 L-R: Paul Smathers, Principal. Crystal Johnson, Vice Principal. Taylor Austin, Vice Prinicipal. GO RAMS!
Whitehall-Yearling High School Principals
1. 1955 to 1965-66 School Year Austin Peel
2. 1966-67 to 1972-73 School Years Robert Strahm
3. 1973-75 School Years James Janek
4. 1975-76 to 1979-80 School Years Ed Houston
5. 1980-81 School Year Roger Dumaree
6. 1981-82 to 1988-89 School Years John Peters
7. 1989-90 to 1993-94 School Years Stephen House
8. 1994-95 to 1997-98 School Years Robert Wallace
9. 1998-99 to 2001-02 School Years Mindy Farry
10. 2002-03 to 2003-04 School Years Glenn Hunter
11. 2004-05 to 2008-09 School Years Dondra Maney
12. 2009-10 to December 10, 2015 Carl Svagerko
13. March 3, 2016 Paul Smathers
Here's the website to learn more about Whitehall City Schools & WYHS:
http://www.whitehallcityschools.org
To see the WYHS Rams Fall Sports Schedule, here's the website:
http://www.wcsrams.org/Athletics.aspx
Click on the 'Arbiter Sports' link on the page's right column
If you're interested in following WYHS sports, here's their Facebook Page:
https://www.facebook.com/wyhsathletics




On August 23, 2017, WYHS held a very special ceremony for five students to receive their high school diplomas. Jalayla Daniels, Terriah Henderson, Cassandra Martin, Hector Rodriguez, and Gabriel Wilson are the very definition of perseverance (Alexis Peterman also received a diploma but was unable to attend). Although they weren't able to graduate with the rest of their class this past spring, they worked hard over the summer and completed the educational requirements of the State of Ohio. These students never gave up when it would have been so easy to do just that. They persevered and believed in themselves. It was a fantastic ceremony with family, friends, teachers, administrators, and Board members in attendance. They received our WYAA beverage glasses as Congratulations & a Welcome gift (in the bags.)

UA-107745049-1