Whitehall Yearling High School


Classes of 1958 to Present
Whitehall City Schools
REDUCE, REUSE & REMEMBER...The original auditorium seats are FOR SALE!
If you're interested, contact Ty Debevoise: debevoiset@wcsrams.org or 614-417-5003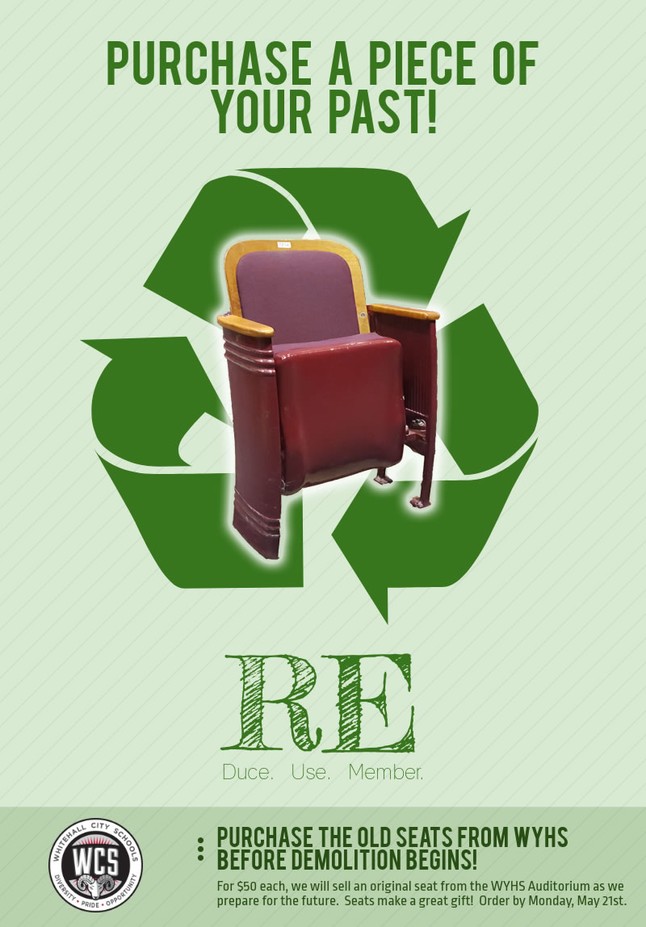 THANK YOU to the Rams who made donations to "This Seat's Taken" Fund Raiser!
Groups:
Whitehall-Yearling Alumni Association
WYHS Band Alumni
Whitehall Rams Sports Club
WYHS Veterans
1967-1973 Alumni
1967 50th Class Reunion
Bridges Family 1984, 1986
Rooker Family 1968, 1976, 1980, 1984
Roshon Family 1970, 1973, 1975
Stocksdale Family 2003, 2005, 2008
Alumni:
1958: Julie Gibson, Ann Stork Brown
1961: Patty Bridges, Ron Paxson*
1962: Tom Shoaf, Bob Benjamin
1963: Clark Fuller, Diana Robinson
1965: Paula Levine Weinstein, Bill McCallen
1967: Larry Cunningham, Rita Watson Hunter
1969: Joyce Hildenbrand Turnbull, Marlene Philips Miller, Beckie Orr Heimlich, Mike Conley*
1971: Joyce Nichols Harkless, Lu Ann Thorpe Hallstrom, Mary Jo Weaver Stagg, Rick Conley*
1972: Toni Hertlein Fino, Jayne Lawson-Shannon, Cheryl McMillan Miller, Katie Queen Quincel, Steve Quincel, Michael Richardson
1973: Dan Miller, Lester Carr, Michael Pannell
1974: Candy Duncan Filip, Tara Trace-Richardson
1975: Shaun Richard Fellows*
1976: Leo Knoblauch
1977: Phil Fisher, Brian Hamler, Michael Mazzi, Vicki Romanoff, Mark Aaron Fellows*
1978: Scott Harrison, Judy Hawthorne Cary, Scott McAfee*
1980: Steve Mazzi
1981: Richard Glass, Wendy Benjamin Hamler, Stephen Rayburn, Mike Ore, Carol Cordle Mazzi
1983: Mark Trace
1984: Lisa Shoaf, Robyn Romanoff Sullivan
1985: Brian Glass, Stephen Tompos, Sam Wright, Don Musick
1987: Dave Hausmann, Ross Sager
1988: Matthew Golden, Lorna Griggs Russell, Todd Sager
1989: Bridget Golden, Rob Shoaf
1990: Pat Thompson
1993: Belinda Howard Borland
1994: Kimberly Howard
2001: Ariel Bukowski
2002: Katie Wolford
2009: Joshua Wood, Matthew Ebbesen, Marty George*
2017: Monica Johnson
2019: Gabriella Sharp
* In Memory
******************
WYAA, Whitehall City Schools & Whitehall's Chamber of Commerce sponsored
Career Fair on Friday, Feb. 23 from 11am - 1pm.
Local businesses representatives will introduce students to jobs/careers that only require Professional Certifications, 2-year Technical Degrees &/or On-The-Job Training.
Companies Participating: Byers Automotive, Best Service Heating & Cooling, Coldwell Banker, Ernie's Automotive, FedEx, Heartland Bank, Holiday Inn Express & Suites, Keller-Williams Real Estate, King Gyros Greek Restaurant, State Farm Insurance, The Ashford on Broad, Wasserstrom Company, Valvoine Instant Oil Change, Wallick Communitities Property Management, Whitehall Family Health Center, Whitehall Fire Dept., Whitehall Police Department, Whitehall Service Department.
Schools Participating: Columbus State Community College, Eastland-Fairfield Adult Development Center, Ohio Media School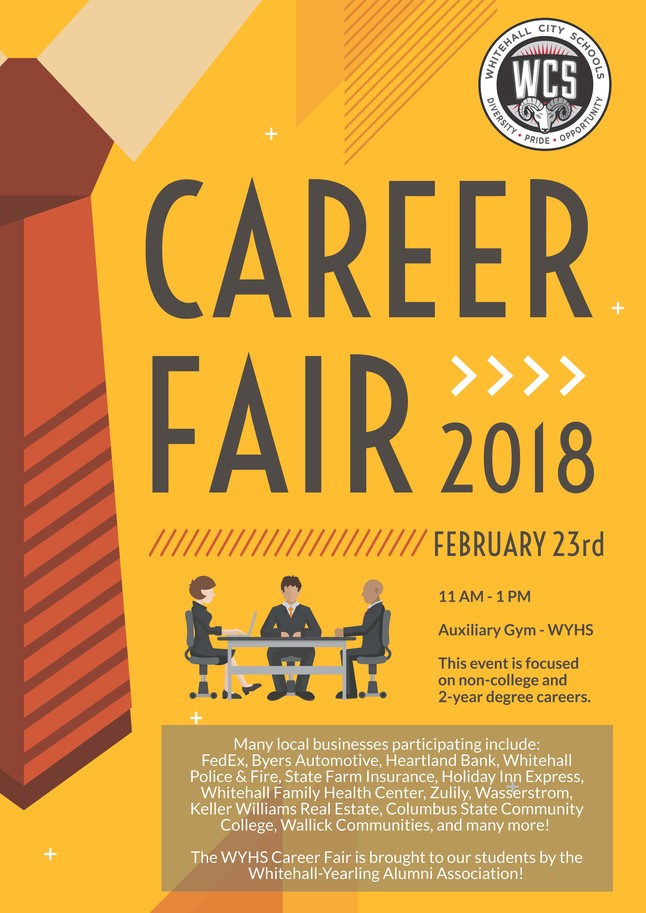 Whitehall-Yearling High School Principals
1. 1955 to 1965-66 School Year Austin Peel
2. 1966-67 to 1972-73 School Years Robert Strahm
3. 1973-75 School Years James Janek
4. 1975-76 to 1979-80 School Years Ed Houston
5. 1980-81 School Year Roger Dumaree
6. 1981-82 to 1988-89 School Years John Peters
7. 1989-90 to 1993-94 School Years Stephen House
8. 1994-95 to 1997-98 School Years Robert Wallace
9. 1998-99 to 2001-02 School Years Mindy Farry
10. 2002-03 to 2003-04 School Years Glenn Hunter
11. 2004-05 to 2008-09 School Years Dondra Maney
12. 2009-10 to December 10, 2015 Carl Svagerko
13. March 3, 2016 Paul Smathers
Here's the website to learn more about Whitehall City Schools & WYHS:
http://www.whitehallcityschools.org
To see the WYHS Rams Fall Sports Schedule, here's the website:
http://www.wcsrams.org/Athletics.aspx
Click on the 'Arbiter Sports' link on the page's right column
If you're interested in following WYHS sports, here's their Facebook Page:
https://www.facebook.com/wyhsathletics




On August 23, 2017, WYHS held a very special ceremony for five students to receive their high school diplomas. Jalayla Daniels, Terriah Henderson, Cassandra Martin, Hector Rodriguez, and Gabriel Wilson are the very definition of perseverance (Alexis Peterman also received a diploma but was unable to attend). Although they weren't able to graduate with the rest of their class this past spring, they worked hard over the summer and completed the educational requirements of the State of Ohio. These students never gave up when it would have been so easy to do just that. They persevered and believed in themselves. It was a fantastic ceremony with family, friends, teachers, administrators, and Board members in attendance. They received our WYAA beverage glasses as Congratulations & a Welcome gift (in the bags.)

UA-107745049-1