Whitehall-Yearling High School


Classes of 1958 to Present


Not a member?
JOIN HERE
Find and click on your name.

WYAA SCHOLARSHIP FUND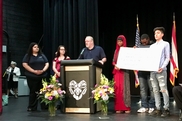 Ed Kowalski, 1982, presented WYAA 2019 Scholarships on May 22: Kadiatou Amadou, Demez Denson & Gustavo Guijo. Please donate to WYAA's Scholarship Fund. Minimum donation is $10.

JOINED CLASSMATES
Percentage of Joined Classmates:
12.1%
| | | |
| --- | --- | --- |
| A: | 1552 | Joined |
| B: | 11224 | Not Joined |
WHERE WE LIVE
Who lives where - select from the dropdown to find out.




Show Classmates on map
UPCOMING BIRTHDAYS

Show More
Welcome to Whitehall-Yearling High School's Alumni website!
This website is FREE & Secure - No Ads, No Spam, No Cookies. Your personal information is Private & NOT shared. Messages between alumni are private. Whitehall City Schools (WCS) pays this website's annual subscription. It is administered by the Whitehall-Yearling Alumni Association (WYAA).
WYAA Board Members represent alumni from each decade: Joyce Hildenbrand Turnbull, 1969. Mike Mazzi, 1977. Ed Kowalski, 1982. Cara/Claire Wilson Cooper, 1993. Anthony Jordan, 2002. 2010-2019, Vacant. Veteran Alumni: Scott Harrison, 1978. Alumni Band: Aubrey Bailey, 2008. Treasurer: Dan Miller, 1973. WYHS Teachers: Geral Leka, 2008. WYHS Administrators: Chrystal Johnson, WYHS Interim Principal. Bill Hughett, WYHS Athletic Director. Ty Debevoise, WCS Director of Communications & Marketing. Honorary Member: Brian Hamler, 1977, WCS Superintendent. We welcome your comments, suggestions, ideas, etc. Contact your alumni representative via this website's Message Center (left column).
www.wyhsalumni.org was created in 2016 to become the 'Go-To' site for WYHS Alumni planning reunions, announcing Alumni events, posting photos, supporting fund raisers, updating memorials, etc. It's NOT meant to replace or compete with Whitehall Alumni Facebook sites.
To Join: Click on Classmates Profile tab at the top of the home page. Click your Class Year & then your name. The minimum information you must give is your email address. Directions to post photos is on the First Time Vistors tab.
Spread The Word: Tell your classmates, siblings, children, neighbors & relatives who went to Whitehall City Schools! If they didn't graduate from WYHS they are still welcome to join! If you don't see your name, contact website administrator, Joyce Hildenbrand Turnbull, jnturnbul51@aol.com.
ANNOUNCEMENTS
•

* WYAA Board Member Opportunity *

WYAA's board members represent alumni from each WYHS decade. The board meets about 5 times per year (usually during lunch hour) & supports various WYHS alumni events like our recent Career Fair, Scholarships, Homecoming, Veterans, etc.

Thanks to Byron Diaz for serving on the WYAA Board for the past 3 years representing WYHS alumni from the 2010 decade. We're looking for a Ram alumnus from the 2010 decade to replace Byron. If you would like join the WYAA board, contact Joyce Turnbull @ 847-502-9052.

•

* Save the Date - WYHS HOMECOMING is October 2, 2020 *

Ramette Alumni will be honored at the 2020 Homecoming & parade. If you were a Ramette, please update your "Profile Question" on this website. Spread the word & tell your Ramette friends to join the website so we can have a commplete listing of who were Ramettes! We'll post more information soon.

And...Join the Whitehall Yearling Alumni Ramettes facebook page.

•

* Hall of Fame & Career Fair Photos *

Hall of Fame weekend & the 2020 Career Fair photos are on the Photo Gallery on the left column.

•

* New

Profile Additions *

You can add 3 Profile questions: Eastland attendance, Band participation & Extra-Curricluar activities.

We plan to add Eastland & Band tabs on this website.

Go to:

Member Functions

in the middle of left column. Click on

Edit Profile

link & make your changes.

Please update your current contact & email are correct.

Save

your changes at the bottom of the page.

•

* WYHS Memories & Trivia *

The Ram Memories & Triva link on the left column that features interesting/funny stories or trivia by Alumni while attending Whitehall Schools. Since 1958, current events, societal, popular & cultural norms have influenced & provided different WYHS experiences. To submit your story send your story to jnturnbull51@aol.com.

•

Do you remember our Alma Mater & Fight Song?

We sing thy praises, Dear Alma Mater
We stand by thee so strong
And forever true
Heaven guide and keep you
We shall never fail you
Dear, Whitehall-Yearling High!

Fight, Whitehall, Fight Win this battle, tonight!
Let's give three big cheers for the Great Black and White
Fight! Fight! Fight! Win fellows, win,
Onward, forward, tonight!
For our victory, Whitehall
We will Fight! Fight! Fight!
UA-107745049-1