Whitehall-Yearling High School


Classes of 1958 to Present


Not a member?
JOIN HERE
Find and click on your name.

WHERE WE LIVE
Who lives where - select from the dropdown to find out.




Show Rams on map
JOINED RAMS
Percentage of Joined Rams:
15.1%
| | | |
| --- | --- | --- |
| A: | 1983 | Joined |
| B: | 11136 | Not Joined |
(totals do not include deceased)
UPCOMING BIRTHDAYS

Show More
*ALL LADY RAMS ALUMNI Will Be Honored*
Rams Homecoming on Friday, Sept 29, at Halftime
Lady Rams get FREE admission & alumni can buy tickets for $5 at the alumni tent, next to the main gate. Lady Rams are invited to sit together at the west side of the stadium. Look for the Lady Rams banner. ALL Lady Rams will gather on the track & group by sports played.
See Lady Ram All-State, All-District, & All-Conference honorees on the WYAA Events tab on the left column.

*LADY RAMS, Guests & Alumni are Welcome to Celebrate*
at the VFW after halftime/game. The VFW is open to the public for this event! Special recognition & gifts will be presented to ALL Lady Rams @ the VFW.
Please RSVP via this UPDATED website link. https://ladyrams.givesmart.com
Tina Radivojevic, 1997, who was our 1996 WYHS Homecoming Queen, will be honored during the Pre-Game 2023 Homecoming Court presentations. Tina played on the Lady Rams volleyball, softball, basketball & track teams. She was also the kicker for the Rams football team!
David Cline, 1972, will escort Tina as he represents his wife, Paula Heinmiller Cline, 1974(RIP), who was our 1973 Homecoming Queen. Pregame starts at 6:45.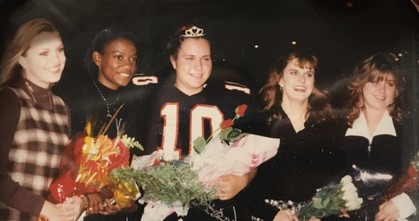 ANNOUNCEMENTS
•

* WYAA Homecoming Raffle *

- Support WYAA - All Alumni can buy raffle tickets -

Ten raffle items & baskets are valued $25 - $100. Tickets are: $5 each, $10 for 3, $20 for 8.
Buy raffle tickets: https://ladyrams.givesmart.com WYAA table inside the gate or VFW (cash or cc).

* Win Columbus Blue Jackets Center Ice Tickets *
Tuesday, December 5 vs. LA Kings @ 6pm.
WYAA is raffling 3 Pairs of Blue Jackets' Center Ice, Loge, Club Level Seats ($375 each; photo below).
Raffle tickets are $20/1, $50/3, & $100/8 (cc or cash).
OR Purchase 2 tickets with underground parking for $500.
To Purchase: https://ladyrams.givesmart.com @ Game or VFW.

View from the seats. Raffle Tickets will be drawn at the VFW.
Winners DON'T need to be present to win these tickets.
Item details are online.

Thanks to Ed Kowalski, 1982, for getting these tickets from Delaware North Sportservice. Ed is a Delaware North chef at the Nationwide Arena. Your raffle donations support WYAA's mission to host future Homecoming Alumni Events, Student Career Fairs, Fundraisers, Scholarships, & Graduation. Thanks Rams!

•

* City of Whitehall Honors WYAA *
Thanks to YOU & WYHS Alumni who donated to WYAA's "$30k in 30 Days' Pre-K fundraiser!
Mayor Maggard & the Whitehall City Council presented a Resoluion to WYAA Board Member, Ed Kowalski, 1982, on Tuesday, September 19 during their City Council meeting. The Resolution honors WYAA for our successful fundraiser in support of WCS's new, expanded Pre-K program.

•

* Amazon Announces $3.5 billion Data Center *
Amazon announced Sept.19 that will spend $3.5 billion by 2030 in New Albany. The new data centers will support computer servers, networking equipment and the AWS technology that helps people connect with each other, stream entertainment and play video games.
Back in June, Ohio Gov. Mike DeWine and Lt. Gov. Jon Husted announced AWS's planned investment of $7.8 billion to expand data center operations in the region. New Albany is the first community confirmed as part of the company's plans.

•

* ALUMNI RAM PRIDE *
Celia Fritz, 1979, played on the the 1978 Lady Rams softball team that was WYHS's 1st OCC Softball Championship. Celia still plays competitive softball @ 62 years old! In 2005, Celia was inducted into the City of Columbus' Softball Hall of Fame. In 2014, Celia was inducted into the State of Ohio Softball USSSA Hall of Fame.

You can honor Celia & all our WYHS Lady Rams who played sports from 1973-2023 at Homecoming, Friday, Sept 29. Stop at the alumni tent next to the main gate to get your student-priced tickets ($5) instead of $10 for general admission. GO RAMS!
If you receive Post-WYHS recogntion, awards, honors, etc., WYAA will announce them on this website.

•

* How to ENSURE your Profile is PRIVATE *

Keeping your profile information private is a critical & important feature of this website.

To ensure you BLOCK Your Profile Information from public search engines,

please follow the easy steps below.

Go to the

EDIT PROFILE

link midway down the left column under

Member FUNCTIONS

. (You must be signed in. If you can't remember your password, go to the left column under 'MEMBER FUNCTIONS' & click on CHANGE PASSWORD.) Go to:

PROFILE VISIBILITY

(towards the end of your Profile Edits). Check

BLOCK PUBLIC SEARCH ENGINES

from accessing your Profile. Only fellow Classmates & Teachers can view your Profile details. Your home address, emails, etc. are never available. REMEMBER TO

SAVE CHANGES

at the bottom of the page.

NOTE: LEAVE THE BOX UNCHECKED

if you wish to allow the public (friends, co-workers, family members, etc.) to view your Profile details via public search engines. If you have any questions or concerns about blocking your PROFILE, contact Joyce Turnbull, jnturnbull51@aol.com.

•

* WYHS Memories & Trivia *
The Ram Memories & Triva link on the left column that features interesting/funny stories or trivia by Alumni while attending Whitehall Schools. Since 1958, current events, societal, popular & cultural norms have influenced & provided different WYHS experiences. To submit your story send your story to jnturnbull51@aol.com.

•

Do you remember our Alma Mater & Fight Song?

We sing thy praises, Dear Alma Mater
We stand by thee so strong
And forever true
Heaven guide and keep you
We shall never fail you
Dear, Whitehall-Yearling High!

Fight, Whitehall, Fight Win this battle, tonight!
Let's give three big cheers for the Great Black and White
Fight! Fight! Fight! Win fellows, win,
Onward, forward, tonight!
For our victory, Whitehall
We will Fight! Fight! Fight!

•

* For your Reference *

Whitehall City Schools (WCS) website: http://www.whitehallcityschools.org

The Rams Sports news & schedule: https://wcsramsathletics.com/events
UA-107745049-1